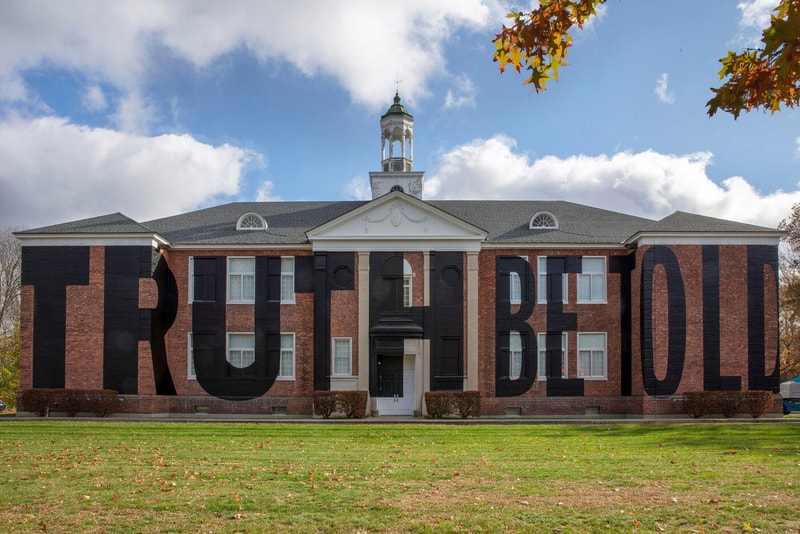 Nick Cave's Controversial 'Truth Be Told' Artwork to Go on Display at Brooklyn Museum
A 160-foot-long text work that sheds light on racial injustice and police brutality.
---
This past November, a 160-foot-long text work by Nick Cave on the facade of the School, an art establishment helmed by Jack Shainman Gallery in Kinderhook, New York, was the subject of controversy among residents. The sprawling outdoor work titled Truth Be Told was made by Cave to shed light on racial injustice and police brutality amid the ongoing Black Lives Matter protests. Kinderhook locals argued that it was illegal to display the work while city officials have argued that the piece is technically a sign, making it a violation of local law. 
According to a statement from the gallery, it was conceived as a "pointed antidote to a presidency known for propaganda that disguises truth and history to present racist and nativist ideology as patriotism." Cave wrote in an open letter this month saying "It is ironic that a work promoting truth-telling has been met with distrust and deceit,"
The work has now found a new, larger home at the Brooklyn Museum where it will ostensibly be mounted at the institution's outdoor plaza this spring, as per the New York Times. The piece will coincide with an exhibition that is still currently in development. "Museums are being called on to tell the truth, from the painful to the celebratory," Brooklyn Museum director Anne Pasternak told the Times. "We can invite a constructive conversation."
Cave and his collaborator on the work, co-designer Bob Faust, will update the text to relay "Truth"—a word that recalls President Trump's ongoing campaign of spreading disinformation in his final days at office.
In other politically-charged art, Russian artist Andrei Molodkin launched a controversial 70-foot projection featuring real human blood over the Washington D.C.'s Trump Hotel.