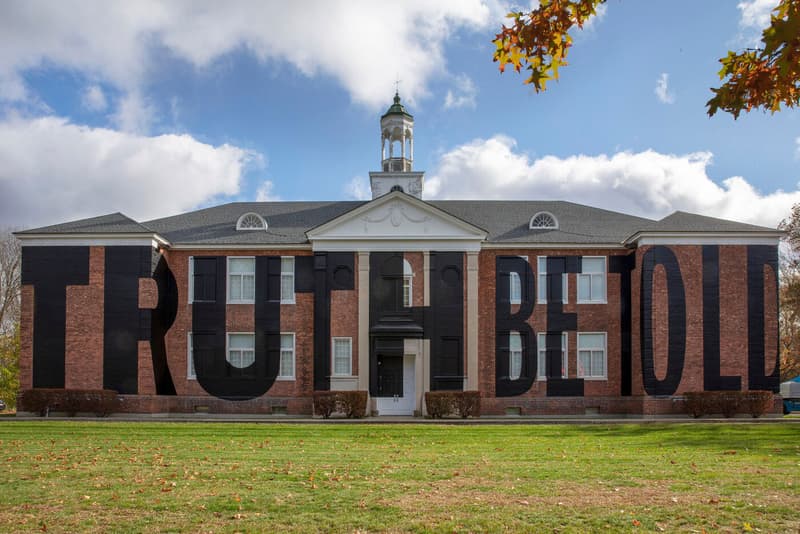 Local Mayor Orders Removal of Nick Cave's Massive 'Truth Be Told' Artwork
A work created to spark dialogue within the community on racial injustice and police brutality.
---
A massive outdoor work by Nick Cave on the facade of the School, an art establishment helmed by Jack Shainman Gallery in Kinderhook, New York, is embroiled in controversy among the locals as per a report by the New York Times. The 160-foot-long text work titled Truth Be Told features its eponymous phrase sprayed across the building and was created by Cave to spark dialogue within the community on racial injustice and police brutality amid the ongoing Black Lives Matter protests.
Kinderhook residents are claiming that it's illegal to display work while city officials have argued that the piece is technically a sign, making it a violation of local law. The gallery's attorney, William J. Better, asserts that Truth Be Told is an artwork and its public display is protected by the special use permit that the School was given when it was founded in 2014.
"The statement is a pointed antidote to a presidency known for propaganda that disguises truth and history to present racist and nativist ideology as patriotism," reads the description of the work on Shainman's website. "It is also open-ended, intended to spark questions surrounding personal interpretations of truth and integrity."
Shainman submitted a proposal to the Kinderhook community officials back on August 13 to build the work. However, the town rejected the proposal to construct the installation which led to long debates between the two parties on whether the work is considered public art. Shaiman authorized the work to be completed before the issue was even resolved."I naïvely thought I could just explain it and they'd agree. They were saying it's a sign, and it isn't," said Shainman to the New York Times.
Kinderhook continues to stand by its refusal to show the show while also referencing the alleged fire hazard caused by the piece since it covers the windows and doors of the School.
"We are actively contesting the village's assertion that this work is signage and not art," Shainman said in a statement. "The School is a place of cultural enrichment for the community and has permits to show artwork both inside and outside of the building. We have never before dealt with issues of censorship."
Jack Shainman Gallery has until December 5 to appeal with the community's order, which it plans to do.
Elsewhere in art, PRIZM art fair continues to champion artists of color in its upcoming programming for its 2020 virtual edition.