A 1952 Mickey Mantle Card Has Just Sold for $5.2 Million USD
Shattering all previous baseball card auction records.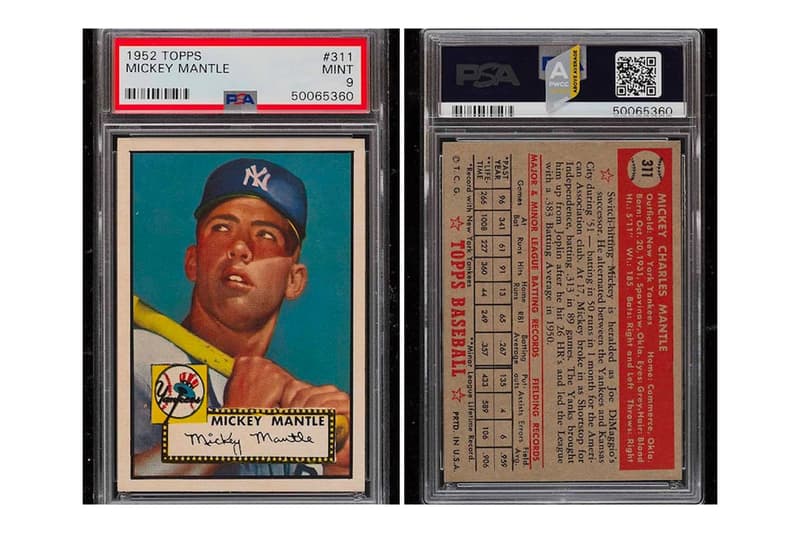 Earlier this week, the founder of Dope CBD, Rob Gough purchased a 1952 Mickey Mantle baseball card for $5.2 million USD through PWCC Auctions, setting a new all-time baseball card auction price record.
The last time a Mantle card of similar caliber was sold, it was only for nearly half of the current price. Gough's willingness to shell out seven figures for the Mickey Mantle card led to the shattering of the previous record, set by last August's auction of Mike Trout's 2009 autographed Los Angeles Angels rookie card, which sold for just under $4 million USD. Both Trout and Mantle's cards were given a PSA mint-9 grading. Supposedly, this 1952 Mantle card is "one of only a few known to be in existence with such a strong grade".
Mantle's 1952 Topps card is one of the most highly sought out cards in the baseball world. Unlike Trout's card, which was a one-of-one, this Mantle card does not include an autograph nor is it a one-off production. Despite this, the card is still considered to be the Holy Grail of all baseball trading cards, due to the fact that it was the first year Topps began producing such cards. Mantle's career cemented him as one of the greatest players to ever play the game. The Hall of Famer was a 20-time All-Star, three-time MVP, and seven-time World Series Champion who also won the Triple Crown and Gold Glove batting title.
Gough's purchase did not come without research, "I've dreamt of owning a 1952 Topps Mickey Mantle since I was a kid collecting cards. It's the Mona Lisa of sports cards and I've been searching for this high-graded example talking to industry experts, dealers, auction houses, friends and I'm ecstatic that I'm now the proud owner of this iconic card."
In case you missed it, German World Cup champion Christoph Kramer reveals his full Pokémon TCG collection.