Massive Tyrannosaurus Rex Skeleton Could Be Yours for $6 Million USD
Christie's will auction off the 67-million-year-old specimen this October.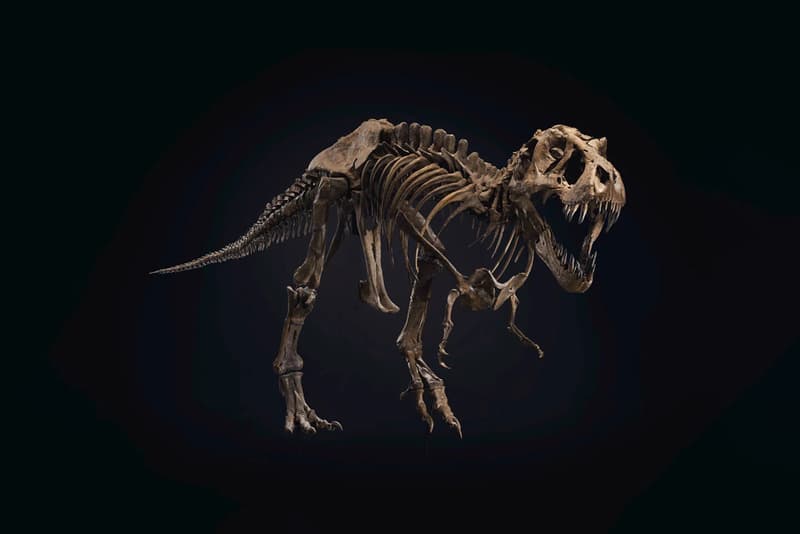 Have you ever visited the American Museum of Natural History in New York City and just marveled at the towering scale of its Tyrannosaurus Rex replica? Perhaps, you may have also thought of displaying a legit one at your home one day. But, you must have at least $6 million USD to do it. Christie's is set to auction off a 67-million-year-old T-Rex this October as part of its Evening Sale of 20th Century Art. Measuring 13 feet high and 40 feet wide, the ancient specimen is expected to fetch between $6-8 million USD.
Most T-Rex skeletons are held by museums and private institutions. The auction is an opportunity for a private collector or institution to acquire the bones, Christie's said in a statement. The auction house has even named the T-Rex, "Stan," which is an homage to amateur paleontologist Stan Sacrison who discovered the skeleton in 1987. Of course if you purchase it from the lot, you can name it whatever you want.
The fossil is comprised of 188 original bones, and is considered to be one of the few completely assembled skeletons of its kind. It was originally unearthed by Sacrison and a team of archaeologists at Hell Creek Formation — located between South Dakota, Wyoming, and Montana. Commercial fossil dealers from the Black Hills Institute in South Dakota's Hill City excavated the remaining bones in 1992. Scientists also examined the skeleton to obtain details from the blade-toothed carnivore, revealing that it had survived various wounds inflicted by members of its own species.
Stan was sent to the auction from the Black Hills Institute of Geological Research, a private organization spearheaded by commercial fossil dealer and collector Pete Larson. The institute displayed and studied the specimen for the past 20 years. Larson also holds the record-setting dinosaur sale of "Sue," the 67-million-year-old T-Rex skeleton at Sotheby's in 1997. With aid from private and corporate funding, the Field Museum of Natural History in Chicago bought the skeleton for $8.4 million USD. It was only expected to snap up $1 million.
Stan is currently on display at Christie's flagship location on 49th Street in New York City. It will remain on view until October 21. The auction will commence on October 6, visit Christie's website to learn more.
In related news, Christie's is gearing up to launch Marina Abramović's mixed reality performance piece, The Life.