Kanye West Reveals Remaining adidas YEEZY 2020 Footwear Releases
'Ye and the Three Stripes have some big plans — and new styles — for the fall and winter.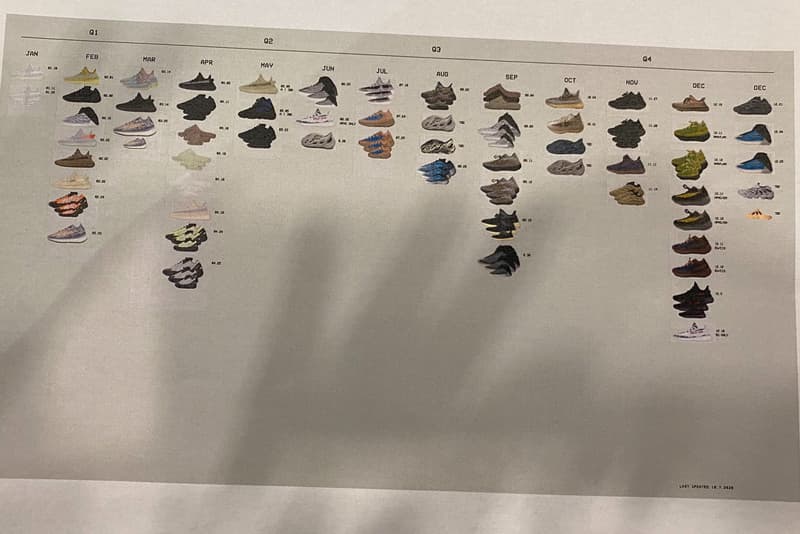 Kanye West has taken to Twitter to reveal the remainder of 2020's adidas YEEZY releases. "Leaking" his own shoes is not a new activity for the former presidential candidate/self-professed man of the cloth/rapper/designer — in 2019, he shared his own rough sketches of impending YEEZY releases and will occasionally blast out backstage photos of new styles — but his latest disclosure is one of the most expansive yet.
When rogue Mavericks tweet there year role 1.5 billion dollar plan ??⛷ pic.twitter.com/27XgLsBCg4

— ye (@kanyewest) September 10, 2020
Although much of what's on the sheet shared by 'Ye has already dropped, there are more than a few unreleased highlights as well. First up is a camo Foam Runner that appeared to be slated for an August release but was postponed. In September and October, there are new YEEZY BOOST 380s, one of which looks to feature a basketball-style 5/8 cut. Finally, November and December's highlights include YEEZY 700 V3s, a second YEEZY QNTM colorway and what appears to be the debut of the long-rumored YEEZY 451 in both moc and sandal styles.
See West's tweet, all the footwear styles and their corresponding release dates above, but note that any and all are subject to change. For more Trefoil news, check out how the A-ZX line evolved adidas's collaborative ethos.