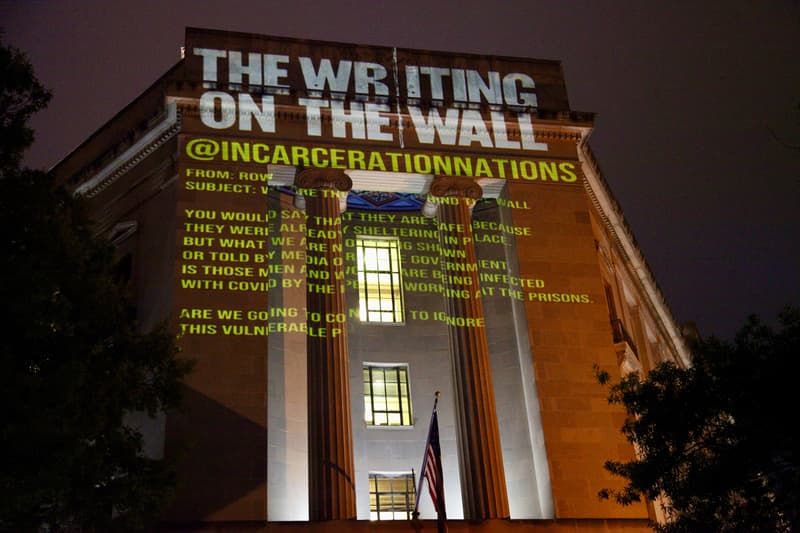 Hank Willis Thomas to Project Writings of Incarcerated People Affected by COVID-19
Taking place at the Brooklyn Public Library in New York City.
---
Hank Willis Thomas first debuted The Writing on the Wall installation with Baz Dreisinger, executive director of Incarceration Nations Network (INN), in 2014 as part of the Peoples' Biennial at the Museum of Contemporary Art in Detroit. The installation featured essays, poems, letters, stories, diagrams and notes written by incarcerated individuals across the globe.
Dreisinger collected these hand-written and typed pieces during her years teaching in US and international prisons. The primary intent for the presentation is to give a voice to the voiceless "as a form of verbal and visual intrusion, drawing attention to the crisis of our global criminal justice systems," as per a press statement.
Thomas and Dreisinger are bringing The Writing on the Wall outdoor projection to the Brooklyn Public Library. For the selection of texts to be projected, the duo aim to shed a light on prisoners who are living in poor conditions and lacking protective gear amid the ongoing COVID-19 crisis. According to the Marshall Project, a nonprofit news outlet that spearheads coverage on the US criminal justice system, over 20,000 people in prisons stateside had tested positive with at least 304 related deaths back in May.
"COVID-19 dramatically increases the risk of death for incarcerated people who are unable to socially distance and are at a higher risk for underlying health conditions that exacerbate the virus," the duo stated.
The Writing on the Wall will launch tonight at the Brooklyn Public Library at 8 p.m. ET. The projection will continue weekly on Thursday evenings up until the end of September. Accompanying the installation, INN will be mounting stickers, stencils and stills from The Writing on the Wall throughout New York City. The wheatpasting activation will then take place in locations in Nashville, Denver, Philadelphia, Boston and Orlando in the following weeks. These works will include QR codes that lead to The Writing on the Wall website and INN's #DefundThePrisons campaign.
Elsewhere in art, Damien Hirst teamed up with Fondazione Prada to sell limited edition prints with all profits to benefit the Save the Children fund.
Brooklyn Public Library
1044 Eastern Pkwy
Brooklyn, NY 11213