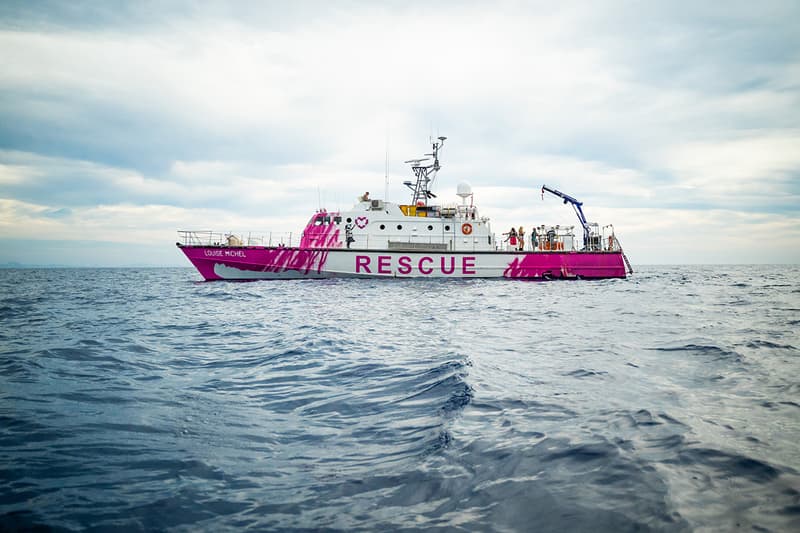 Banksy Funds 31-Meter Refugee Rescue Boat
The boat saved 89 refugees earlier this week.
---
Banksy has funded a 31 meter rescue boat to rescue refugees making their way from North Africa to Europe.
Located in the Mediterranean Sea, the street artist's bright pink boat — that features the word "rescue" on its side — rescued 89 refugees yesterday, according to The Guardian. Banksy's Girl With Balloon artwork can be found on the other side of the boat, only this time instead of holding a balloon, she's holding a heart-shaped life ring.
Named "Louise Michel" after the French feminist anarchist, the boat — with a crew of European activists with search and rescue experience — departed from Valencia on August 18 on its maiden journey. Those rescued by the boat are then taken to a safe seaport or alternatively transferred to a European coastguard vessel.
Yesterday morning, #LouiseMichel responded to a distress call from #Moonbird air reconnaissance plane.
89 people were rescued and brought on board Louise Michel. The survivors need a Place of Safety now.#SolidarityAndResistance pic.twitter.com/HWde3hYFqT

— LouiseMichel (@MVLouiseMichel) August 28, 2020
Banksy wrote to human rights activist Pia Klemp back in 2019, explaining that he'd like to give her funding after selling some work reflecting the migrant crisis. The letter read:
"Hello Pia, I've read about your story in the papers. You sound like a badass. I am an artist from the UK and I've made some work about the migrant crisis, obviously I can't keep the money. Could you use it to buy a new boat or something? Please let me know. Well done. Banksy."
Pia, who is a part of the current crew, hopes the boat's 27 knots will be able to beat Libyan coastguards to refugees and migrants in order to stop them being taken back to detention camps in Libya.
You can keep up-to-date with Louise Michel's progress via its Twitter account.
In other news, Banksy's homage to Basquiat has appeared at auction for first time.