On the Ground in Locked-Down Berlin With Mumi Haiati
The Reference Studios founder gives an insight into the city's new normal.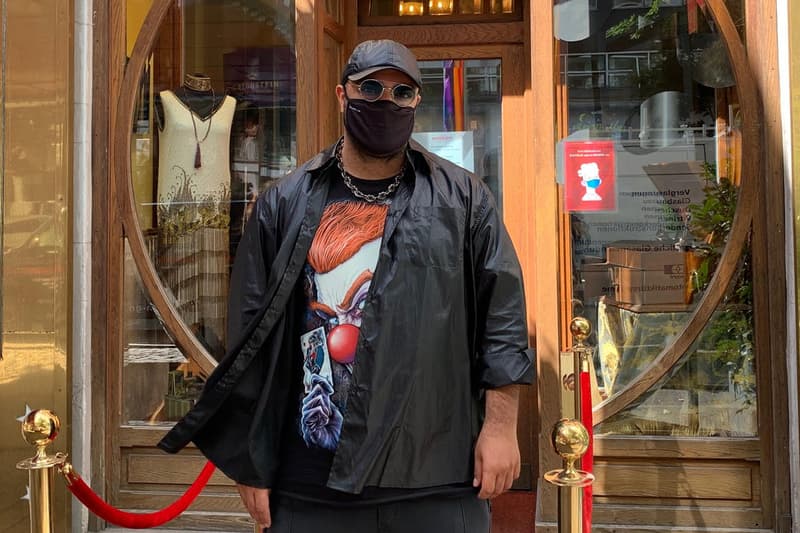 Though Berlin's creatives still believe in the its future as a cultural capital, the city has undoubtedly been rocked by the COVID-19 pandemic. Berlin has slowly been returning to a kind of normality since June, with bars, restaurants, stores and museums among the categories allowed reopenings, but there is a different feeling in the air. For Mumi Haiati, the founder of one of Reference Studios (the buzziest of the city's PR companies, which counts 032C, Kenneth Ize and Our Legacy among its clients), it's a mood that's unlikely to pass anytime soon. "There's a strong notion of change," he says. "I feel that we are going through a sort reset, like everywhere in the world. We have found a new order."
He is adamant, though, that the city hasn't lost its edge, pointing to the new ways in which the city's most famous spaces are functioning. "I know that in Berlin still there are exciting artists making things happen," he says. "While a lot of raves are happening outdoors, in parks, and the city is making efforts of their legalisation, clubs are now being repurposed into spaces of exploration. Berlin still feels like the place to be."
Here, Haiati shares his recommendations of what to do in the city now – while following local government guidelines, of course.
"Going out and enjoying things is certainly possible, albeit in a different way perhaps as we were used to. For restaurants and bars, I'd go Ryotei 893, Funky Fisch, and all the other beautiful spots of our dear friend Duc Ngo."
"Then there's Victoria Bar for the perfect drink, which is right next to our new showroom. I love having breakfast at my happy place, Königliche Gartenakademie – the go to place for gardening culture. And of course David Bowie's regulars, when he lived in West-Berlin: Paris Bar and Kumpelnest, the latter being one of the oldest gay bars around.
"A couple hundred meters away, our neighbor is also TV Bar, an exciting spot frequented by artists and the likes. Then of course there is Berghain's beer garden, Bierhof Rüdersdorf and what I like to refer to Berghain's new satellite, Oxi Garten in Lichtenberg."
"When it comes to stores and shopping, Berlin tends to feel a bit sparse. My personal highlights are, another neighbor, Andreas Murkudis, the Bottega Veneta store (just because I love the brand), our client Our Legacy's flagship in Mitte, opposite the COMME des GARÇONS store, and of course the most well-curated vintage retailer in town, Townes in Schöneberg. For books I like to visit Walter Koenig, and I always love to pass by our friends and neighbours 032c, both physically and online."
"Berlin still is a major player when it comes to the arts and culture. We've got Peres Projects, Sprüth Magers, Hamburger Bahnhof, Boros Bunker, Julia Stoschek Collection, Gropius Bau and Reinbeckhallen among many others, all of which are guarantors of a reliably exciting program."
"From the Waldorf Astoria's top floor you have spectacular views and you can see the Teufelsberg, a former spy station atop a hill in the middle of nature. I feel at home in both these places."
Previously, HYPEBEAST explored London in lockdown with Blondey McCoy.