Pop Smoke Honored in Vibrant New York Mural
In the rapper's native Brooklyn's Canarsie neighborhood.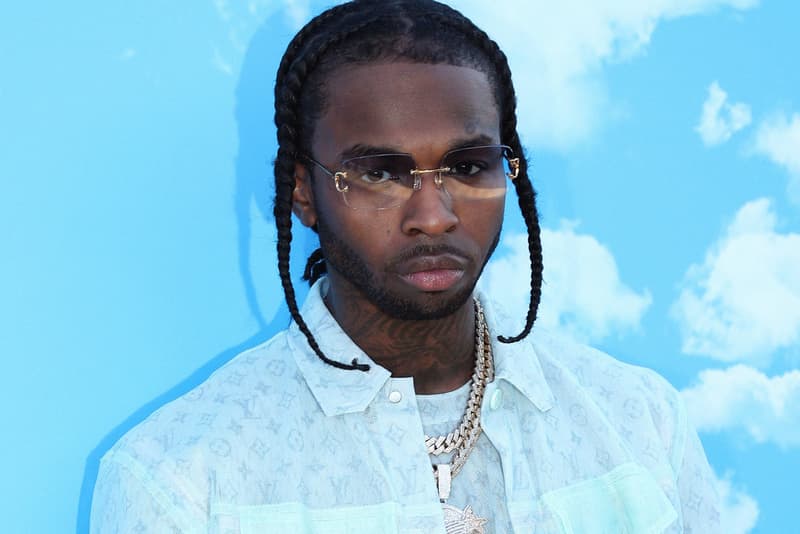 A large portrait of Pop Smoke currently rests over a wall in the late rapper's home of Brooklyn's Canarsie neighborhood. The rapper was tragically murdered at age 20 in Los Angeles earlier this year in February — five suspects have been arrested in connection with the crime — but the rapper's legacy continues to thrive with projects like his posthumous album as well as his charity foundation.
There doesn't seem to be much information yet on the artists that were involved in painting the mural beside the fact that Los Angeles-based mural company Hattas took on the endeavor. An Instagram post by the company shows a half-finished image of the large-scale piece, with the caption "We are honored to be painting this powerful memorial for the late Pop Smoke. If you're in Brooklyn, stop by to see it in progress at 8125 Flatlands Ave." The artwork depicts a smiling portrait of Pop, wearing a pair of shades, a gray hoodie and gold chains, juxtaposed by his rapper name and "Canarsie" behind a smooth smokey blue background.
Scroll below for a look at Pop Smoke's mural at 8125 Flatlands Ave. in Brooklyn's Canarsie neighborhood.
In case you missed it, more details surrounding Pop Smoke's upcoming deluxe album have surfaced.
Pop Smoke mural (Day 4)
Location: 8125 Flatlands Ave in Canarsie, Brooklyn pic.twitter.com/cKRfGPXtFW

— POP SMOKE ALBUM OUT NOW ? (@PopSmokeCentral) July 8, 2020
Close-up look at the new @POPSMOKE10 mural in Canarsie, Brooklyn courtesy of ramelyoung on Instagram ? pic.twitter.com/sCB8uQHncG

— POP SMOKE ALBUM OUT NOW ? (@PopSmokeCentral) July 6, 2020