New York City Mayor Helps Paint Black Lives Matter Mural in Front of Trump Tower
After announcing plans to paint the mural last month.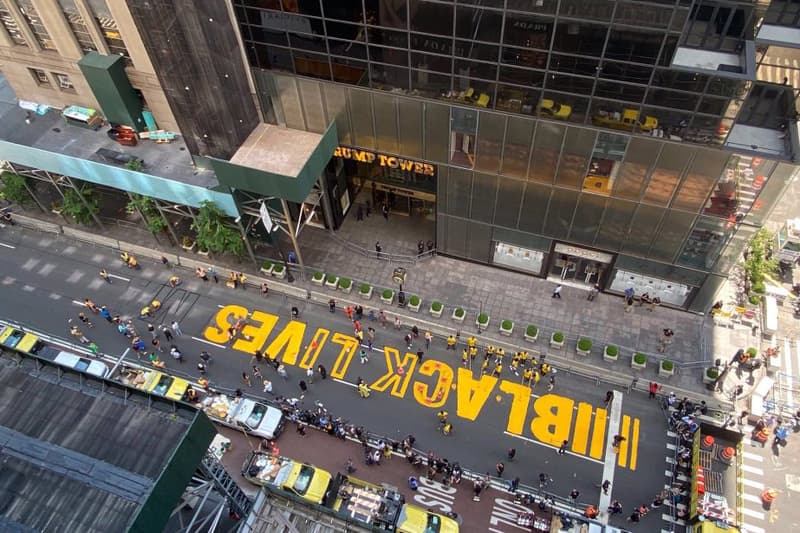 This Thursday, New York City Mayor Bill de Blasio took part in painting the massive Black Lives Matter street mural located in front of the Trump Tower in Manhattan. The mayor announced plans to paint the mural last month. De Blasio alongside his wife, Chirlane McCray and the Reverend Al Sharpton helped paint the mural as activists chanted "Whose streets? Our streets!"
"The president is a disgrace to the values we cherish in New York City," Julia Arredondo, a spokesperson for the mayor, told the New York Times when the plan was unveiled last month. "Any time [Trump] wants to set foot in the place he claims is his hometown, he should be reminded Black Lives Matter."
President Donald Trump was against the mural following the mayor's plans to install it, having tweeted that it would be a "symbol of hate." De Blasio responded to the president's tweet in his remarks during the mural painting: "President Trump said we would be denigrating the luxury of Fifth Avenue. Let me tell you: we're not denigrating anything, we are liberating Fifth Avenue, we are uplifting Fifth Avenue," de Blasio said. "When we say 'Black Lives Matter' there is no more American statement, there's no more patriotic statement, because there is no America without Black America."
Washington DC was the first US city to green light the sprawling yellow "Black Lives Matter" street art when the mayor, Muriel Bowser, had it painted on the street leading to the White House. Bowser said the painting represented solidarity with Americans speaking out against the murder of George Floyd in Minneapolis.
In recent reports, a couple seen painting over a Black Lives Matter mural in California's Contra Costa County have now been charged with hate crime.