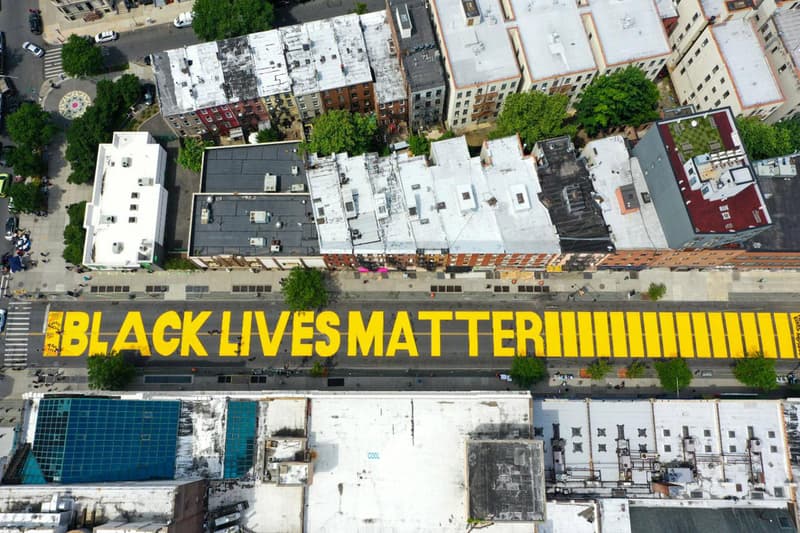 Black Lives Matter Street Mural Will be Painted Outside Trump Tower
"The president is a disgrace to the values we cherish in New York City."
---
Black Lives Matter murals have popped up on streets in Washington D.C. and New York City to show support for protestors that have been demonstrating since the death of George Floyd. This week, Mayor Bill de Blasio announced he is planning to install a massive Black Lives Matter mural on the street right outside of Trump Tower in Manhattan. Like previous murals, "Black Lives Matter" will be spelled out in bold yellow lettering along Fifth Avenue between 56th and 57th streets.
"The president is a disgrace to the values we cherish in New York City," said Julia Arredondo, a spokeswoman for Mr. de Blasio. "He can't run or deny the reality we are facing, and any time he wants to set foot in the place he claims is his hometown, he should be reminded Black Lives Matter." In response, President Donald Trump criticized de Blasio for wanting to paint a "big yellow Black Lives Matter sign" on "the fabled & beautiful Fifth Avenue, right in front of Trump Tower/Tiffany," before falsely accusing Black Lives Matter protesters in the city of shouting chants that encouraged the killing of police officers.
The installation is one of seven that will be created across all five boroughs of the city. Artists and volunteers recently completed a mural on a street in Brooklyn's Bedford-Stuyvesant neighborhood. Another has already been painted in Staten Island on Richmond Terrace.
In other news, the Metropolitan Museum of Art is the latest example of how museums must acknowledge their ties to white supremacy and structural racism.
Only warped minds equate the words Black Lives Matter with violence.

It's a movement to recognize and protect the lives of Black people.

Nobody's surprised that makes you uncomfortable. https://t.co/9tXVxqqEEF

— Mayor Bill de Blasio (@NYCMayor) June 25, 2020