Stay Home Snaps: Priya Ahluwalia
The independent designer is finally getting eight hours of sleep.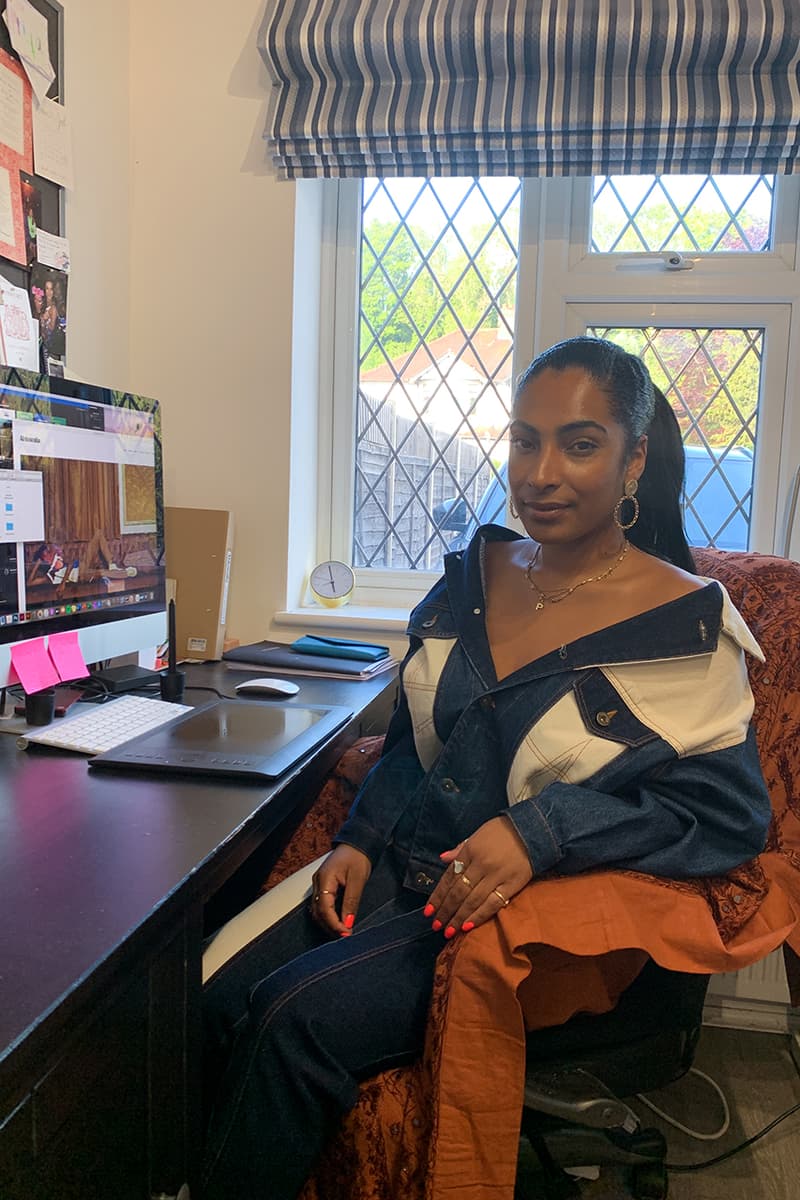 Stay Home Snaps: Priya Ahluwalia
The independent designer is finally getting eight hours of sleep.
Designer Priya Ahluwalia certainly started off 2020 with a bang, earning a nomination for 2020's LVMH Prize for Young Fashion Designers. The coronavirus lockdowns may have slowed the momentum for many rising independent designers like Ahluwalia, who heads up her namesake sustainable label, but she's taking it in stride. For now, the lockdown is a chance to refocus, and turn her attention to calming pursuits like baking in lieu of the nonstop fashion deadlines normally on her calendar.
That said, she's still made time for exciting projects for her label. This month she hosted a virtual exhibition in support of her new photography book, Jalebi.
Read on for how the London-based designer is staying sane in lockdown, and what she's added to her Netflix queue.
What's your daily routine?
Most mornings, I wake up and do an exercise session with some of my mates on Houseparty. It's my job to plan the sessions and then I put on some music and we all work out together, it's been so fun but definitely different to the pub! Then I take my puppy Lola out for a walk and then I start working. I'm not working as intensely as normal. In the evenings I've been baking and cooking a lot and then finish off the day with a book or TV.
Where in your home do you like to work?
My studio is actually at home so I'm still in the same place I normally work, I am just really missing having my team with me.
What do you wear while working from home?
Normally I wear an Ahluwalia tracksuit.
What are you eating nowadays?
I've been trying to eat more healthily, which I find really hard as I just love all food so much. I've even started having spinach smoothies for breakfast. In the evenings I've been having some vegetarian Punjabi dishes I've been cooking or meals like spicy grilled chicken and salad. For my treats I've been enjoying some of the baked goods I've made, including lemon drizzle cake, biscuits, banana bread and lemon-topped shortbread.
How do you stay in a good headspace while in isolation?
I have become resigned to the fact that I can't change anything so I have stopped panicking about the millions of deadlines I normally have. I'm trying to use the extra time I have to refocus on looking after myself a bit, before the lockdown I can't remember a week where I consistently exercised or got eight hours sleep a night, I would literally wake up in the middle of the night and double check I'd sent an email. I've even started doing a bit of yoga.
In terms of work, I'm focusing on things I don't normally get a huge amount of time to do, like lots of research and textile experiments, it's been so nice to have less "day to day" admin to deal with. I've also been keeping in touch with my friends and family, I keep thinking how lucky we are that we can communicate so easily now. So far, I've attended a Zoom baby shower, a Zoom birthday party that had a motown singer and Zoom bingo.
What are you listening to or watching? What are you doing for fun?
Most recently I've watched Never Have I Ever on Netflix, it made me really laugh and really cry. I watched Unorthodox, I found that fascinating and I've also been rewatching the U.S. The Office for the 100th time. On a sunny day, I've been sunbathing in the garden listening to Sade, Snoh Aalegra and Leon Bridges.