Roger Federer and On Launch the Most Technical Retro Tennis Sneaker Yet
In an exclusive interview with HYPEBEAST, Federer and On talk about the release of The Roger.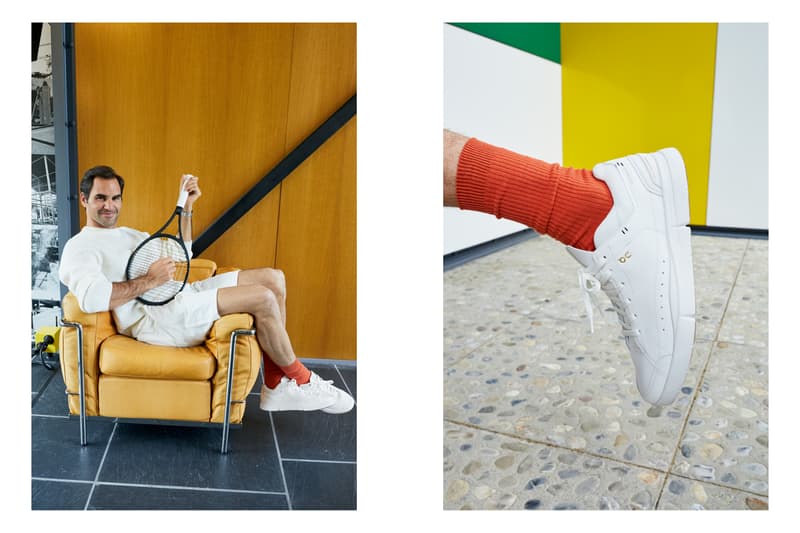 1 of 4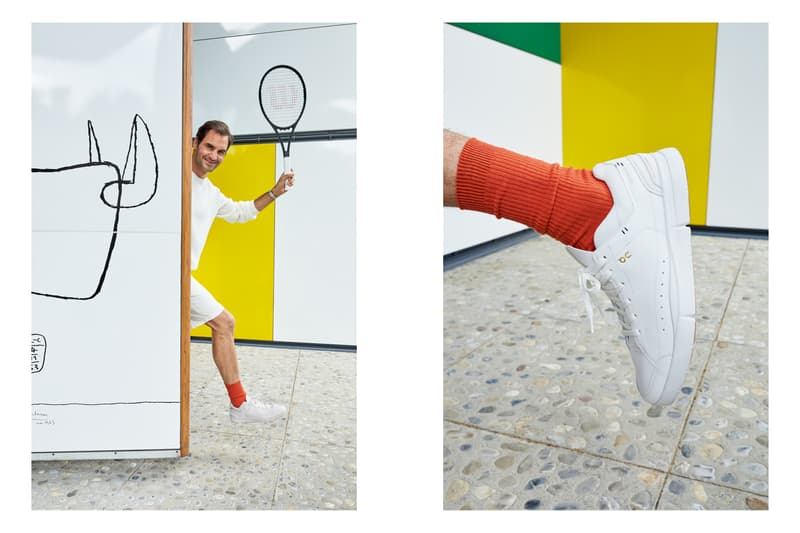 2 of 4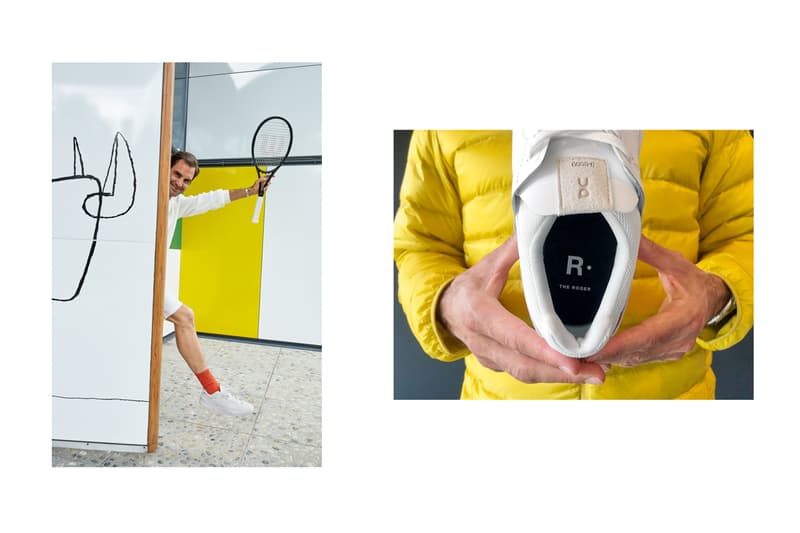 3 of 4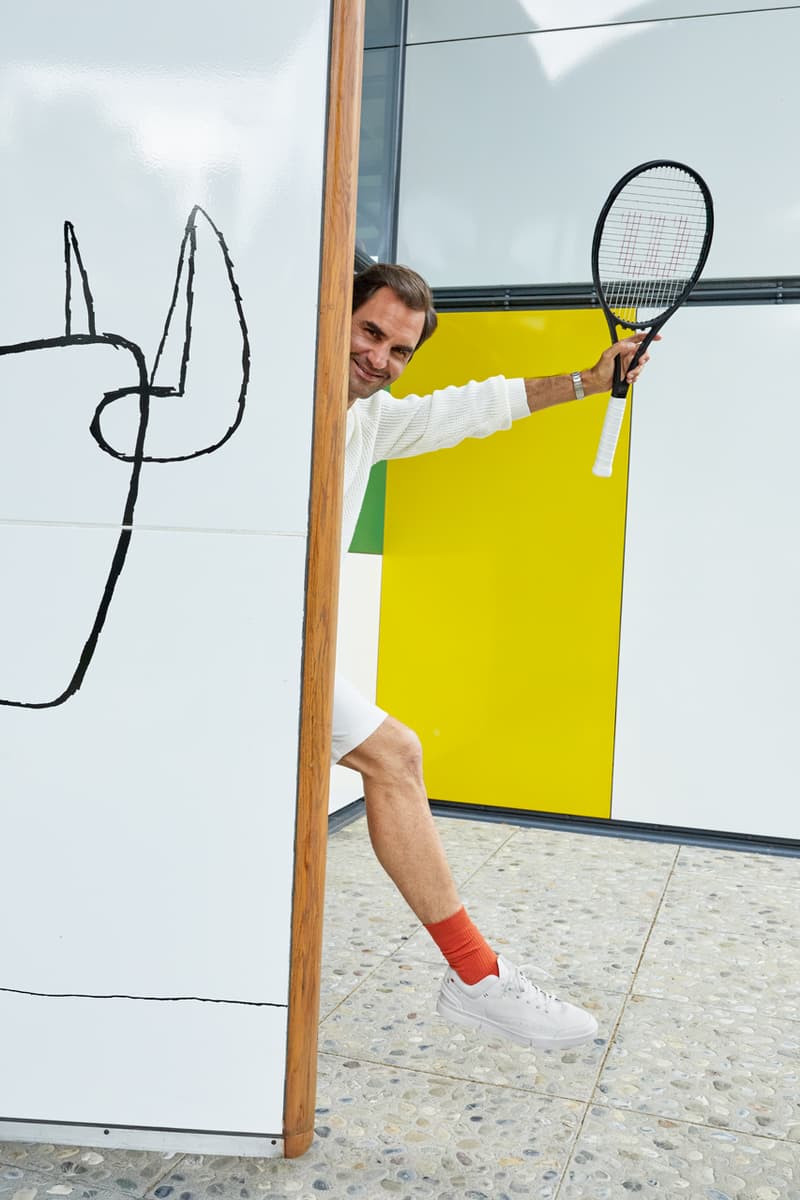 4 of 4
Seven months after announcing their partnership, Swiss performance footwear brand On and legendary Swiss tennis player Roger Federer unveil their first collaborative sneaker, THE ROGER.
When Federer first met with On's founders two years ago, he was immediately blown away by their commitment to performance innovation. But being somewhat of a style icon in his own right, the 20-time Grand Slam winner was curious about On's ability to find a place in the world of fashion. He loved the comfort and lightness of On's running shoes, thanks to the brand's proprietary CloudTec® technology, where hollowed pods take shape in the sole unit to offer an elite running experience. So Roger naturally asked, "What if we cover them up, yet they're still there?"
After two years of prototyping, this idea has finally come to fruition in THE ROGER, a shoe inspired by the archetypal tennis sneaker of the '70s. An obvious silhouette choice for one of the greatest tennis athletes of all time, but also a challenging one to reinvent and reinspire. However, with this encased CloudTec® sole unit, along with On's Speedboard® and signature sock-like entry, THE ROGER is touted as the most comfortable and lightest tennis-inspired sneaker ever.
What's more is that THE ROGER was crafted with their beloved Swiss mountains in mind, and uses a high-grade vegan leather, which is approximately 30% of the footprint of animal leather.
Today not only marks the announcement of THE ROGER but also its first release. Dubbed THE ROGER Centre Court "0 Series," this inaugural edition is limited to 1,000 and individually numbered. It features a familiar all-white color scheme with white stitching, gold embossed decals, a small Swiss flag at the heel, a black Speedboard® and gum outsoles.
THE ROGER Centre Court "0-Series" will be released through a draw at on-running.com/theroger today, July 6, and in-store exclusively at Dover Street Market locations around the globe. Sign-ups for the draw will begin today at 10:20 a.m. CEST and will close on July 8 at 10:01 a.m. CEST.
Today, Federer will also host a livestream, coinciding with his first Wimbledon title 17 years ago. Roger Live starts today, July 6, at 10 a.m, CEST on theroger.com, and it'll consist of "three sets and two tiebreakers" where Roger will be hanging out with some of his friends, talking tennis, life and of course his new sneaker. Fans all over the world will also have the opportunity to ask questions and even play virtual tennis against Roger. HYPEBEAST will be calling in at 7 p.m. CEST to chat with the tennis superstar, so don't miss out.
Finally, we had the chance to speak to both Federer and On Co-Founder David Allemann about THE ROGER, what it was like to work with one another and why they think this shoe will become the next tennis classic, one that'll inspire generations to come.
These interviews were conducted separately and have been condensed for clarity.
Roger, we last spoke back in November, when you officially announced your partnership with On. How has it been working with On the last seven months? How are you fitting in?
Roger Federer: It's been great having more time, due to the pandemic. I've been doing workshops with On and they've been coming up to the mountains for meetings. It's been great getting to know them, because time is always of the essence, especially when you're trying to create something together. I'm really happy so far with how it's gone.
I've found my place within the company, because at the beginning, you're not quite sure [where you fit in]. You don't want to step on anyone's toes, you want to make sure everyone's comfortable, you don't want to take anyone's space away. I'm just here to help and I'm here for the long haul. It's a priority for me.
How has your perception of the company changed?
RF: I knew about On, but once you pull away the layers, you find out they just celebrated their tenth anniversary. Then you look at their numbers and what the projections are, and it's very impressive. And then seeing them come through this pandemic; online has been doing very well for them, they haven't had to let anyone go, they're still hiring people, and right next door, they're building a new campus.
It's been great to meet so many new people, because that's what it's about for me, the trust and the people. So my approach for the last six months has been to get in touch with as many people as possible. I've even done some fitness sessions to help motivate On employees.
I must say, they know their stuff. They might be a small team, but they're nimble, fast, and they make quick decisions, which I think is a real positive in this day and age. And they're really open, and they know what they're doing.
Seven months is too short of a time to turn around and mass produce a sneaker, so when did the conversation around THE ROGER really begin?
RF: Correct, usually, you cannot turn around a product in six months, like shoes or rackets, it generally takes a year, year and a half, sometimes two years. But I met On two years ago when my Nike contract ran out, and I said how about we meet up for dinner and see if we like each other, and if there's business to be done, we'll see.
I remember when we met up and I gave them all sorts of suggestions that I thought would be interesting for them, and I think that's when they started working on a lifestyle sneaker. I didn't care if something came out of it, because I was just happy a Swiss company like On was making a dent in the sneaker world and being global — America is their biggest market right now.
"For me, to launch a shoe that crosses over into street culture, I think that's always been more important. And I think that's the same with tennis clothing. Tennis has a great history in fashion." — Federer
David, what was it like meeting Roger at this dinner?
David Allemann: We were nervous, because you feel you know Roger, and because we don't have royalty here in Switzerland, Roger and Mirka [Roger's wife] are our royal family. You feel you know them but we all were nervous to meet him. One of the first things he told me, within the first half hour, was, "I'm pretty much on HYPEBEAST everyday." So that speaks to his true interests, of performance innovation and the cultural relevance of it all.
It was a super engaging conversation, that was very broad, that went from sports and tennis, to innovation, to fan experiences, then to sneaker culture, art and so on. So we found a date to have a follow up for him to visit us in the lab. And we asked him to come on board with us.
It sounds like you were very interested in helping the company, Roger, in any way you could.
RF: I do believe I'm here to challenge them, especially from a professional athlete standpoint. But if they don't like my ideas, that's not a problem for me, I don't take it personally. But I think they appreciate me being honest and coming at it from a different angle, even though it's really important for me to remember the history of On. They're a running company, very close to tennis in some ways, but everything is forward, while tennis is very lateral.
On is most famous for its CloudTec®, with the holes in the outsole, and I asked them, "What if we cover them up, yet they're still there?"
So what went down at that second meeting?
DA: The next time he visited us we already had a prototype of the outsole that hides the CloudTec®, so we put it on the table and said, "We had this conversation the last time, so here it is. What do you think?" It was no shoe, just an outsole. And that naturally led to the conversation what shoe should that go to. Then the conversation went to one of the most used shoes where this tech would benefit the most people: the tennis-inspired sneaker.
But, why a casual sneaker and not a performance shoe? Considering you're a professional athlete.
RF: I really got into sneaker culture, especially the last 5 or 10 years or so traveling around the world so much. I started to look around and see what people were wearing, what's hot, what's working, and evaluating my own style and what not.
But I like the idea that it doesn't alway have to be exactly a tennis shoe. I don't know, it just makes too much sense, but I think in terms of for the street, this is what I've really gotten into and what I'm passionate about. For me, to launch a shoe that crosses over into street culture, I think that's always been more important. And I think that's the same with tennis clothing. Tennis has a great history in fashion.
I told them I wanted this shoe to be something you can wear at all times, no matter where you go. It's like a watch, you'll remember when you wore it, because I think shoes are becoming more and more important for people around the world.
David, this is only On's second casual sneaker, and the first dropped only a couple months ago. What made the company expand into the world of lifestyle footwear?
DA: We call it "performance all day," because we feel it should still be performance-driven. It was very organic from the beginning. We're a performance innovation company that dared to start a new running brand, based on the fact that we felt we had a very different proprietary technology, so people standing in the shoe, they'd say, "Wow that's different." It's a different feel you have, like when the first carving skies were coming out, or the first full-suspension bikes came out. These are engineered solutions to problems.
We saw a lot of people wearing On all day, everyday, so it was a very organic transition. Then we started seeing market research figures, where in Germany, one of our models, the Cloud, was the second most sold sports-inspired silhouettes after the Air Max 270. We realized we were ahead of the Stan Smith, we're ahead of most Converses. In Switzerland, we're now the number one performance running brand in terms of market share, 45%, but of course that's not just running: 70% are wearing On just as a sneaker and not just for running. So we thought, "what's our next mission?"
We felt, especially in the last two or three years, every fashion brand has copied the sneaker silhouette, even fashion brands you never would have thought would lower themselves to the sneaker, and sometimes they just added jewelry to them, becoming super heavy and the function was gone. They were just copying the silhouette. And we thought what made the sneaker popular in the first place wasn't just the design, but the function, the freedom to go everywhere. So we wanted to make a sneaker that is very much a sneaker but brings in the latest running technology, our CloudTec®, Speedboard®, foams and more. We also did it for us.
Roger, there's an obligatory question everyone asks a collaborator: how involved were you in the process of creating and prototyping THE ROGER?
RF: I think what's important is that when I do something like this, I do it with passion and that I give the necessary time and not "go create a shoe and I'll let you know if I like it or not." I've been much more involved than most people think.
Now, I'm not very good at drawing, I didn't go to design school, but I think where I help most is with the details, and giving them all my inspiration, the storytelling, and the dos and don'ts. I feel like this shoe came about very naturally, and very quickly, there weren't many things at the end I wanted to change.
A lot of it was about me getting to know the brand, what can they do, what can't they do. I don't know if I'll ever literally draw shoes, because I think you have to know what you're good at, I'm better at guiding them in the right direction.
David, what has it been like working with Roger, and have you noticed any parallels to his game?
DA: What I see is that he favors technical solutions, but also a design language that is all about perceived lightness, perceived elegance and perceived simplicity. So when you look at THE ROGER for example, it's a third lighter than comparable tennis-inspired sneakers and that's achieved because we're using super light foams and not decades-old vulcanization technology that was originally invented for rubber boots.
When we started, we thought, "How do we work with the latest technology to upgrade the tennis-inspired sneaker to the next level?" So then you're almost obliged to bring in lightness. So now you have a tennis-inspired sneaker that's one of your most comfortable sneakers among all of them, and then it comes in a very sleek silhouette. So in the end, it's a very simple package but very refined. That's probably what speaks most to his game.
Roger also brings the athlete spirit to the table. For many of us at On, sports have been at the core. We often speak of the athlete spirit at On, and what that means is that if you win today, it's fantastic to celebrate, but now you've up the game for everyone else. So if you want to win tomorrow, you have to wake up, ask the right questions and do the right things to be back on that podium. And the best person to stand for that is Roger. He's always had to reinvent himself. He's relentlessly curious and asks the right questions. He was the one who asked, "I love CloudTech®, but what about lateral movement and can you hide the technology?" And that was precisely the right question.
"You have to move away from what's been there in the past to try to set the foundation for future classics. Because if you just preserve, then culture will not move on." — Allemann
Now that it's here, THE ROGER, what are you most proud of with this sneaker?
RF: That it's finally here, it's finally come to fruition. I can actually wear it and be really proud about it. I know I've had tennis shoes in the past and had some sort of impact, but never to this extent. This is very personal to me. And everything from here on forward that will have the name THE ROGER on it will obviously be very personal and important to me.
It's just going to be crazy seeing people walking around in it. I think for me, we just have to make sure the comfort is crazy good. And it's very light. And with the vegan leather, it has a third less waste than other tennis sneakers. At the beginning you don't have to say "Oh my god, this is beautiful,' I just want you to not want to get out of the shoe.
DA: Ultimately, because of the technology, I feel it's the most comfortable tennis-inspired sneaker and that speaks to the versatility. So it's this performance-driven comfortability that's super important. That's my function first answer, but I can geek out about the aesthetics as well, but I feel function first.
David, are you at all concerned that the pandemic will impact the sales of THE ROGER?
DA: It's part of the human spirit, we have to be resilient and keep innovating and finding better solutions. And we feel it's not time to stop that, but to the contrary, move ahead faster, like we did with the Cloudnova.
We also feel athletes adapt, so it's about keeping the athlete spirit, and this is very much Roger's spirit. So we thought, if we can't do this as we originally planned, how can we do this even in a more interesting way? In a situation when there's not so many fan moments, let's create a virtual fan moment, like the livestream, one that's very democratic and celebrates Roger's first Wimbledon title. Let's create a bright spot and continue to push.
Finally, why remake something that is already considered timeless? What's THE ROGER bringing to the table?
DA: Oftentimes you have something that comes out that's completely new and it shocks people, typically in cars and furniture. And that's a moment in time when you don't know if it's a gimmick or an eternal classic, you just know in hindsight. But you have to move away from what's been there in the past to try to set the foundation for future classics. Because if you just preserve, then culture will not move on.
I feel the tennis-inspired silhouette has a quality of simplicity to it. It's a sleek silhouette, it's almost like a white sheet of paper, and we feel that it's something so basic that it's here to stay. And that's the biggest challenge. When you speak to product designers and ask what's the biggest challenge for you, it's to design a new chair. Because there's been thousands of chair designs, so to design one that'll be here to stay, that's almost the biggest assignment. So naturally working with Roger on a shoe, in our eyes the greatest tennis player, in addition to the great product designers and technicians at On, it's a dream team to work on the most challenging assignment, the white sheet of paper for the sneaker world.
RF: Because we've seen the same shoe, which has been a great shoe, all the tennis-inspired sneakers from back in the '70s, but I don't know how much technology we've seen going into them. We've seen them work well and look good, but this one is going to have the latest technologies in footwear, with CloudTec® and Speedboard®, and I think you'll feel the difference.
I hope THE ROGER becomes a classic that inspires the future tennis classic.