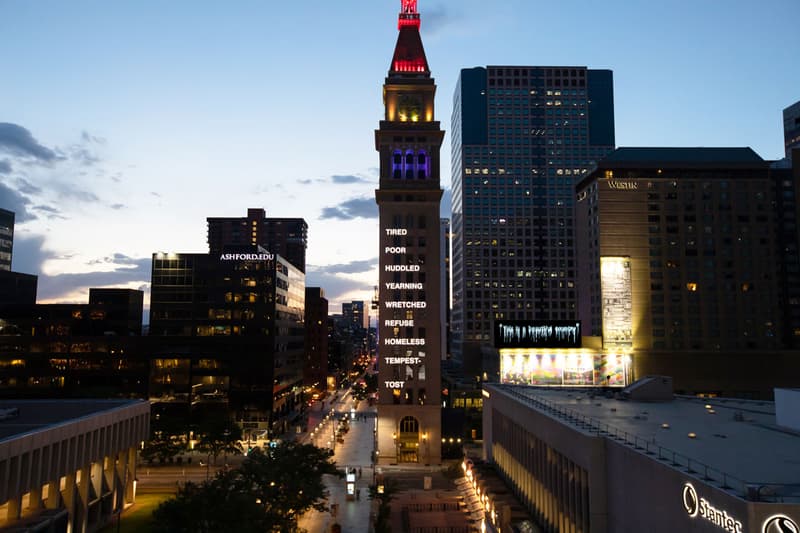 Nari Ward Unveils Massive Public Art Projection in Denver
To commemorate the artist's "We the People" retrospective at MCA Denver.
---
Harlem-based artist Nari Ward is the focus of a major retrospective at the Museum of Contemporary Art, Denver. Entitled "We the People," the presentation is an extension of the artist's exhibition, of the same name, held last year at the Contemporary Arts Museum Houston and the New Museum in New York. The show features a selection of sculptures, paintings, videos and large-scale installations that touch upon socio-political issues. Ward is known for using unconventional materials to create his works including plastic bottles, fire hoses, strollers, and shoelaces.
Accompanying the retrospective is a new site-specific work by Ward entitled LAZARUS BEACON. The massive, digital-based work is being projected onto the facade of the Daniels and Fisher Clocktower — a historic 325-foot tall structure at the center of the city. The projection features words from The New Colossus sonnet by the late American poet Emma Lazarus. The famous poem is etched onto the Statue of Liberty monument in New York City.
"We are so pleased to partner with Orange Barrel Media to bring Nari Ward's profound, poignant works to a broader audience in the center of Denver. We hope these digital works foster meaningful dialogue, especially at this critical moment in our city and nation, as we reckon with so many of the issues raised by Ward's work, such as the legacy of slavery, systemic racism, and police brutality," said Nora Burnett Abrams, MCA Denver's Mark G. Falcone Director.
"Nari Ward: We The People" is currently on view at MCA Denver until September 20.
Elsewhere in art, The Metropolitan Museum of Art just shared a 13-point anti-racism and diversity plan after the institution was criticized for its controversial remarks amid the Black Lives Matter protests.
MCA Denver
1485 Delgany St.
Denver, CO 80202