How To Make a Sneaker Sole Print with Matt Senna
The mixed media artist and designer shows you how to make art with your favorite kicks.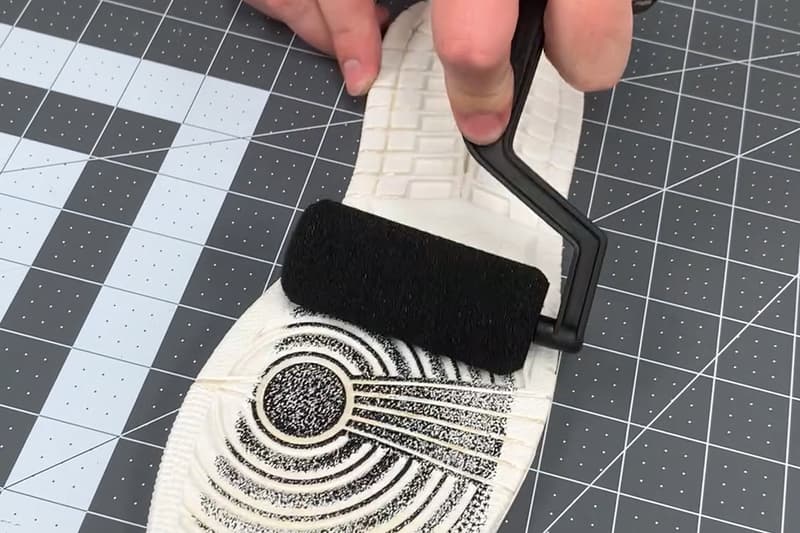 Sneakers are art, from the way they're conceptualized and sketched to the way they're built — exactly why you see so many sneaker-inspired sculptures, prints and pieces. Mixed media artist/designer Matt Senna has often used the artistic flair of sneakers for everything from his famed metal-casted sneaker sculptures to his recent "Take Flight" print series, so for the latest installment in HYPEBEAST's latest How To series, Senna shows us how to make a sneaker sole print.
After gathering various art supplies and the sole of your choice — Senna opts for the instantly recognizable Air Jordan 1 in the video — the process begins with a simple outline trace of the sole itself. In Senna's case, he adorns the sole print with feathers to hone in his "Take Flight" motif, so the feathers are doused in black Speedball ink. These ink-coated feathers are then rolled on another piece of paper, placed around the previously-cut outline of the shoe's sole.
Next steps entail rolling ink over the sole itself, then flipping the feathered outline onto the sole itself to complete the assemblage. This part of the process requires a delicate touch, as Senna encourages you to feel out the sole's placement but be forceful enough to ensure the ink transfers properly. "Every [print] is going to be different" says Senna. "There are going to be imperfections. It's all about having fun, seeing what you can get out of it."
Check out the step-by-step process above, and see Senna's other work on his Instagram.
For more HYPEBEAST How To content, learn barspins with Nigel Sylvester and create pink leopard-spotted hair with dye master Rebecca Mateydes.