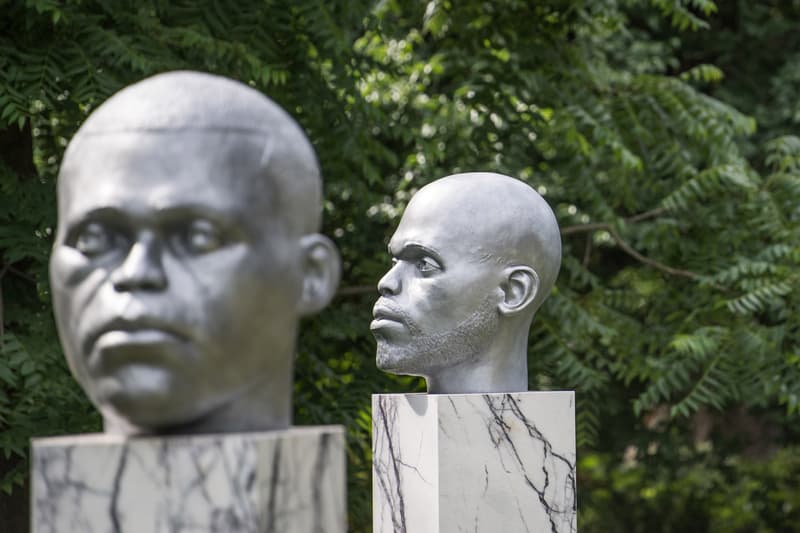 London Is Getting Two New Sculptures to Honor Windrush Generation
Created by artists Thomas J Price and Veronica Ryan.
---
Statues across the U.S. have come under public scrutiny as activists demand that Confederate monuments — statues that pay tribute to former slave-holders and reflect a system of racial inequality — be taken down following the death of George Floyd. Two leading Black artists have now been chosen to create sculptures honoring the Windrush generation in Britain, a momentous decision that acknowledges the contributions of first-generation migrants, especially those with an Afro-Caribbean background, who moved to the U.K. in the late 1940s. Windrush Day was introduced only two years ago on the 70th anniversary of the Windrush migration.
The artworks will be created by London-born artist Thomas J Price and Montserrat-born British sculptor Veronica Ryan. "It's not an answer to the statue conversation," Hackney mayor Philip Glanville explained. "But I think it's an early down payment on righting some of that wrong, and a chance to see more diverse people represented in a public realm." The sculptures will become the first permanent artworks to honor the Windrush generation.
Price, whose work has repeatedly addressed identity, plans to construct a bronze figure based on photo archives and digital 3D scans of Hackney residents. He hopes the work will act as a permanent reminder of the London borough's connection to Windrush. "For the people who are here today who are British, but have to answer that question of: 'Where you really from?' They can see there's a sculpture standing 9ft high, looking like someone they know, in the center of Hackney," he remarked.
Ryan, on the other hand, is creating a series of large marble and bronze sculptures representing Caribbean fruit and vegetables. "The movement of fruit and vegetables across the globe historically exemplifies the way people have been part of that movement," she said. "Many fruit and vegetables have their origins in Asia, and Africa. The perception of origins, and belonging to specific places is an extended part of the conversation." Her work will provide a sense of belonging and visibility to people whose history remains untold.
The sculptures are expected to go up in Hackney in 2021.
In other news, Arthur Jafa's moving video installation titled Love Is The Message will be available to stream for 48 hours in museums around the world.