Vince Ash Premieres Menacing New Song "Vito" Ahead of Upcoming Project
The Hammond, Indiana rapper's first output in two years is a memorable one.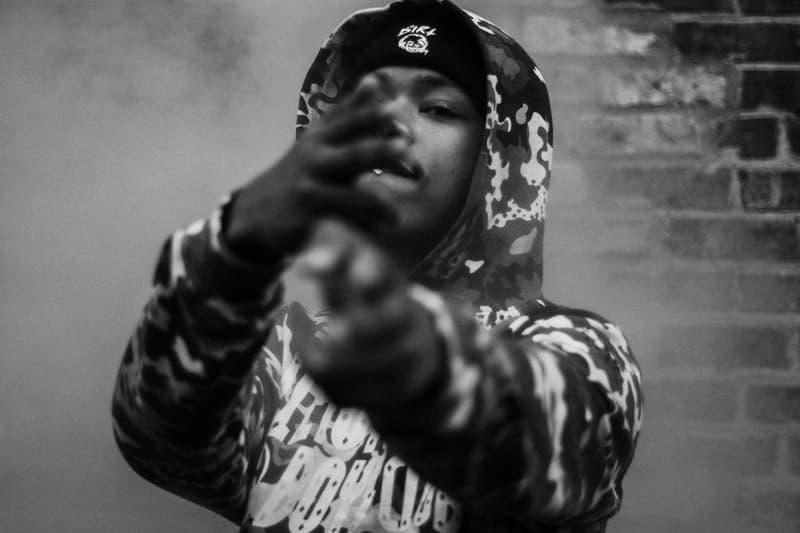 The first time that you hear Hammond, Indiana native Vince Ash, you'll remember it. He has the type of resonating bass-like voice that echoes of Death Row. After he put out his first project Do or Die back in 2018, the rapper disappeared. Now he's returned for his latest single "Vito," the perfect reminder of his skillset and a stark warning for those who claim to be about that life but simply aren't.
"Vito" serves as the title track to his upcoming project due out later this summer. On it, Vince perfectly balances shades of the West Coast 1990s aesthetic with modern trap. It's minimalist, uncomplicated and purely confrontational in the best way possible. "You ain't cut from that cloth, you need to stop it/ you ain't gangsta 'cus your homies caught them bodies/ I'm the company I keep but stand alone as a G/ If you wanna see what it's gone be, then it's gone be, you see?" Vince raps. He messes with cadences, melody and even breaks out into a hushed half-whisper on the song in an overall menacing display.
Listen to Vince Ash's "Vito" below and tap in with our premiere interview with the rapper on what's to come, what he looks for in an instrumental and more.
---
First off, I have to check in and ask how you're managing the times with the coronavirus but now the nationwide protests. How are you maintaining right now?
I been smooth really, I'm usually in the crib, if I'm not out taking care of some kind of business. With all of what's been going on, it's made things a little difficult but we adapt. I've been using this extra time to lock in creatively and in terms of the protest I feel like there's a lot of light being shed on places that have been in the dark for too long. Riots are the rage of the people, and I feel like a lot of what we're seeing now is expressions of anger we would usually keep bottled up. With what's been happening politically, as well as this quarantine, what happened to George Floyd and others who've lost their lives senselessly, was the straw that broke the camel's back over what we've been peacefully protesting these last couple of years. It was inevitable and all the while necessary. Actions always speak louder than words.
When I was sent the private stream, the description of the track read "the hardest sh*t since MC Ren." What other artists have you looked toward to inspire this upcoming project?
Nothing but respect to Ren, and N.W.A. They laid a lot of the groundwork for what I'm doing but I wouldn't say folks are an inspiration of mine directly. For this project though, I did draw some inspiration from Eazy as well as BG and Three 6 for a couple of the joints on it.
What have you been up to since dropping your last project, Do Or Die in 2018? How have you grown as an artist since then?
I've been doing just that, growing, not just as an artist but staying on my Ps and Qs. Taking time to reflect, making sure my next move my best move: chess not checkers ya feel me. I felt like my last go around I didn't have a plan, this time I feel like we're more put together
How did growing up in Hammond, Indiana influence your sound? When did you start to pursue a career as a rapper?
Hammond is where I started but I grew up all over the 219 (Hammond, East Chicago, and Gary) at the same time traveling back and forth between out there and Chicago visiting family. I'd say the impact that it had on my music is that I was able to make a connection that all these areas we're dealing with the same issues — they always had the same type of people living in 'em, so whatever I talked about, speaking from my experience, I knew it'd resonate.
I always wanted to rap, I just never knew how to get started, I would write here and there then I started recording around my freshman year, I ain't really start locking in 'til my sophomore year. My junior year I dropped my first video and got on ELEVATOR, after that it was wrap though, I was throwing all my little re-up money and what I could get together, f*ckin' up packs to go to the studio.
The production on "Vito" is so clean. It's hard-hitting, short and sweet and definitely will leave the listener wanting more. Who have you collaborated with on the production side of things for the project? What are you looking for in a beat these days?
Appreciate that, My homie Twan from the G and Nascent really brought that vision to life. On the tape it's mostly them and my other brother Lanre who pieced it all together. Nascent touched on everything except one beat on the project and did two solo. Folks really came through for me on this one. There's nothing particular I look for in a beat other than it smackin'. I can rap on whatever, old or new, it just has to make sense.
What are you hoping to accomplish for the remainder of the year?
This year we plan to get some more music out following Vito. I've got a lot more ideas, and I feel like I've grown as an artist even in the time since I wrote everything for this project. We have a lot more coming from The Commission this year as well, debut projects from other members of the Mobb, more merchandise, and hopefully just a lot more moves planned correctly. I see it being a good year.
#VITO coming soon
Trailer brought to you by The Commission.
Film Credit: @zachroy_@_chrisvergara_ @nickvisuals
Shop at: https://t.co/iOJ36F0srH pic.twitter.com/XfSW5rSlB3

— ? (@1022VITO) May 21, 2020