Gunna Escaped to Jamaica, Flexed His Inner Gemini and Found Clarity
His 'Drip' is forever, but on 'WUNNA' the superstar recalibrates.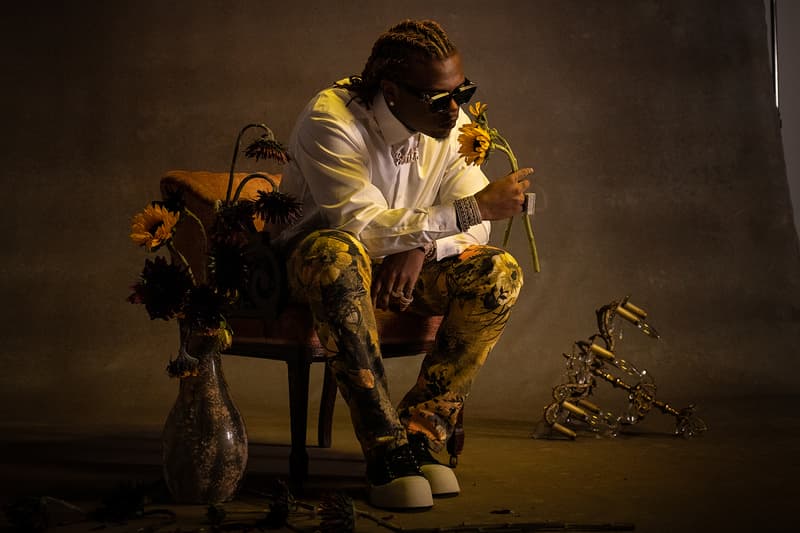 As the old adage goes, three things in this world are for certain: death, taxes and a solid feature verse from Gunna. Complacency isn't a word in the 26-year-old rapper's vocabulary. For well over two decades, the Atlanta trap scene has demanded that its artists release an endless array of mixtapes, collaborative EPs and albums spread over such a brief timeframe as the formula to short-term success and long-term exhaustion. Someone so entrenched in that movement could easily get lost in the mix, especially when the industry is hungry to wring dry their signature sound for over 100 features in a single year.
What's most impressive about Gunna, born Sergio Giavanni Kitchens, is the high quality he's maintained in the face of the absurd quantity of his guest spots. And that's before mentioning his trio of Drip Season mixtapes, his collaborative effort with longtime friend Lil Baby for Drip Harder or his Drip or Drown saga, all five released in the last three years. It's almost as if the 30th anniversary of Nike's "Just Do It" campaign sunk deep into Gunna's psyche, helping him skip the painful early stages of artistic discovery. He just found a booth, laid down a melody and moved onto the next one until he surpassed that Gladwellian 10,000 hour rule and became one of hip-hop's most influential voices.
To create his latest full-length project WUNNA, Gunna escaped to Jamaica to recalibrate after a marathon of jumping on high-profile songs that weren't his, but ultimately ended up being his. This isn't to say that his trip, documented in a series of Spike Jordan-directed visuals, wasn't full of his usual penchant for the finer things in life. The short film highlighted designer clothes, chains heavy enough to harm a healthy posture and so much smoke it would sedate Sir Smoke-a-Lot on his most stressful days.
The three-week sabbatical resulted in newfound clarity by way of crisp instrumentals from frequent collaborators Turbo and Wheezy. Newcomer Tauras, Gunna's tour DJ, provided perhaps the freshest sound on the project with the album's debut single "SKYBOX," drifting into pop territory with shimmering synths and an electric guitar riff. At times the record sounds like a trip into psychedelia, just without the experience of fast food religion. Young Thug, Lil Baby, Travis Scott and Roddy Ricch help make WUNNA an A-list affair, but it remains Gunna's show throughout.
He ditched the murky, echoing soundscapes of his past Drip series efforts and somewhere along the way discovered his alter-ego, Wunna. Gunna attributes his Gemini status as the force that allowed him to tap into the multiple sides of himself which eventually inspired his album artwork: a cartoonish rendition of Leonardo da Vinci's Vitruvian Man with Cartier frames and a stoned expression. He also came up with a backronym: "Wealthy, Unapologetic Ni*gga Naturally Authentic." He laughed and explained, "When I posted on Twitter I was kind of just high."
There has yet to be a moment in the young rapper's career where he's encountered a roadblock in his music. The results have always been as glamorous as they are effortless, and that's as apparent on WUNNA as ever. Gunna hasn't reached the point of exhaustion yet either. "Of course not. It's what I love to do," he told HYPEBEAST after debating the number of features he's done in the last year.
Much like his drip, Gunna's kinetic energy is limitless. WUNNA is the first example of the artist branching out, and while the loosely-defined alter-ego still needs some fleshing out, both versions of Gunna are becoming pop superstars. Below, Gunna tells HYPEBEAST about staying motivated, bringing his collaborators down to Jamaica and his upcoming projects with Lil Baby, Young Thug and Future.
HYPEBEAST: How are you holding up during the coronavirus quarantine? Have you been recording new material post-WUNNA?
GUNNA: I've just been staying inside a lot. Staying safe. I'm actually recording more than usual because I don't got nothing else to do. With this downtime I've made sure that I'm using it productively to do things that I really needed to do because I've been on the road for quite some time.
Maybe like two weeks ago I started going to the gym to work out. I might take off weekends from the little training sessions I've been doing. Right after the quarantines hit I had gotten so subtle by being in the house and just recording at home. I started going to my personal trainer's gym in the morning to make sure my health was staying up.
The visuals for WUNNA were elevated in a way that we haven't seen from you before. How did doing that influence the outcome of your new project?
[Spike Jordan] gave me the ability to be me. [The documentary] really showed me being myself and that I am an artist and I'm currently perfecting my craft. I really feel like it helped make people understand [WUNNA] more and the work that I put in to make this album possible.
How much of the project did you record down there?
Maybe like half of the whole album. As I started moving, I had to go to Australia and New Zealand and I was shooting and getting scenes done while over there. Traveling helped make the album start to make sense.
How have your relationships with go-to producers like Turbo and Wheezy grown since Drip or Drown 2?
Man it's elevated. We making music together — like they're making beats specifically for me. The chemistry keeps growing. Even with Tauras, he's my new producer but he was my DJ first, he picked it up from just being around and seeing the creation. He saw how we're moving and making these songs, making these hits. Because of that, the relationships have been built to a whole nother level.
You took to Twitter to explain the meaning behind the title WUNNA, so how did you come up with that concept?
Wunna is just my alter ego. I tapped in with myself for the project. I know that Drip was something that I created, something that I started and it's always going to be there. I got infinity drip. So with this project I wanted to tap in on the artist side of me — let everyone know that I really do music. I wanted to start another chapter if you know what I'm saying. And that's when I came up with WUNNA given that I'm a Gemini, that basically I'm like two people.
I feel like one is my second person and that's how I kinda came up with the title, just being in Jamaica. And I felt like I was one person out there. Wasn't no show. I was just in my zone, vibing and kicking in. I was out of town. I wasn't at home. So I felt like by relaxing, there's more of me, more bringing out my personality when I'm chill. I feel like that's what WUNNA is — it's me showing my personality more. It's people getting to know me better.
All six of your previous projects have revolved around your Drip movement. After WUNNA is that something you want to continue?
Well I'm for sure putting out Drip Season 4. The drip must go on but those projects are just something else to do. I have more talents that I want to tap into and a lot planned but it's just timing. I'm planning to put a Drip Harder 2 out with [Lil] Baby so the drip gotta go on, but it's about being smart with how we're gonna put it out.
Speaking on Lil Baby, that's another artist who has a No. 1 record in the books, and that might not have happened had you not pushed him to pursue rapping. What did you see in him?
Well we were already cool before we started rapping, right? Like I was rapping already so him just being around me and him already knowing Thug, he was always around rappers anyways. We were the same age, had the same style, we were in the mix and grew up in the same era so we connected. When he started rapping, me being me, I'ma push you and try to help you the best way I can with anything. It doesn't have to deal with rap, it can deal with anything and I'm gonna help him to do it because he would do the same for me.
How do you keep your focus? Do you ever get exhausted from doing that much work on the side of your solo stuff?
The process is the same. I like to bring my energy to other people's songs. And at the end of the day, I think that's why people love my vision because I can go do a song with somebody who isn't in my genre but I can still bring my style to the table and people like it. It don't sound corny, it's cool because I'm staying me. I don't try to rap like them or seem like them. They really want me to stay true to me and do what I do on a song.
You've been instrumental to developing the sound of modern-day Atlanta hip-hop. What musicians were you inspired by growing up?
Outkast. T.I. Even Dem Franchize Boyz were inspiring. Future. We have a lot of artists that came out of Atlanta that inspired me growing up — artists that didn't even go mainstream but still managed to influence me. Outside of Atlanta I listened to a lot of New York artists. People like Cam'Ron, Dipset, Jim Jones, Juelz [Santana], that whole crew. I've always been a fan of music, OGs like them showed me what I could do.
How about Super Slimey 2? There was a moment when Future and Young Thug announced that they were expanding that project to feature you and Lil Baby. How far along are you with that album?
Yeah, it's going to be Super Slimey: Surfer Edition instead of Super Slimey 2. But we are working on it. It's kind of difficult since we're all moving but it is in the works. We do have songs in process.
WUNNA marks your seventh project in just under four years. Is there any advice you would give to your younger self looking back on your come-up?
I tell a lot of up-and-coming artists to keep going no matter the reactions or comments you getting. Don't look at that because it'll grow. If this is what you want to do then keep doing it. Don't stop doing it. And it ain't even gotta be with rap. Let's say you really love football. Keep playing football then and get better. I'll never tell anyone to do anything but what they love.
Your cameo in the FX original series DAVE alongside Young Thug was one of the standout moments of the show's first season. Do you have any other plans to take up acting in the future?
I always saw myself acting, but with that situation it happened really naturally. I was hanging with Thug and he was going to the shoot and they asked me if I wanted to give it a shot. I liked the experience and being on set, trading lines. It was cool.
So what's going to be your main focus post-WUNNA?
I want to start branching out. I want to work with different designers. I want to put the people around me in better situations, especially with music because there are a lot of people who rap around me. As for the designers, it's confidential but we are trying to do something major in the future.