John Boyega Delivers Powerful Speech at London #BlackLivesMatter Protest
"We are a physical representation of our support for George Floyd."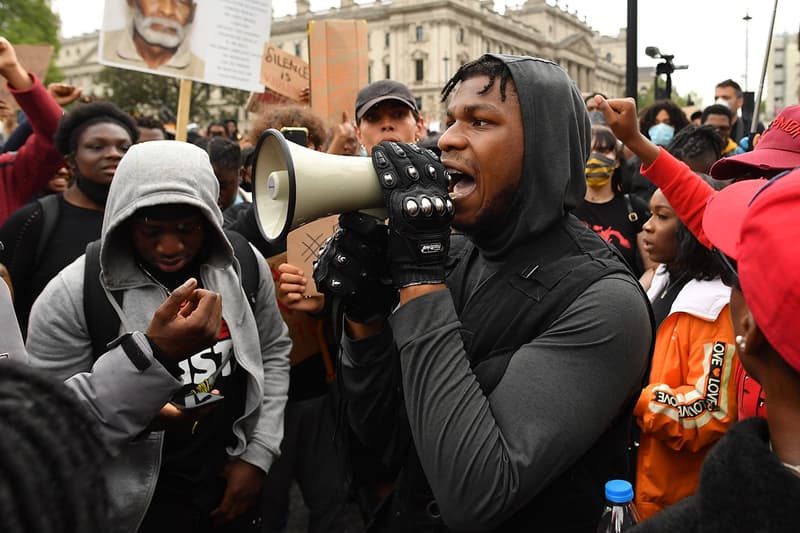 As the #BlackLivesMatter protests continued to spread across the world, John Boyega became the latest cultural figure to join the calls for justice. The Star Wars actor delivered a powerful speech at the protest taking place in London's Hyde Park, which drew a large crowd from across the city.
Boyega's speech described the crowd as "a physical representation of our support for George Floyd," before going on to offer solidarity with others who have died due to police brutality or systemic racism, including Sandra Bland, Trayvon Martin and Stephen Lawrence. The speech from Boyega continued, "Today is about innocent people who were halfway through their process, we don't know what George Floyd could have achieved, we don't know what Sandra Bland could have achieved, but today we're going to make sure that won't be an alien thought to our young ones."
"This is a lifelong dedication."

This is a snippet of @JohnBoyega's speech at the #BlackLivesMatter protest today in London. It is so powerful. Goosebumps. Felt every word. pic.twitter.com/A7sTxCIEw9

— Nadine White (@Nadine_Writes) June 3, 2020
Finishing his address to the crowd, Boyega highlighted the backlash he may face for speaking up in this way, adding, "I'm speaking to you from my heart. Look, I don't know if I'm going to have a career after this, but f*ck that. I need you to understand how painful it is to be reminded every day that your race means nothing and that isn't the case anymore. That was never the case."
Following his speech, Boyega has received huge praise from across the film industry. Lucasfilm, the company behind Star Wars, released a statement saying that it "stands with John Boyega and his message," adding "the evil that is racism must stop. We will commit to being part of the change that is long overdue in the world. John Boyega, you are our hero." Elsewhere, industry figures including Jordan Peele and Black Mirror creator Charlie Mirror also offered their support to Boyega.
For more on the #BlackLivesMatter movement, here's how you can stay informed, vocal and safe.
We stand with and support you, @JohnBoyega. View his full speech: https://t.co/Goxb5y2wrK pic.twitter.com/ZvE0t5tRPY

— Star Wars (@starwars) June 3, 2020
We got you, John. https://t.co/oX7Rr52omx

— Jordan Peele (@JordanPeele) June 3, 2020
I would crawl through a barrel of broken glass to have John Boyega even so much as *glance* at one of my scripts. https://t.co/0bcLeldaEg

— Charlie Brooker (@charltonbrooker) June 3, 2020