Deepak Chopra and J Balvin Unite for Free Month-Long Meditation Experience
The "Renew Yourself: Body, Mind & Spirit" initiative offers mental release for the embattled BIPOC community at large.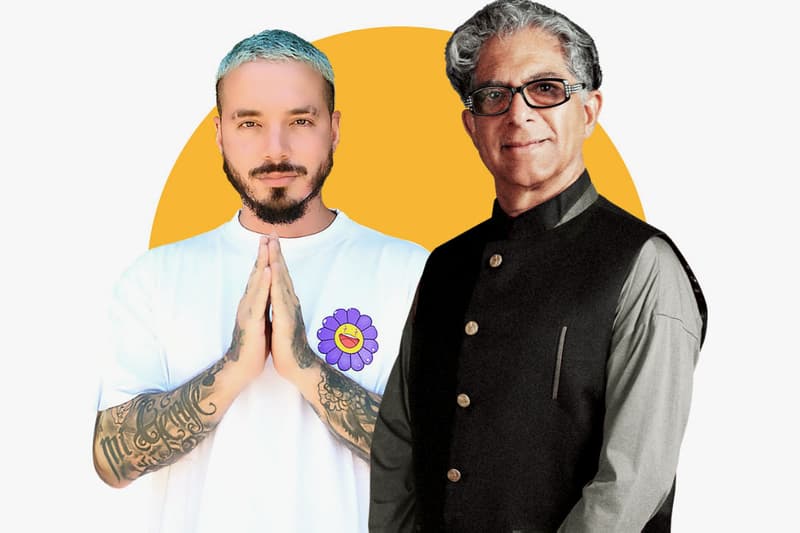 Few celebrities are better faces for self-care initiatives than J Balvin. The singer's recent Colores was a meditation on one's many moods and Balvin often talks self-care, which plays into the the Colombian musician's new partnership with wellness pioneer Deepak Chopra.
Chopra's push for alternatives to conventional medical care have been equal parts lauded and controversial, but the incontrovertible truth is that there are few new age practitioners as well-known or as successful as Chopra. His joint effort with Balvin centers around an agreeable wellness program: a free 21-day meditation program dubbed "Renew Yourself: Body, Mind & Spirit," the latest in Chopra's 21-day meditation series, which is appropriately offered in both English and Spanish.
Intended to amplify BIPOC voices and soothe troubled minds, the "Renew Yourself" initiative is comprised of 20-minute sessions intended to be observed daily, each opening with Balvin's personal wisdom before giving way to guided meditation.
"What makes mental health universal is that it doesn't discriminate," Balvin explained in a statement. "It affects all of us. I know that firsthand because I have gone through it myself. Meditation is one of the many ways that I have dealt with my mental health. It saved my life and to me, can be one of the key first steps in achieving mental and spiritual well-being."
"The world is offering us a reset and J Balvin is the perfect partner to help us reach a critical mass of expanded global awareness," Chopra continued. "Together we will set the stage for a more peaceful, inclusive, just, sustainable, healthy and joyful world for all. I am indebted to Jose and our Spanish speaking community for this collaboration."
Access the "Renew Yourself: Body, Mind & Spirit" program on Chopra's website, iTunes and Google Play. Various community-driven initiatives, including the Hispanic Federation and local initiatives in Balvin's hometown of Medellín, have also partnered with Chopra to distribute the free meditation series beyond America.
Meanwhile, a meditative installation at the Het Nieuwe Instituut was recently led by The Ummah Chroma to realize a communal safe space for practice of personal rituals.