Ghetto Gastro Commemorates Juneteenth With its Latest Release
Also announcing its Juneteenth Cook In.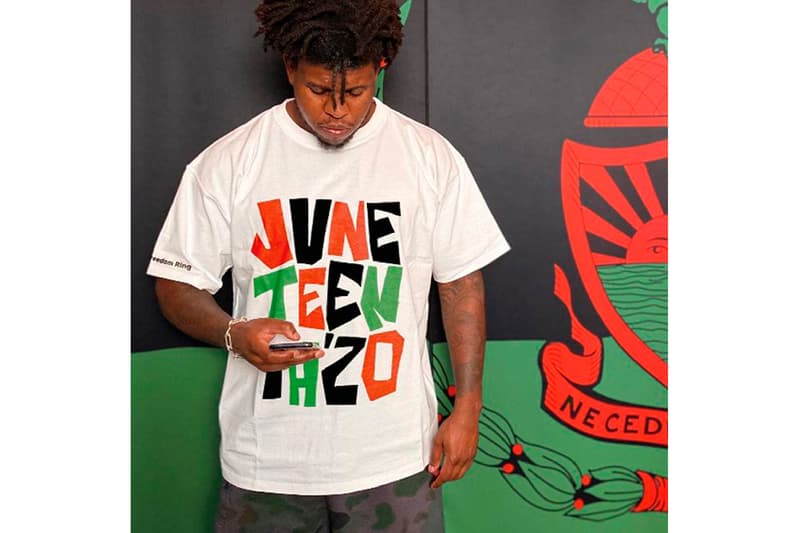 After highlighting the foundation of "American" cuisine, Ghetto Gastro returns to celebrate Juneteenth and commemorate the #BlackLivesMatter movement against systemic racism. Partnering up with New Studio, the New York-based collective put together a special take on its signature Steasoning (now sold out) and a T-shirt.
The powerful Juneteenth T-shirt stands as an artifact as the special moment in our collective history centered. The main print found on the front of the top marks June 19, 2020 in respect to the day when slavery ended in the United States. Rounding up the design of T-shirt, the right sleeve is marked simply with "Let Freedom Ring."
Priced at $77 USD, the Juneteenth T-Shirt is available now for a limited time on Ghetto Gastro's website. Additionally, Ghetto Gastro will be holding its "Juneteenth Cook In" at 2 p.m. EST June 19 on Instagram Live featuring appearances from Kelis, Elisha Sankle, Nyesha Arrington, Buddy and Black Thought.
In case you missed it, Japanese brands recently banded together to stand against injustice.
Ghetto Gastro Juneteenth T-Shirt Release