Stay Home Snaps: VegNonVeg
Staff from India's premier sneaker boutique are keeping cool and staying healthy while working from home.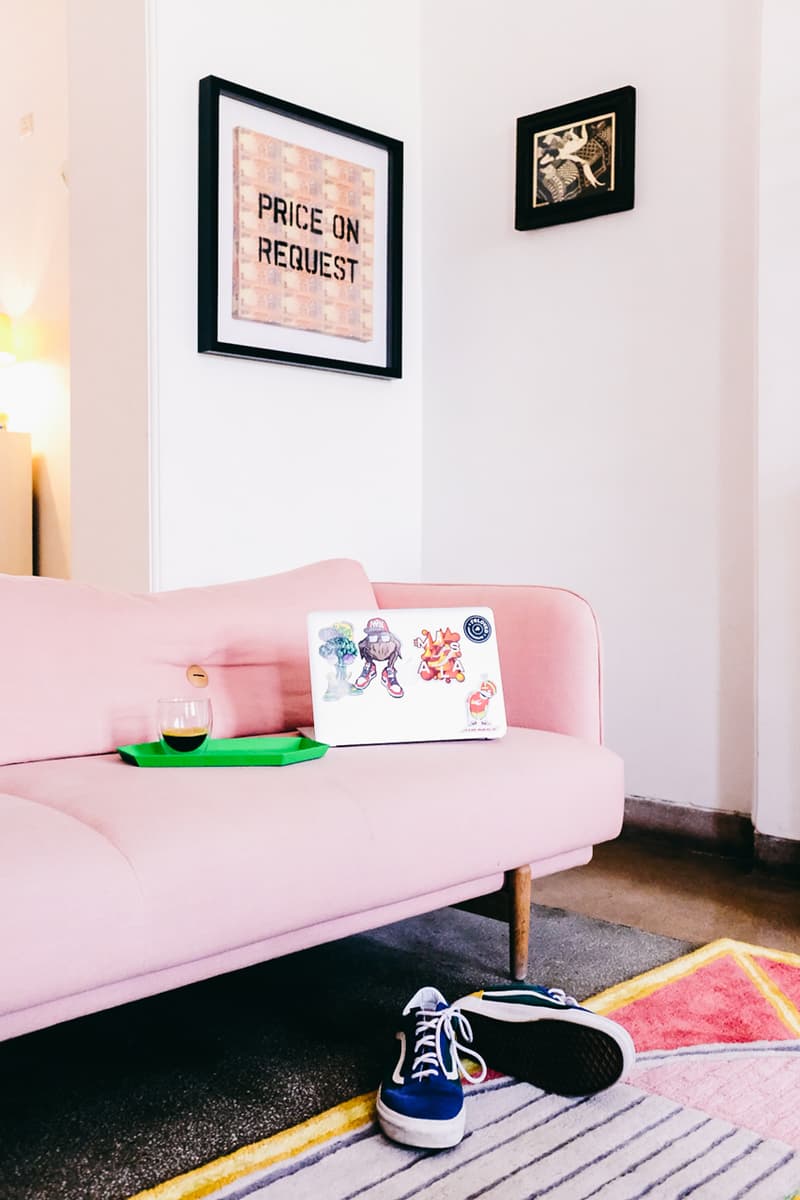 Stay Home Snaps: VegNonVeg
Staff from India's premier sneaker boutique are keeping cool and staying healthy while working from home.
VegNonVeg is one of India's premier sneaker boutiques, offering limited-run footwear and cultural touchstones — like HYPEBEAST Magazine — to Delhi's sneakerhead population. India's strict self-isolation period is still in effect even in the capital, so while the store is closed its staff is developing editorial content for the VegNonVeg website and social media pages — and making time for self-care measures.
To ensure positive mindsets, the VegNonVeg team is in constant contact with each other and their families, with each check-in boosting morale. It also helps to make time for some hit Netflix series and personal passions: nearly everyone has a background in cooking, music and other creative endeavors.
---
Arjun Sodhi, events and program manager
What's your daily routine?
The first thing I do without fail every morning is make my coffee and head up to the terrace to get my daily dose of vitamin D. After that, I put on some tunes and get around to cleaning the house so I can get it out of the way before I begin my day.
Where in your home do you like to work?
As much as I try to sit at my work table I keep finding myself back in bed every few hours. But I keep trying to switch it up so each day doesn't feel like an endless loop. Natural light and a good backrest are important though.
What do you wear while working from home?
Comfort clothes: joggers, loose trousers, shorts and soft oversized t-shirts.
What are you eating now?
I'm trying hard to stay healthy right now, eating more fruits than I ever have. Also, I've been learning to master my mum's secret recipes. Quarantine has made me realize that cooking is not as daunting as it seems and also that you can never recreate your mum's cooking (appreciate what you got, homie).
How do you stay in a good headspace while in isolation?
Thankfully, I live with my girlfriend so it's not complete isolation. We're both treating it as if it's a mini stay-cation. As a touring DJ, it's very difficult and frustrating to not have any gigs for this long. I fetched out my old controller and I've been using it to brush up on my skills and give myself the illusion of being at the club. I've also rediscovered my love for making beats.
What are you listening to and watching?
I've been bumping the new Knxwledge album and Insomnia by Skepta, Young Adz and Chip is on repeat. There's so much new music out there, so I'm always digging through SoundCloud and Bandcamp to find tunes.
I'm currently watching Devs which is a pretty cool show about artificial intelligence, quantum computing and their potential use in the real world. Apart from that, the new season of Westworld is dropping episodes every week (I'm a sucker for everything dystopian) and obviously, Tiger King.
---
Mayank Thapa, Store Manager
What's your daily routine?
I get up around 10 a.m. and play my morning playlist. I clean my crib, get a shower, grab some breakfast and feed my dog, Togo. After that, I check my emails, new drops and trends.
Where in your home do you like to work?
Living room mostly, sitting on the couch with something to drink.
What do you wear while working from home?
Delhi is quite hot right now so I prefer wearing a tank top and oversized trousers.
What are you eating now?
I am living on roasted chicken breast and stir-fried veggies these days as they are easy to make and high on nutrition.
How do you stay in a good headspace while in isolation?
I am spending more time sketching and painting. Also learning the art of tattooing on fake skin.
What are you listening to and what are you watching?
These days I am listening to metal music, bands like Periphery, Tool and Slipknot. I also finished watching Money Heist on Netflix.
---
Gaurav Karki, in-house photographer and videographer
What's your daily routine?
These days I sleep around 4 a.m. and get up around 11 a.m. The first thing I do is freshen up and make a good brunch. I was a chef before I took on photography professionally so just revisiting those days in the kitchen!
Where in your home do you like to work?
For now, I've converted my living room into a small studio with black curtains on one side of the wall. I kept all the essentials on my desk, including my laptop and, of course, hand sanitizer.
What do you wear while working from home?
While working, I always choose a comfortable fit such as a tee or a sweatshirt, shorts and a pair of slides with socks. I like to put on my DC snapback too!
What are you eating now?
My go-to food these days mostly comprises of smoked pork sausages, scrambled egg, toasted bread slices and cold coffee. That's one of my favorite brunches — I call it "sunrise skillet."
How do you stay in a good headspace while in isolation?
I keep myself busy by learning new things or creating something new, like a video or photo. Right now I've started learning about music and sound design and created some beats. I'm listening to more music to understand it better. Also, nothing can go wrong in the head when you have a fur buddy at home. WOOF WOOF!
What are you listening to and watching?
I am listening to TWK, Cradles, Eden and ITSOKTOCRY. One of my favorite artists is OOYY. These days I am more into travelling vlogs, tutorials about beats, photography and videography tutorials on YouTube and Netflix-ing too.
---
Anand Ahuja, VegNonVeg co-founder
What's your daily routine?
My wife and I try to keep our schedule as "regular" as possible. I start my day with some meditation and mindfulness practice before getting down to work while my wife starts with her lemon water and morning coffee which she follows with morning cardio and yoga. We have a late breakfast and while she gets on her calls and cooks, I get on a daily team video meeting at noon.
It is quite common to live with our parents in a joint family in India — my entire family (parents, brother, grandma, wife and I) have a family lunch at 2 p.m. This has been a blessing in these times and I'm more than ever grateful for my family. We all have dinner around 7 p.m. and then I join my parents for an evening walk.
Where in your home do you like to work?
Sonam's work is mostly reading, video shoots or on the phone, while I have a standing desk that I like using. I also have a high stool that goes with it so it is not like I'm standing the whole day. During the calls where I don't have to show my face, I either walk in the driveway or bring out my yoga mat and stretch.
What do you wear while working from home?
I wear what I normally would: jeans or pants with a T-shirt and sweater or hoodie. I've been going to shorts as the weather is starting to turn and I have some nice track pants that work for an in-between solution. I still pull out a pair of shoes since my outfit usually starts there; since I'm standing more than walking, I try to get less-cushioned shoes.
There's no basketball going on at the moment but that doesn't mean I don't almost daily open my b-ball sneaker drawer and have a peek at them. Sonam starts off in gym clothes but at some point in the day also gets dressed casually. She has been doing a fair amount of informational videos as public service so she does some light make-up most days.
What are you eating now?
Again, we try to keep it as regular as possible. Breakfast is usually some yogurt, fruit and a water and vegan protein shake. Lunch is a lot of veggies, usually with some tofu and maybe some rice along with a spread of home-cooked Indian food.
There is ALWAYS desert — Sonam has been going hard with the baking — my favorite is a vegan banana cake and her favorite is a vegan chocolate cake. Dinner is usually a blueberry vegan protein shake and lunch leftovers for me and some mixed veggies and rice for Sonam.
How do you stay in a good headspace while in isolation?
Honestly the most powerful is getting in steps: eight to 10k daily for me and Sonam goes for 10 to 12k. Morning mindfulness practices also help me prepare for the day.
What are you listening to and watching?
I haven't really had a chance to watch anything yet but I have been listening to the new Jay Electronica a bit plus a lot of the mixes my brother makes for boxout.fm! We also listen to a lot of Indian classical music while training. Being in the film industry, watching movies puts Sonam in a work mode so she hasn't actually watched any films over the past month. The one we are waiting to watch is Jumanji 2!
---
Shivani Boruah, head of content, and Uday Shanker Acharya, head of retail
What's your daily routine?
Shivani: I find it restorative having a fixed time table for myself. My morning starts with a cup of green tea, a little meditation and a conference call with my teammates to plan the day's activities. A little sun, fresh air and then I dig into the projects for the day. Without our retail stores, the creative team has become the main focus to drive our online sales.
We have been ideating and getting into a lot of different projects lately, like curating team playlists, featuring emerging Indian streetwear brands, tastemakers and DJs. We have also started a series of easy home-cooked recipes by our staff, a few blog articles about sneakers and a few tutorials to give our audience some company.
Uday: Since the countrywide lockdown was implemented here in India, my routine has moved forward by a few hours as I find myself sleeping and waking up a little later than I normally would. I get out of bed around 10 a.m. and post-breakfast get on a call with my sales team and we spend around three hours discussing product, sharing insights and sharpening our knowledge. I work on my music in the evening and then spend a few hours playing World Of Warcraft for some human interaction before I hit the sack a little after midnight.
Where in your home do you like to work?
Shivani: Our living room is quite spacious with big French windows. I prefer to work from my living room as there's a lot of natural light and fresh air. It's a perfect place for some peace with few human voices from the outside world which makes me happy. I keep my laptop, phone and my planner handy at all times!
Uday: I have my work desk set up with everything that I need in my room that gets a lot of light and air. I have to spend a big portion of the day at my desk. Working from home has made me wish I had a bigger table as I've had to put my work laptop on my PC desk which has led to a bit of clutter.
What do you wear while working from home?
Shivani: It's starting to get pretty hot here in Delhi. I try to wear clothes that I would usually wear outside as every day we have video conference calls but off late I have mostly been into shorts and T-shirts to deal with the lockdown and the heat! I still wear my sneakers most of the days but the YEEZY slides are my favorite.
Uday: Summer in Delhi means shorts and basketball jerseys or cotton tees. Anything more than that is simply over encumbering. On feet I wear Vans Slip-Ons — I prefer the SF ones which have a collapsible heel — or flip-flops.
What are you eating now?
We have been eating very simple food for about a month now, cutting out the meat and mostly eating fruits, rice and stir-fried vegetables with paneer and dal. We usually give a little twist to the food we eat so we don't get bored of the same vegetables and the meals are interesting every day! Also, YouTube has been a great help in experimenting with new recipes. But weekends are still pancake weekends.
How do you stay in a good headspace while in isolation?
Shivani: I am always under pressure to be productive and I like to stay busy. I really miss going to work. Although this is a good time to be productive and make the most of our time, it's also completely okay to sit back, binge watch something or just relax. I like to take pictures so I've been taking a lot of self-portraits and also have started shooting and editing videos. I have started to find extra comfort in cooking food.
I can't mention how fortunate we are to be so well connected through technology. Knowing that my family and friends are safe — those Facetime calls help me keep my sanity.
Uday: I find that it is not the isolation that is affecting my headspace but rather the news of the crisis worldwide and near me and how it is affecting people. Despite this, I try not to be ignorant and keep track of things and keep my friends and loved ones close digitally. I use the time that I would normally spend outside to take music lessons on Skype, get back into my favorite video games and trying to learn how to play cards.
We had a pink supermoon a few nights ago and I think I spent an hour photographing it, which brought me a lot of joy. Like the big brain homie, Einstein, said: "Solitude is painful when one is young but delightful when one is more mature."
What are you listening to and watching?
Shivani: I'm not watching much these days. We usually watch Saturday Night Live while having dinner and that's it. But music is 24/7: a mix of genres, Neo-soul mostly and Assamese (folk) songs sometimes.
Uday: I miss watching my NBA games in the morning so I've taken to watching highlights from the 2000s (my favourite era) on YouTube. I keep up with my anime (Ahiru No Sora and Boku No Hero Academia); and watch some music documentaries in my spare time (Metallica: Some Kind Of Monster, Iron Maiden: Flight 666). Old SNL sketches from the Adam Sandler and Chris Farley era are great to lighten up any mood.
---
Henry Vinoth, brand and culture manager
What's your daily routine?
First things first, I need that warm morning shower to relax and completely wake up. Under the shower, I picture an overview of the day, great ideas come in the shower. Wish I had one of those waterproof note pads!
If I'm early to the kitchen I cook breakfast for my wife and boys. I need my morning coffee. I've been brewing coffee with my moka pot as the auto-drip machine pot is broken and there's no way to get a new one with the current situation. Then I get on a video call with my creative team to plan the digital execution over breakfast. Our retail stores and operations have been shut since March 20 so we are creating content to keep our community engaged on social media.
Where in your home do you like to work?
I work in my living room. I'm blessed with a house with a lot of daylight and breeze through the balcony's big door and windows. Also, the living room has a comfortable couch and table with ample space to walk around while taking breaks.
What do you wear while working from home?
It is the beginning of summer in Delhi. I mostly pick up shorts, a T-shirt and an overshirt paired with socks. Comfort is key when I'm working from home. There are days I go all out and rock my favorite jumper with loose fitted pants and with my favorite sneakers (I've got a work from home rotation).
What are you eating now?
Because of the quarantine situation, I get to spend more time in the kitchen than usual and am glad that I can cook meals frequently for the family. Breakfast is my favorite and a big meal of the day. Options vary from whole grain porridge, smoothie, toast, omelette or Indian breakfast like dosai, poha or upma. Pancakes are a house favorite and my boys love french toast and omelette.
How do you stay in a good headspace while in isolation?
I drink a lot of water to maintain my body fluids. I'm spending more time in reading street fashion and culture books and HYPEBEAST Magazine issues. I occasionally sketch or reproduce digitally the abstracts that pop in my mind. I call the work "BRAIN SCAN."
I work out in the evening for 30 to 45 min, I got a pull-up bar set up in the house. The work-out routine is a pull-up, leg raise, push-up sets ending with floor crunches and stretching. Also, I get to spend ample time with the boys. I help my eldest with art and play with both the boys before dinner.
What are you listening to and watching?
At the moment I'm listening to Travis Scott, Kid Cudi, Saint Jhn, 070 Shake, Octavian all on heavy repeat, also sometime Afropop depends on the vibe and mood. Don't have enough time to watch anything regularly but occasionally watching action or horror movies and reminiscing my childhood ideals by watching The Jetsons and Popeye shows.
---
Abhineet Singh and Emilia Bergmans, VegNonVeg co-founders
What's your daily routine?
We work between 10 a.m. and 8 p.m. interspersed by taking care of our one-year-old son Matisse, cooking and other household tasks. We made a schedule with two-hour shifts to take care of Matisse while the other one works as we were both going crazy trying to do both at the same time. He's just started walking and likes to explore. He's especially into climbing and loves eating wires.
In India, we've been in lockdown now for over three weeks. We haven't had time to Marie Kondo the house or learn as many new skills as we would have liked, but we're very proud that we're managing to run both our companies from the distance while keeping our boy alive and entertained and our house relatively clean. We also still like each other.
Where in your home do you like to work?
On the dining table or the sofa. Sometimes in the balcony room if we need some quiet time while taking a call.
What do you wear while working from home?
Easy clothes — but not pajamas — with slides or bare feet at the moment. I have to admit there was one day we only managed to dress up the top half in time for a conference call.
What are you eating now?
A lot of good stuff! Where we normally would rush breakfast, order lunch and eat dinner prepared by our nanny, we now have time to cook. We're getting organic produce from a friend who used to supply restaurants and are cooking with things we never used before such as rainbow chard and micro coriander. We've also made our own hummus, pizza, banana bread and ramen. We only shop once every five days and then we quarantine and wash all the products with soap. We hope we'll be able to keep this new cooking habit up when life returns to normal.
How do you stay in a good headspace while in isolation?
We try and keep some routine, listen to podcasts and records, play with the baby. Abhineet likes mixing drinks. We try and have happy hour hangouts with friends or have a drink on the balcony every night. It's been nice to reconnect with friends abroad as everyone is pretty much in the same boat. Good coffee also helps. Not being allowed to go outside for a walk and some fresh air is the hardest part.
What are you listening to and watching?
HYPEBEAST Radio, Harry Potter audiobooks by Stephen Fry, tons of nursery rhymes and we've started replaying all our records at least once.