Stay Home Snaps: Julien Boudet
The sought-after photographer continues his practice indoors.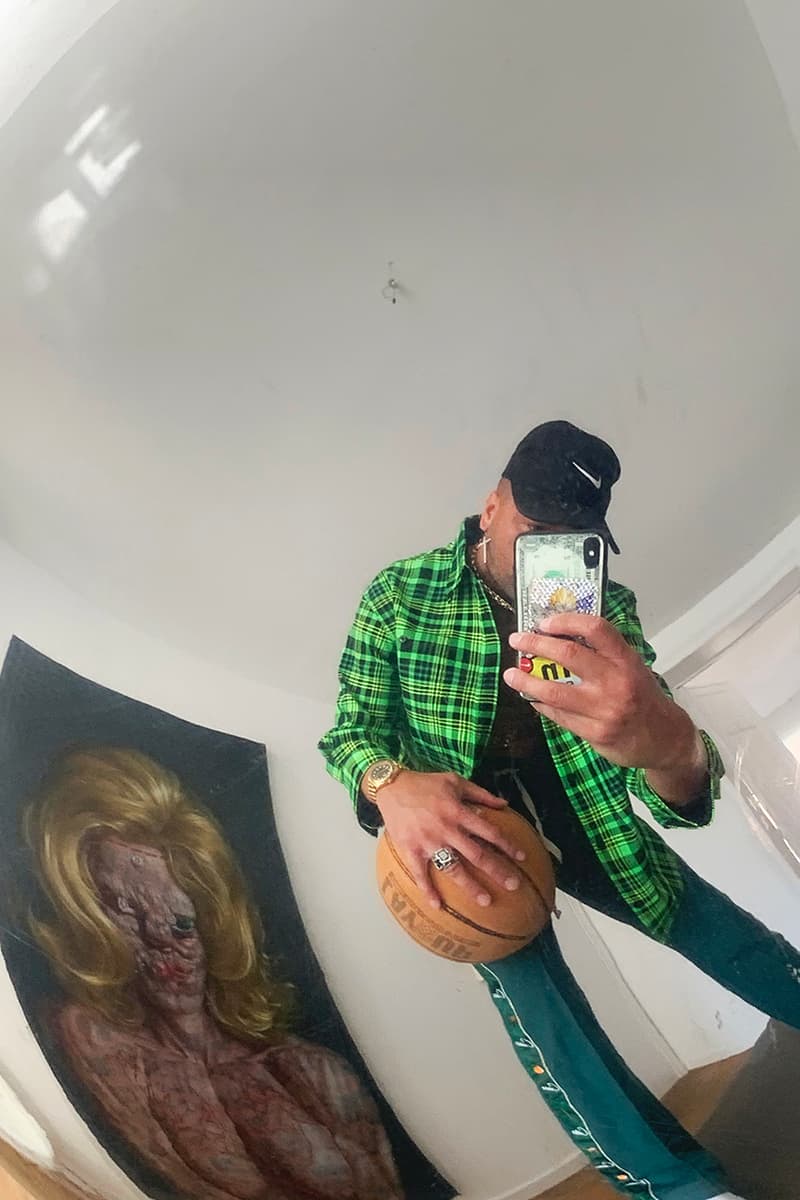 Stay Home Snaps: Julien Boudet
The sought-after photographer continues his practice indoors.
The in-demand shutterbug skills of Julien Boudet (also known as Bleumode) are still being put to the test during the global quarantine, albeit in a new way. No longer able to roam the streets, the French-born photographer is keeping busy, both with work for clients and self-imposed tasks like developing his linguistic skills.
Still clad in his prized Air Max Tn and vintage sportswear, Boudet has found that a consistent work ethic is a natural deterrent for cabin fever.
What's your daily routine?
Well, I get up by 8 a.m., do some push-ups to get my day started, get dressed and go for some fresh air while getting my take-away cappuccino from Paul (the only coffee spot open during the confinement in Brussels right now).
I walk back home, do emails, edit photos and organize files until lunch. In the afternoon, I usually shoot; since the first week of quarantine I've been working on a new series of images that I will show in 2021.
Late afternoon, I go play basketball with a friend and/or go running and do pull-ups in order to stay in shape. Around 8:30 p.m. I have dinner, then either read or watch a movie or TV (currently waiting for new The Last Dance episodes), and go to bed by 1 a.m. Overall I haven't been bored at home since this all started, so I'm pretty happy I haven't wasted any time so far.
Where in your home do you like to work?
I like working on the marble table in the living room that you can see in the pictures. The light is so beautiful there in the morning, it's refreshing and inspiring!
What do you wear while working from home?
I wear the same thing I'd wear if I were going out to work on a regular day: Burberry sweatpants or vintage Lacoste tracksuit, a Nike Dri-fit tanktop or T-shirt. Obviously being comfortable is the most important thing, whether I'm home, like at the moment, or when I was traveling two to three times a week for work — that feels like a while ago already!
Do you wear any footwear at home? If so, what do you look for?
I do and I look for something cool and again, comfortable: Nike Air Max are perfect for me (mostly Tn and Tailwind 4 these days).
What are you eating now?
Sushis, tacos, sandwiches. Any takeout I can find near my place, I am not really picky regarding food.
What are you listening to, watching and doing for fun?
I've been listening to a lot of French hip hop (Booba, Dinos, PNL, Maes…), and a lot of U.S. artists as well, such as Lauryn Hill, Pop Smoke, Drake (More Life), Kanye West (The College Dropout), Nas and Damien Marley (Distant Relatives).
I don't watch Netflix series [often], instead I go for an interesting documentary on YouTube or a movie I've been wanting to see and never taken the time to do so; now is the perfect moment to make it happen. Also, I practice my Spanish with a grammar textbook — I used to speak it fluently and lost it a bit, so I need to get it back by the end of this.
How do you stay in a positive headspace while in isolation? How are you staying creative?
Like I said earlier, I shoot almost everyday, working on a personal project so that keeps me active. I actually created an image during the first week of the confinement in order to print it out and sell it in an edition of 50 pieces in collaboration with STEMS gallery, over here in Brussels. This definitely gave me some goals to reach before the end of the confinement, therefore it helped me stay creative and motivated. We just received the prints this morning, so I am going to sign and number them one by one and we will put them for sale online soon on Artsy.
Also, I started experimenting shooting over FaceTime and the Houseparty app. I did two photoshoots so far with two different models, that was fun to do as well. The process is pretty simple: directing and capturing the models while watching them through the app, then placing them in a different backdrop (from my photo archives) using Photoshop.
Lastly, I do a lot of research online, gathering as much inspiration and information as possible; the Internet is really helpful during quarantine. In addition, I read a lot of Roland Barthes books that are very inspiring to me.
Do you have any advice for creatives who aren't used to working from home?
I believe the most important thing right now is to remain motivated and inspired; for this, my advice would be to establish a new daily routine that will help structuring your day. This will help you feel more grounded and know where you are going, while providing a bit of a reality check when you go outside to get food or do some sports.
Experiment, explore new mediums, new ways to work, just like I did with virtual shoots for instance. Eventually, you'll feel like you are actually working and not just being confined at home, which is very important for your mind, to remain positive and make this difficult period go quicker than if you were just sitting at home doing nothing.
Plus, once this is over and we finally get back to normal, you'll be happy with everything you've accomplished while being in quarantine.