Tom Misch and Yussef Dayes Asked 'What Kinda Music,' Then Delivered a Little Bit of Everything
The two artists talk about their growth through improvisation and far-reaching inspirations.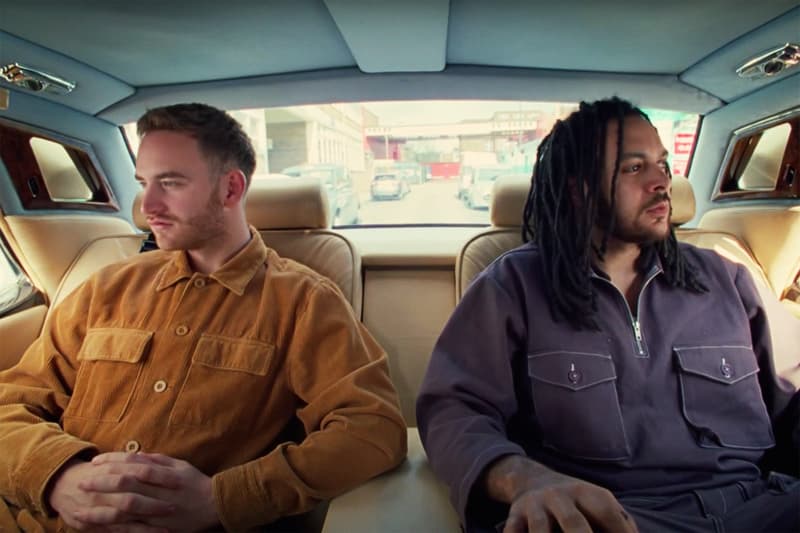 Tom Misch and Yussef Dayes were eerily destined to work together. It's almost like neither had a choice in the matter. The two share a South London lineage that was completely separate up until two years ago. Misch officially met the world renowned drummer during a celebration for his debut full-length album Geography back in 2018, but it wasn't until their initial jam sessions that some memories of an earlier connection resurfaced.
"The first time I ever saw Yussef was about 15 years ago in a school talent show. I have a memory of seeing this guy playing drums and saying, 'wow this guy's insane.' I kind of put two and two together while we were working on this record, and I think that was Yussef," Misch said in a recent documentary.
Their jam sessions began as a cathartic retreat from the stressful deadlines imposed on Misch during the recording of Geography. He told HYPEBEAST in an interview early last year, "It wasn't really an enjoyable time. I was forcing creativity." But their chemistry was so immediate that through the endless experimentation and improvisation they soon had a full-length record on their hands. What resulted was What Kinda Music, out now via Beyond The Groove with distribution by legendary jazz label Blue Note Records.
The 12-track collaboration is a testament to Daye's free-flowing jazz-infused percussion and Misch's ability to toy with structure just enough to take his listeners somewhere entirely new. "Yussef comes from a more experimental background, and he has a lot of loose, crazy ideas. I know how to write a catchy melody but with interesting chords… So I think I streamlined those ideas and made them accessible," Misch said in a statement.
It's easy for artists to fall into the cliché of wanting to be considered "genreless," as if the categorization of their music is a hindrance to their artistic craft. But this is one of those rare times when describing an album as such is fitting. Their collaboration recalls the South London jazz scene without sounding indebted to it. It's an entirely fluid combination of their sonic backgrounds in progressive jazz, electronica, soul and hip-hop. They even tapped rapper Freddie Gibbs for "Nightrider," a seriously smooth song where Misch and Dayes lay a groovy instrumental foundation to let the veteran emcee just go off. In an alternate universe, it's something that KITT would intrinsically know to play through the speakers while you cruise in your Pontiac Trans Am for a late night drive.
What Kinda Music is the perfect example of iron sharpening iron. The duo casually shrug off the project's rhetorical title. What kind of music do you want? Well, they'll give you a little bit of everything. Tom Misch and Yussef Dayes joined HYPEBEAST to talk about how their impromptu jam sessions created their unexpected and initially unplanned new record.
HYPEBEAST: Now that the recording process is over, what are both of your day-to-day routines looking like given the current coronavirus quarantines?
Yussef Dayes: I've been trying to use this time to learn some new stuff, man. I've been studying the drums and just doing a little bit more research on that — different rhythms and stuff like that from around the world. I've been cooking, and I've got my little daughter. She was born in February, so I've been looking after her. So yeah, getting ready for the album to come out and keeping positive, man. Trying to tap into positivity during a difficult time.
Tom Misch: Same here to be honest. I'm just trying to keep busy. I've been doing these "Quarantine Sessions" where I just record myself playing guitar on YouTube doing covers and stuff. Obviously this week was dominated by the album coming out so I'm excited about it.
Those "Quarantine Sessions" have been awesome. After playing your own renditions of Nirvana, Thundercat and Mac Miller, do you have any other artists you want to cover in the future?
Misch: Yeah, I'm going to keep doing them. I'm going to do a few songs from this album that we're dropping, so I still have to work that out. I think I'm gonna release them as a little quarantine project because I feel like a lot of people have been asking if I can get them on Spotify so they can have a proper listen and why not, you know? It could be a little guitar project.
How did you guys first connect and when in the process of playing together did the thought of doing a full-fledged album come to fruition?
Misch: We met two years ago, in summer of 2018. We just said, "Let's get in the studio." When we did that it was kind of like an instant vibe. We had a great connection, but we never intended to make an album from the get go. It just happened from us meeting up a few times. Whenever we got in the studio we'd create something pretty easily. It felt quite organic. Before we knew it we had six, seven tracks and then we had even more. At that point we were like, "Okay let's make an album." After those initial sessions in the summer of 2018, from the first session to finishing the record, it took maybe just under two years, a year and a half.
What did you guys learn from each other's unique approaches to making music?
Dayes: I come from a very improvisational [background]. I have a lot of long sketches, and a lot of my tracks previously are quite long. Some are seven minutes, eight minutes long. It was kind of cool to see how we would be jamming and creating some ideas then Tom would have this process of turning that into a song that had the arrangement from just being a jam session. I feel like that in itself is a skill that I'm always seeking to learn about. Tom definitely brought the element of being able to turn an idea into a song, into a production.
Misch: As a musician, playing with Yussef is very inspiring. I've stepped up my level as a musician, at least I think so, in the whole process of working with him. The record was just us jamming, and I got better as a guitarist because I'm playing with such talented musicians.
You can pick up on that chemistry, especially during those nearly one-shot music videos for "Lift Off" and "Kyiv." How did you formulate the ideas for those two music videos?
Misch: There was this director from São Paulo named Douglas Bernardt who we found online, and we really liked his work. He came up with these two video concepts that we shot in Ukraine, so we went there and shot "What Kinda Music" in a forest outside of Kiev and then we shot "Lift Off" after. The track "Kyiv" came from us having a bit of film left on the roll while we were shooting.We just jammed and that was the outcome. It's a fully improvised track. Rocco [Palladino] just started playing some chords. It was a productive three days.
"Nightrider" with Freddie Gibbs is also an undeniable standout. How'd that collaboration come about?
Dayes: I've been sending beats to Freddie Gibbs for quite awhile now. As we were putting the track together, we tried a few different ideas and then I felt like it was right.It felt different to get Freddie on this kind of track. We reached out to him and then he sent us back his verse and the rest is kind of history, man.
I was in L.A. last year so I got the chance to be at one of his shows and chill with him and Madlib. He's got wicked energy, man. I felt that he was quite cool to get on the project to just give it another little element. The track felt like it was quite desert-y. I suppose it was inspired by me and Tom's time in California. I think Tom's been there a few times and even myself traveling across America with my family.It just felt right to get someone from the states on it, and Freddie obviously killed it.
You guys also are now a part of this incredibly long and important legacy of Blue Note Records. How was it partnering with such an iconic label?
Misch: For me, it was just having the stamp of Blue Note really. In terms of actually working with them, there wasn't too much interaction. It was more just having that legacy of their catalog and we're now part of that. And having that stamp on your album cover was something that was quite meaningful to both of us, you know? When we were thinking about who to release the album with, that felt like the most exciting thing to do because we both love jazz.
Dayes: I saw it as an opportunity to have this be a part of our legacies. I grew up on a lot of records that came out on Blue Note. They're at the forefront of pushing that music and culture. Like Tom said, to be involved underneath that umbrella and with all the greats, to me it's inspiring. And it's more like I see it as a pressure that I enjoy because it's going to make me want to get better. I think the records that came out on that label are of high quality so it kind of, if anything, just made me want to make the record better than it could be. It's more inspiring than seeing working with Blue Note as a daunting task.
There's a ton of experimentation on this record. The title is literally you asking What Kinda Music and then going out and giving your audience a little bit of everything. What were you inspired by while creating this album?
Misch: We were referencing things quite a lot, but it was like a natural referencing that occured. It was kind of what we were inspired by in that moment. We might not have been playing it in a session, but what we're inspired by would come out naturally. I think there was a big common Radiohead influence shared between us and for me a lot of old soul.
Dayes: I think it was a natural kind of progression. We would listen to different tunes and different sounds and try and see how we could recreate our own little versions or references of things. Even with the drums, we would see how we could mic the drums in a different way to see how we could make our own sound with it. There wasn't one particular artist that influenced our sound.
Misch: It was a real mixture.
Dayes: Like the title, it's kind of a rhetorical question, isn't it? These genres put things in boxes sometimes, because both myself and Tom are into a lot of different music. I suppose the stuff he was creating wasn't specific to one thing. It was letting people almost decide what they wanted to call it — let it be what you want it to be and experience it how you want to experience it.
Obviously that Blue Note affiliation comes with jazz elements, hip-hop elements. But like Tom said there was a Radiohead influence. British rock is kind of infused in there. With the strings section as well there are some classical elements. We were just letting people decide what they wanted with this record is how I see it.
Another thing that kind of speaks to your chemistry is how your parents became such close friends during the recording of this album. How did that happen?
Dayes: I think in the past we've both mentioned how our parents are fundamental in getting us to where we've gotten to. Naturally they inspire us, and we've talked to them about the project so they must have linked up one time and just shared interests. Both of our dads are featured on "Julie Mangos." Me personally, I'm always trying to involve my family because I'm always inspired by them first and foremost. I think it's the same for Tom as well, and we tried to share a little bit of that on this record.
Now that this two-year process of creating the record is over and the album is out, what are you most looking forward to?
Misch: I just want people to hear the music really. I'm excited for people to be up to date with where I am now musically. Because when you release albums in intervals with like a two-year gap in between projects, you evolve and change quite a lot. This gives people a chance to see where my head's at right now and where it's been for the last year, you know? So that's what I'm most excited about, just people hearing the new music.
Dayes: Definitely. For me, I think it's been four years since I actually released a full-length record. So this is all quite exciting for me. Even with the way we created music in making an LP, pressing the vinyl and stuff. It's important that people can listen to this the whole way through. Just bringing back that culture of taking in the full album instead of one song at a time. I'm excited for people to listen to a whole LP… together. It's been awhile for me, and I think it's a good time for it.
I think people want to hear music that you can listen to and be calmed by and also be excited by. A lot of people are home, and lives are changing. Music is always a source of inspiration. Even though shows have been cancelled, I feel like it's quite a good moment for us to share music with the world, man.
Misch: I think people need a distraction right now, and music is a good source of distraction and inspiration.