Next Level: How Mikey Retro Built a $250,000 USD Gaming Collection
It all began with 'Metal Gear Solid.'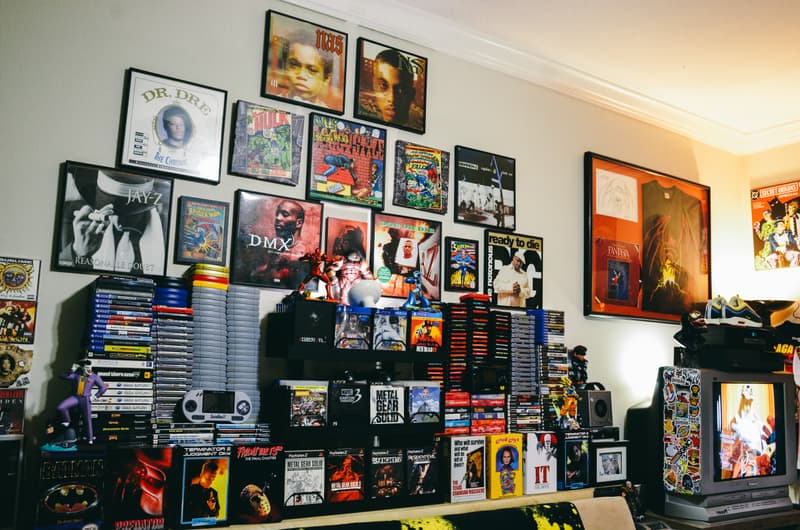 Hideo Kojima's Metal Gear Solid is a defining title in the gaming community. It introduced Hollywood-esque cinematography and a thoughtful narrative that remains an influence in AAA titles developed today. Beyond birthing countless developers and fans the world over, it also made a collector out of Mikey Retro.
Although gaming has moved to a more digital era, where enthusiasts are able to download any of their titles directly onto their console, Mike learned the value of collecting his favorite and most cherished games physically. And it all began with Kojima's 1998 classic.
Now the collector/DJ has amassed an impressive array of over 3,000 collectibles including sneakers, arcade cabinets, figurines, special edition consoles, and system that never even made it into the market. As part of our new series dedicated to documenting all things collectible such as games, comics, figurines and more, we take a deep dive into Mikey's collection.
How did you first start collecting?
I feel like I've been a collector of some sort basically my entire life. I still have very vivid memories of me as a child neatly displaying my toys and other personal belongings in a way the other kids weren't doing it. From a very young age, I took pride in whatever items I had, and once I developed a passion for certain things like comic books, trading cards, action figures, and eventually video games there was no turning back.
I remember realizing around 10 that I was old enough to earn my own money through cutting lawns in the summer or shoveling snow in the winter, and that I could use all of that money to acquire items that physically represented my passion. 
What franchise or series shows up in your collection the most, and how did you become a fan of it?
There are a bunch of great franchises throughout the history of gaming but none has had an effect on me like Metal Gear Solid. As a kid, I have some memories of watching my older brothers play [the original Metal Gear] on the Nintendo Entertainment System. It looked cool but complicated and although I was interested back then I still preferred playing the more generic classic NES titles. Fast forward years later I remember seeing an advertisement in a gaming magazine for the upcoming release of MGS on the original PlayStation.
By that time I was already a massive fan of the PlayStation and all of the great titles that went along with it. Something about this upcoming game felt special though. I remember when it came out, I was 14. I had been hyping up all of my friends telling them, "This was going to be the best game ever!" I remember riding my bike to the local rental store around a week after it had been released. I was so relieved that they had a copy in stock.
"The depth and complexity of the story mixed with, at the time, the unbelievable graphics blew my 14-year-old mind in a way I didn't think a video game could."
The depth and complexity of the story mixed with, at the time, the unbelievable graphics blew my 14-year-old mind in a way I didn't think a video game could. I stayed up the entire night and watched the sun come rise while playing the game. I have never experienced anything like that in my life up until that point. Before completing the game I took that copy back to the rental spot and returned it early. The owner of the shop couldn't understand why I wanted to give it back before the due date. I explained to him if I was going to finish it I wanted it to be my own copy.
Right there even as I said that to him I remember that was the moment it all changed for me. Game collecting and everything. I knew it wasn't a normal thing to do but it just proved how much love I have for this shit and how much that game meant to me. I bought my own copy that day and completed the game forever changing my life. When Sons of Liberty was released for the PS2 it was a similar experience for me.
What is your favorite character from the franchise?
Within the franchise of Metal Gear Solid, there are many interesting and unique characters but for me, Solid Snake is not only the most important but the one who I relate to the most. Some of the trials and tribulations he goes through outside of combat within the games are relatable whether it's rocky relationships with lovers or friends, being lied to, and generally just feeling alone. These are all emotions we experience as humans and I feel like it was so artfully and tastefully done by Kojima that it evoked a certain emotion from me that I had never experienced in a game before. Playing MGS on the PlayStation felt like I was actually Solid Snake and completely engulfed in the environment experiencing his emotions as if they were happening. 
How many titles are in your gaming collection? How many consoles? And which is the rarest?
Including handhelds and variants, I have over 50 Consoles. Some of the rarest would be the Metal Gear Solid FoxHound GameCube, the Panasonic Q, Sega CDX and the Panasonic 3DO testing station.
What is the most expensive piece in your collection?
I would say the Maximum Carnage collectors set for the Super Nintendo would be the priciest piece in my collection. They only made 5,000 sets total. Twenty-five hundred for Sega Genesis and 2,500 for the Super Nintendo. It was only able to be purchased in 1994 on QVC (television best shopping network) Prices are kind of all over the place on that item depending on condition and how complete it is but they could reach easily in the multi-thousands of dollars at this point. What makes mine so unique is the fact that I have other promotional items that went along with it like the soundtrack on cassette tape and hologram watch all of which are in like-new condition.
Which piece is your favorite?
It's really hard to narrow it down and pick a favorite piece in my collection but if I had to choose it would be my Wu-Tang controller that was packaged with the overseas release of the PlayStation game Shaolin Style which was called Taste the Pain in different regions. The controller is in the shape of the legendary Wu-Tang clan logo and was released in fairly limited numbers.
Anybody that knows me or has been following me long enough on Instagram knows just how big of a fan of Wu-Tang I am so it's really no surprise I would choose this item but what really makes it special to me is the fact that my late mother years ago bought this for me as a birthday gift. I still don't know where she got it from but the sheer fact that she knew I loved retro gaming and Wu-Tang that much to get that for me makes its special on a whole different level.
What is the first or the earliest piece in your collection? 
The first pieces in my collection are definitely all my NES stuff. I'm so glad over the years I never got rid of my original system, games, or accessories for it. My first memories of gaming back in the 80s was with the NES. I still have my original gold Zelda cartridge all the way to obscure games like M.U.L.E.  that I have fond memories of playing with my older brothers. Rediscovering a box full of all that stuff in my attic over 15 years ago is what inspired me to put together the game room that you see in my home today.