Drake Talks 'Dark Lane Demo Tapes', His Son and Kobe Bryant in Interview With Lil Wayne
A standout conversation from Wayne's Young Money Radio show.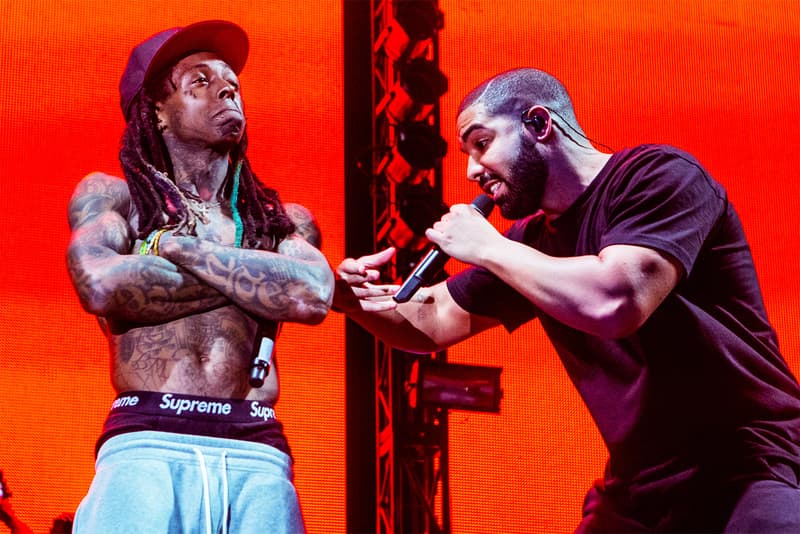 Just days after the surprise release of his Dark Lane Demo Tapes mixtape, Drake joined Lil Wayne on his Young Money Radio show on Apple Music. The 15-minute conversation was free-flowing and touched a plethora of revealing topics like Drake's decision to release images of his son Adonis, the inspirations behind his latest project and a touching tribute to the late Kobe Bryant.
The conversation kicked off with Lil Wayne congratulating Drake on fatherhood and inquiring about the recent pictures posted of Adonis. "I posted those pictures — it was great to share that with the world. It wasn't even anything that I talked to anyone about or planned," Drake revealed. "I woke up one morning and was like, this is something that I want to do. I want to be able to go places with my son and share memories with my son. I don't want to feel like just because of a life choice I made to be a quote-unquote celebrity that I gotta make everyone else live under this blanket. I just wanted to free myself of that."
Wayne also wanted to know how Drake put together the numerous tracks that comprised the surprise release of Dark Lane Demo Tapes. "A lot of joints that were sort of floating around, songs that people kept asking me about before — the whole pandemic thing that's been going on has us playing more music on [Instagram] Live, so there were some joints that got played on Live," Drake continued. "There was a couple leak situations that happened a little earlier in the year. For a second sh*t felt like '09 or 2010 or some sh*t. I couldn't believe how much music was leaking, not just from me but from every artist…"
Lil Wayne and Drake then laughed about how a lot of Wayne's leaks throughout his historic run in the 2000s from him leaving unreleased tracks in his CD player for carwash employees to steal. "It's an interesting time for all musicians to figure out what works and what people need and I just felt like people would appreciate a body of something to listen to as opposed to just one isolated song,"
Drake said. "So I just tried to float that out there and set the tone for the album. The album's being worked on everyday and I always say, I learned from the best and I'm in the gym seven days a week because of the man I'm on the phone with."
Drake also revealed the intimate story of "From Florida With Love," his new song where he brings back a memory of how Wayne first played "Lollipop" for him and Kobe Bryant on his tourbus. "I think you were getting an angel wing tattoo on your side that day. It just looked so painful and me at the time, I had no tattoos so I was just like, "ah man this looks so brutal." Next thing I knew I couldn't believe it — I'm already sitting there talking to Lil Wayne as he's like bleeding out, getting this angel wing on his side, and next thing I know Kobe Bryant's on the bus. And he came to pick up an iPod because at the time that's how we gave the athletes music."
"You ran the album, you played more than one song for sure but of course you played "Lollipop" — I was most in awe of the album because that was my first time hearing Tha Carter III so I knew where the entire world's would focus would be for the next however many years. To be with you and him in that moment, it was something out of body, man and something I knew I wanted to write about, especially now. It hurts me that we'll all never be able to reminisce about that moment."
Stream the full interview below and stay tuned for more updates via Lil Wayne's Young Money Radio in the near future. In other music news, Lil Uzi Vert returned in claymation form for his new "Baby Pluto" video.