China to Build the World's Largest Football Stadium in Guangzhou
Costing $1.7 billion USD to construct.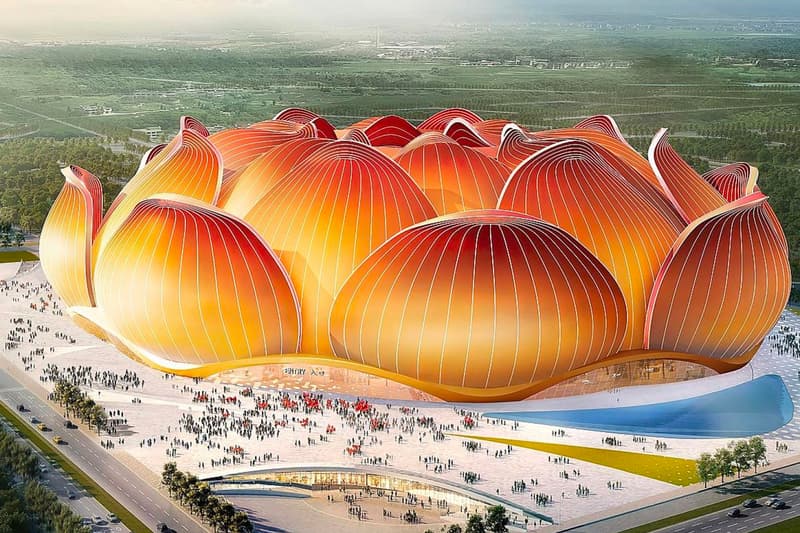 Guangzhou, China, is set to build the world's largest football stadium in hopes of hosting the 2023 Asian Cup.
The ground-breaking ceremony for the massive structure took place April 16. Poised to hold a staggering 100,000 seats and 162 VIP boxes, the stadium will break the current capacity record held by the Camp Nou stadium in Spain, which serves as the home to FC Barcelona, becoming the largest football stadium on the planet. The project will cost $1.7 billion USD, and is built for Guangzhou Evergrande, a team in the Chinese Football Association's Super League named after the Evergrande real estate group.
Proposed by the Evergrande Group's president Jiayin Xu and done up by Gensler's design principle Hasan A. Syed, the design of the stadium itself is inspired by a lotus flower, representing Guangzhou's nickname as the "Flower City." While it drew widespread criticism by the Chinese architectural community for materializing the outdated taste of high profile clients, much of the public has also voiced their support, praising its representation of Chinese culture.
Construction has now began and is planned to be complete by the end of 2022.
In other design-related news, KIDILL has teamed up with Eri Wakiyama for a graphic-printed BE@RBRICKi release.