8 Drops You Don't Want to Miss This Week
Featuring Supreme, Off-White™, OAMC, NOAH, Palace and more.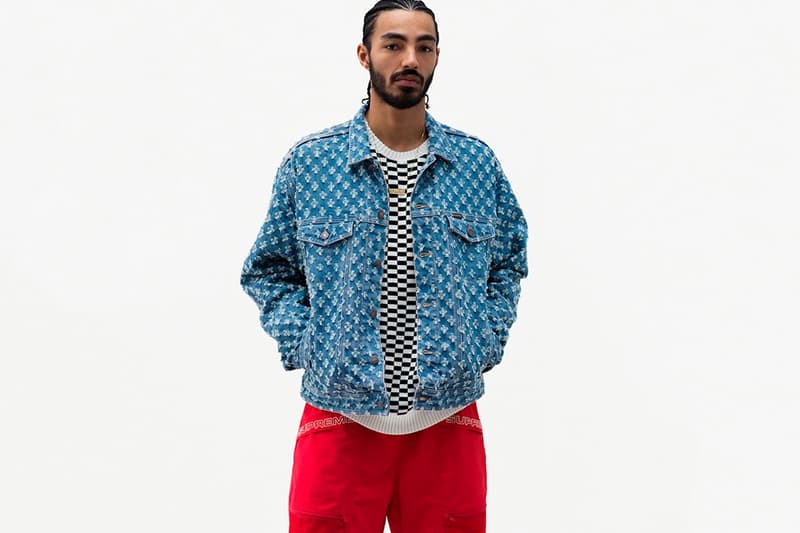 With another week we have yet another installment of our product drops series, this time marked by a host of standout releases. Leading the list is the release of Supreme's tenth Spring/Summer 2020 drop and Palace's "NHS TRI-TO HELP" capsule.
Taking a break from its series of special releases, the Week 10 drop from Supreme features standout garments like the Hole Punch Denim Trucker Jacket, Metallic Rib Hooded Sweatshirt and matching sweatpants, Cutout Logo Crewneck, St. Supreme Basketball Jersey and matching shorts.
Palace's release this week supports the United Kingdom's National Health Service (NHS) in their battle against the Coronavirus COVID-19 outbreak. OAMC also got into helping with COVID-19 relief efforts with their release of a Peacemaker liner jacket. Proceeds from sales will also go towards the allocation of personal protective material and medical equipment for frontline healthcare workers.
Notable collaborations this week come from a UNIQLO UT release from Daniel Arsham and Pokémon. Arsham also helps out with AWGE creative director Kamil Abbas' inaugural STUPID T-SHIRTS drop and Off-White™ prepared an exclusive collection with Tsum Moscow. Rounding up this week's product drops is CLOTTEE by CLOT's Spring 2020 "Dim Sum" collection and NOAH's Thank You Core Logo T-shirts with all proceeds going directly to Direct Relief.
Daniel Arsham x UNIQLO UT Pokémon Capsule
Continuing its survey of authentic pop culture and art graphics, UNIQLO's UT division recently released its latest collaboration with contemporary artist Daniel Arsham.
In partnership with Pokémon, the partnership is a continuation of Arsham's creative concept of "fictional archaeology" sees quintessential characters become sculptures dated 1,000 years from today. Comprised of seven styles for men, women and children, the monotone graphics feature crystallized sketches of such emblematic Pokémon like Pikachu, Mewtwo and Jigglypuff. The prints translated onto T-shirts stand as pieces of "wearable art" under a sculptural collection titled Relics of Kanto Through Time.
When: Now
Where: UNIQLO
STUPID T-SHIRTS "WORDS BY ARSHAM" Hoodie
AWGE creative director Kamil Abbas recently launched his latest venture STUPID T-SHIRTS. The light-hearted brand centers around a line of hoodies and T-shirts marked with jocose statements. Most of the phrases come either from Kamil or his network of creative friends.
The inaugural release from STUPID T-SHIRTS comes in partnership with contemporary artist Daniel Arsham. The hoodie is marked proudly with "If Google knows the answer, don't ask me" in bright blue on the chest area. The rear of the 100 percent cotton pre-shrunk hoodie features STUPID T-SHIRTS' playful logo, underscored by "WORDS BY ARSHAM" and the brand's website. Fitting true to size, a portion of all proceeds will be donated to the Food Bank For New York City.
When: Now
Where: STUPID T-SHIRTS
Off-White™ Tsum Moscow Capsule
Adding to its ongoing series of exclusive capsules for its retail partners, Off-White™ recently prepared a special range for Tsum Moscow. The exclusive collection is comprised of offering bespoke menswear, womenswear and accessories, heavily inspired by '90s style.
An array of retro staples have been given an Off-White™ rework, to ground the date looks in contemporary fashion. Standouts include monochrome T-shirts and hoodies, accompanied by flannel shirts, baggy carpenter jeans and zip wallets with attached chains. Rounding up the selection are holiday shirts, pajama sets, exclusive editions of Off-White™'s hiking boots and ODSY-1000 sneaker.
When: Now
Where: Tsum
OAMC Peacemaker Liner Jacket for COVID-19 Relief Efforts
OAMC, amongst countless of other brands are doing their best to help organizations with Coronavirus relief efforts. To give aid to healthcare workers who need protective gear, OAMC will be releasing a liner jacket with the label's popular "Peacemaker" slogan. The versatile piece comes in black in a quilted design that's meant to be worn on its own or as extra insulation under outerwear for added warmth. It's a simple piece that perfectly echos the OAMC ethos. Proceeds of the sale of the jacket will go to help frontline personnel acquire the tools they need to fight COVID-19.
When: April 29, 10AM (Paris Time)
Where: OAMC
CLOTTEE by CLOT Spring 2020 "Dim Sum" Collection
CLOTTEE by CLOT has returned with its latest collection inspired by dim sum. The Spring 2020 range celebrates the iconic Cantonese cuisine tradition, the range is comprised of anoraks, zip-up hoodies, crewneck sweaters, shirts, T-shirts, pants, shorts, cap and accessories.
Leading the range are streetwear essentials emblazoned with prints of har gow, siu mai, stick rice wrapped in lotus leaf, rice flour rolls, fried turnip cake and chicken feet. Other standouts include a gilded phoenix and dragon coach jacket, pen marked CLOTTEE TEA HOUSE staff shirt, dim sum menu shirt and receipt sweat shorts. Rounding up the collection are accessories like full print shopping bags, gradient socks, stickers and notepad/pen set.
When: April 29
Where: JUICE
Supreme SS20 Collection Week 9 Online Release
Keeping its Spring 2020 releases coming, Supreme has now readied the Week 10 drop of its latest seasonal collection. Following last week's dual special release, this week the New York imprint will be focussing on its core collection.
Standout garments include the Hole Punch Denim Trucker Jacket, Metallic Rib Hooded Sweatshirt and matching sweatpants, Cutout Logo Crewneck, St. Supreme Basketball Jersey and matching shorts. Other notables include the Chest Stripe Sweater, Painted Logo Shirt and similarly design T-shirt and Patchwork Pocket Tee. This week's boldly branded accessories come in the form of the Debossed Glass Ashtray in two colorways and trio of Motion Logo Cruiser Skateboard.
When: April 30, Japanese Release May 2
Where: Supreme Online
NOAH Thank You Core Logo T-Shirt Release
Looking to help with Coronavirus (COVID-19) relief, NOAH has now put together Thank You Core Logo T-shirts with all proceeds going directly to Direct Relief. The charity helps to provide protective gear to doctors and nurses on the frontline of the coronavirus outbreak.
The special shirt features a pure white base with signature NOAH branding on the front and "Thank You" lettering on the reverse. "Many of us have been seeking ways to help others in the midst of this crisis. We've felt a bit paralyzed as we make clothing. Not exactly essential at this point in time. But one thing we know for sure, money helps in times of need and there are great people doing great work who need support," the brand expressed.
When: April 30
Where: NOAH
Palace "NHS TRI-TO HELP" Capsule
Palace is honoring the United Kingdom's National Health Service (NHS) with the release of an "NHS TRI-TO HELP" capsule.
The charitable release is comprised of a T-shirt, crewneck sweater and a hoodie, which all feature a spin on Palace's signature Triferg logo, now incorporating the words "National Health Service" into its three sides. The blue and white Triferg emblem channels the color scheme of the NHS' logo and appears on both the front and back of each piece.
All three pieces from Palace's capsule are offered up in white and are completed with the standard Palace interior logo. 100 percent of the profits made from this release will be donated to NHS Charities Together, which supports many aspects of the NHS — especially key workers who are currently working through the coronavirus pandemic, treating those with COVID-19.
When: May 11 at 11 a.m. BST
Where: Palace (UK Only)