10 Fragrances to Try This Spring
We asked the experts for their fragrance picks for the season.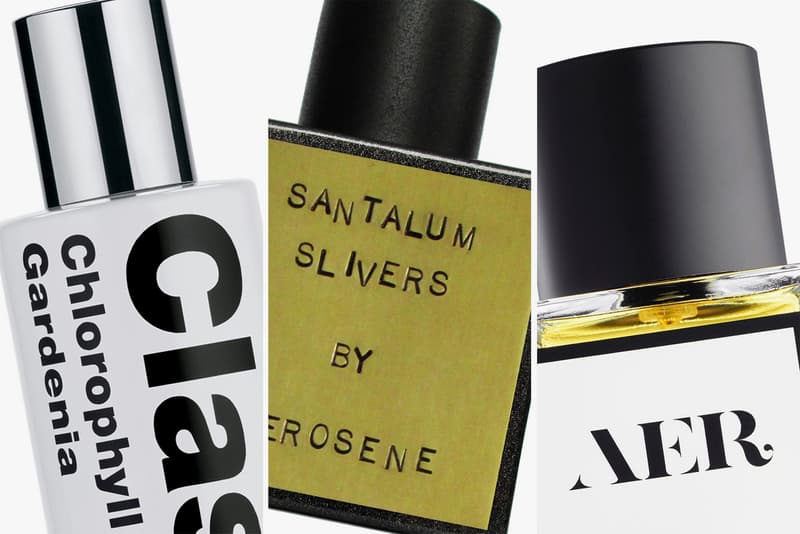 The seasons are starting to change, and with them an excuse to update our olfactory wardrobe. But just because spring is underway doesn't mean the only fragrances to discover are the usual florals.
To help you find a new scent for spring, we asked experts from two of our favorite fragrance stores, Adrian Joffe, who curated the selection of Dover Street Parfums Market in Paris, and Steven Gontarski, manager of Los Angeles' Scent Bar, to share their top perfume picks for the season.
Read on for their recommendations for scents to wear this season, ranging from avant-garde takes on classic floral notes to an inky squid-inspired perfume. And if you're not ready to commit to a full-sized bottle of a new fragrance, many of the below scents can be purchased as a sample for as little as $4 USD.
Odeur du Théâtre du Châtelet by COMME des GARÇONS Parfums
Launched in 2019, this COMME des GARÇONS fragrance took its inspiration from the Théâtre du Châtelet's artistic director, Ruth Mackenzie — the first woman to hold the post at the historic Parisian theater. "The complex and fizzy construction of the fragrance mirrors the theatrical character of spring," Joffe says of the scent. Perfumer Caroline Dumur mixed traditional accords like orange blossom and ambrette with slightly more unusual notes like coffee accord, but the rose oxide and cedar notes take center stage.
Fougère l'Aube by Rogue Perfumery
Fougères are one of the most classic fragrance families, with their mix of bergamot and lavender forming what many of us consider a traditionally "masculine" scent. Gontarski is especially impressed with this take on the classic from niche brand Rogue Perfumery, which was launched in 2017 by chef-turned-perfumer Manuel Cross. "He's particularly inspired by vintage fragrances and has really taken the time to understand their structure and style," Gontarski says. "Fougère l'Aube is such a classic fougère — timeless in style and exudes elegance."
Squid by Zoologist
"This is an unusual fragrance but is somehow surprisingly easy to wear," Gontarski says of this creation from Canadian brand Zoologist, which takes inspiration from the animal kingdom for its scents. Squid launched in 2019 and mixes incense and pink pepper with animalic and oceanic notes. "Squid has an interesting ink note as well as ambergris, which is the epitome of an oceanic scent," he adds.
Accord No. 06: Ylang Ylang by AER
As a parfum rather than an eau de parfum, No. 06: Ylang Ylang is richly-concentrated, with notes like coconut to play on the star ingredient's tropical origins. But according to Joffe, the scent is nonetheless an "energizing scent, that uplifts the spirit" with notes like grapefruit and jasmine to round it out. Like all fragrances from AER, the perfume is also vegan and blended and bottled by hand in Berlin.
Olivo by Bottega Veneta
There are ways to play upon spring flora without committing fully to traditional florals. For that, look to Olivo from Bottega Veneta. "A heavier and traditional masculine scent, the rich smell of olive trees evokes the luscious earth," Joffe describes. "It's great for those who are looking for an elegant yet accidental experience of spring." Though it uses olive as its heart note, trust that this fragrance by perfumer Amandine Clerc-Marie will not leave you smelling like a salad, but rather the Italian Riviera.
Series 10: Clash Chlorophyll x Gardenia by COMME des GARÇONS Parfums
"The clash series collides two worlds, two seemingly opposing ingredients, creating surprising synergies," Joffe explains, with other scents in the Clash series mixing the likes of radish and vetiver. Here, you'll find an unusual way to wear one of the fragrance world's most classic blooms. "The heavy, so-called feminine character of gardenia is smashed with the freshness of chlorophyll, which results in a discrete non-binary combination," he says.
Ani by Nishane
"Sweeter fragrances are generally on trend right now," Gontarski says. But sweet is not synonymous with juvenile, as exemplified by Ani, developed in 2019 by perfumer Cécile Zarokian for Turkish brand Nishane. "Ani starts off with zesty citrus top notes and herbs but the drydown settles into a not-too-sweet vanilla," he adds. "This is the kind of thing that has me smelling my wrist for hours. A very in-demand unisex fragrance."
Santalum Slivers by Kerosene
Yes, this niche perfume brand is named for a petroleum by-product. But it makes sense when you consider that Kerosene hails from the automotive capital of Detroit. According to Joffe, this particular scent "leads citrus juices into the depths of sandalwood," with the mix of bergamot, Italian lemon, sandalwood and vetiver resulting in "originality and unexpectedness, for a springtime like no other."
B683 by Marc-Antoine Barrois
The advent of spring doesn't mean you need to give up your warm, spicy scents for fresh citruses and florals. According to Gontarski, this extremely wearable fragrance developed by French couturier Marc-Antoine Barrois and perfumer Quentin Bisch captures the "smell of soft, supple leather."
Médie by Cire Trudon
Cire Trudon has been making candles since 1643, but only moved into perfumery in recent years. Médie, launched in 2019, was developed by perfumer Yann Vasnier and celebrates the beauty and versatility of citrus. "Médie is zesty, aromatic – bright bergamot and grapefruit," Gontarski says. "It's very easy to wear day to day."