Unlock This Exclusive Nike Air Max 90 by Playing 'MLB The Show 20'
You've gotta play to win if you're looking to get your hands on this 1-of-50 sneaker.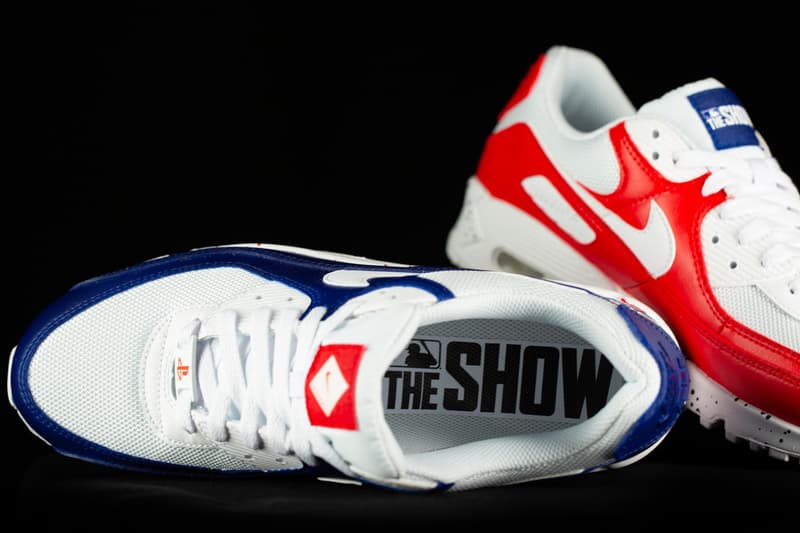 Nike and MLB The Show 20 have teamed up for an exclusive Air Max 90, inspired by cover athlete Javy Baez of the Chicago Cubs and only available through an in-game sweepstakes. Thankfully, entry is simple — all you have to do is play the game for a chance to win.
From a design standpoint, these Nike Sportswear kicks nod to Major League Baseball's red, white and blue logo and the similar shades present on the Cubs' uniforms. Both feet use a white mesh base, but accent colors are inversed: the left foot uses red overlays with a blue MLB The Show tongue badge, while the right foot equips blue overlays with a Nike Baseball tongue badge. Each foot also offers a contrasting PlayStation lace deubre and speckled midsole print — blue on the left, red on the right — plus baseball-centric graphics on the lateral heel. Printed insoles complete the look.
If you're looking to get your hands (or feet) on a pair, the process is simple. Be sure you're logged in to your PSN account, play the Javy Baez moment in MLB The Show 20 and accept the prompt asking if you'd like to enter the sweepstakes. If you don't have the game but do have a PSN account, you can also enter through MLB The Show's website. The sweepstakes is live now, and runs until 5PM PST on March 31.
Elsewhere in the expansive world of the Air Max 90, it's surfaced in ACG-style "Persian Violet" and "Pollen Rise" colorways.