What to Do in London This Valentine's Day
All the best places to eat, drink and shop on the romantic holiday.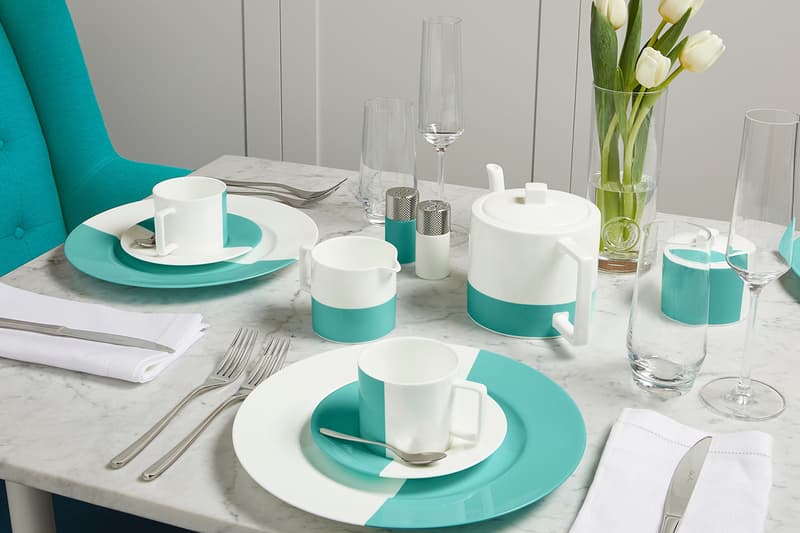 There's no one way to celebrate Valentine's Day. It might be a chance to find the best spots to eat in London, a cozy place to grab a drink and explore the vast array of shops, or to head out of the city for a weekend getaway. No matter what your budget, there's something to do for everyone, and for those who will be in the English capital, look no further than HYPEBEAST's guide on what to do this Valentine's Day in London. 
To take off some of the pressure, HYPEBEAST has curated your Valentine's weekend for you, detailing what to eat, drink and see. Read on for our tips for how to make the most of Valentine's Day 2020 in London.
What to eat
Tiffany Blue Box Café
Address: Harrods, 87-135 Brompton Rd, Knightsbridge
For your AM pick-me-up, grab some coffee at Tiffany's. Aptly opening on February 14, the Tiffany Blue Box Café at Harrods is set to become the height of glamor for London's breakfast scene. The new cafe will serve everything from Perrier-Jouët Blason Rosé to flat whites in its iconic "Tiffany Blue" cups alongside opulent takes on breakfast staples. Reserve your spot now on Harrods' website. 
The Corner Room
Address: Town Hall Hotel, Patriot Square
Start your day right with breakfast at The Corner Room in Bethnal Green. This place is known for its stunningly eclectic interior, filled with vintage lights, sprawling plants and retro touches found inside the Town Hall Hotel, but nothing beats its daily seasonal menu. Breakfast starts from £15 GBP per person, offering pastries, bread, charcuterie and cheese alongside fresh juices and traditional hot dishes, which is all served and prepared under Chef Simon Shand's minimalistic approach to French cuisine. 
Bao
Address: 53 Lexington St, Soho
Cult London restaurant Bao is the perfect mid-day spot, offering a selection of small bites at an affordable price. As its name states, Bao buns are its specialty — we suggest opting for the classic bao made with braised pork and fermented greens, as well as the confit pork and the daikon offerings. For something more substantial, round out your lunchtime meal with the trotter nuggets, eryngii mushroom with century egg and a fried Horlicks ice cream to finish. You can't go wrong.
Dishoom
Address: 7 Boundary St, Shoreditch
Lose yourself in Dishoom's Old Bombay Café-styled Shoreditch outpost this Valentine's Day. This is one of the more secluded, intimate offerings in Dishoom's roster compared to its locations in Carnaby Street and Covent Garden, although you should still expect to wait for a table. But the wait is worth it to enjoy Dishoom's sultrily lit interior along with one of the restaurant's specialty drinks and traditional dishes. 
sketch
Address: 9 Conduit St, Mayfair
Experience a sensory overload at sketch — one of London's not-so-best-kept secrets. There are two main drinking areas, the East Bar, which is a small pod room underneath the famous bathroom area, and the mystical Glade Bar. While the two are equally exciting, a Valentine's Day cocktail should be enjoyed intimately, so head to the East Bar where you'll find yourself inside a softly-lit, art-covered igloo. sketch will also offer a range of limited-edition Valentine's Day-themed cocktails and afternoon tea specials. 
Where to go
The Standard
Address: 10 Argyle St
After a long day in London, rest up in the city's go-to hotel: The Standard. This slab of brutalist architecture has been transformed into a 266-bedroom stay, welcoming a minimalistic design that incorporates art deco elements into its aesthetic. At The Standard, you'll find a top-floor restaurant and bar, suites with terrace tubs overlooking the skyline, and plenty of cozy areas such as its fireside library lounge.
THE PIG
Address: Bridge Place, Bourne Park Rd, Bridge, Canterbury
Escape to the countryside with a getaway to THE PIG. Located under an hour outside of London, the self-acclaimed "restaurant with rooms" can be found in a building that once hosted acts like Led Zeppelin in the '70s. Today, THE PIG is famed for its standout kitchen, cozy bar and endless amount of secret rooms. Or, spread your wings and venture to New Forest in Hampshire and enjoy its tailored spa treatments. 
What to do
Conservatory Archives 
Address: 3-7 Lower Clapton Rd
Eschew the tradition of flowers and give the gift of a house plant this Valentine's Day. Not only do they last longer (if you look after them properly), they also make for an excellent addition to your home decor and Instagram feed. In addition to selling plants, Conservatory Archives offers you and a loved one the opportunity to take part in workshops such as terrarium making and habitat crafting, allowing you to make something and learn how to keep it for the years to come. 
Browns East
Address: 21 Club Row, Shoreditch
Browns East has an incredible array of jewelry pieces, with everything from Hatton Labs and SWEETLIMEJUICE to signature accessories from Foundrae, Tom Wood and more. Its experimental retail space provides plenty of inspiration and comfort while you browse the designated, glass-encased area showcasing its vast selection of jewelry, while its cafe downstairs will fuel you as you search for the perfect piece. 
Le Labo
Address: 77 Beak St, Soho
Le Labo offers a perfume experience like none other. Inside you'll find a precise selection of home goods and personal care essentials, but it's the signature scents that draw you in. Once you've landed on your favorite smell, Le Labo's team will hand-blend your bottle in front of you, which can be personalized with up to 23 letter-stamped characters — "Happy Valentine's Day" is the perfect fit.
Goodhood
Address: 151 Curtain Rd, Hackney
One of London's best fashion, homeware, self-care and all-round cultural hotspots, Goodhood is the perfect place to stop by this Valentine's Day. Whether you're looking for a last-minute present or want to put your time together to good use, its selection of mens and womenswear, jewelry, fragrances, home decor and accessories is sure to make sparks fly — at least creatively. The two-story space welcomes a whole host of designers such as Aries, MM6, Our Legacy, Soulland, Studio Arhoj, FERM Living and many more. 
Electric Cinema
Address: 191 Portobello Rd, Notting Hill
Housed in one of the oldest working cinemas in Britain, Electric Cinema is the Soho House Group's way of offering a romantic night in front of the silver screen. Inside you'll find a lounged catering for 98, revolutionizing cinema-going with an impeccable level of attention to detail — expect champagne, cocktails and plenty of food to be served in the historic surrounding as you slump into an armchair, back sofa or front bed for two.