How Your Favorite Stores Will Take On Fashion Retail's Unpredictable Future
Très Bien, MACHINE-A, Commonwealth and H.LORENZO's founders share their insights.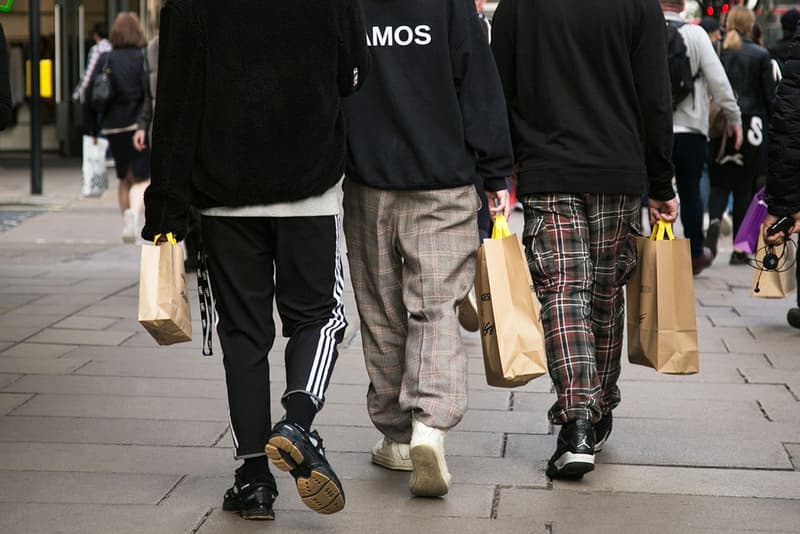 Fashion retail is in a volatile state, especially in the U.S. Most recently, luxury store Barneys New York made headlines when it declared bankruptcy and closed all its major locations and flagships. Soon after, cult-favorite boutique Opening Ceremony was bought out by New Guards Group and announced it will shut down all locations starting with its Soho, NYC outpost. Amidst all this, the phrase "Retail Apocalypse" is still being thrown around with big box department stores such as Macy's and fast-fashion companies like the Gap and Forever 21 also preparing to close more brick-and-mortar destinations in 2020.
On the global front, the apparel industry in Asia continues to prosper as revenue for the sector is expected to grow 7.8% between 2020 and 2024. Luxury fashion has always been a hot target for the continent with Chinese consumers predicted to contribute almost two-thirds of global growth in luxury spending within the next five years. The region is not only a main focus for conglomerates like LVMH and Kering but also global department stores and smaller concept shops. However, the recent Coronavirus outbreak is already taking a toll on China's retail industry with store closings and falling sales. Europe and the UK's retail sector is at a crossroads too. Brexit has already stalled the U.K.'s retail growth in 2019 and with the move now being final, the future of the regions' fashion economy remains even more uncertain.
So what's next in retail's unpredictable landscape? For this retail roundtable, HYPEBEAST asked the founders/co-founders of some of the most forward-thinking concept stores questions about retail in 2020 and beyond. We asked Mac Hadar from H.LORENZO, Omar Quiambao from Commonwealth, Stavros Karelis of MACHINE-A and Simon Hogeman with Très Bien to share their insights on the future consumer, global market strategies and streetwear's lifespan.
What's your general feeling of the current fashion retail climate for stores both small and large?
Mac Hadar, H.LORENZO: I think it's getting a bit more interesting. Stores like [mine] are becoming much more focused on curation and in-store experiences. The bigger stores are able to provide a wider selection and commercial buys as they are catering to the masses. But in my opinion that loses the personal experience.
Omar Quiambao, Commonwealth: My general feeling is that brick and mortar fashion retail is feeling the effects of online and DTC shopping. But specifically for Commonwealth, we're excited as we're still able to grow and expand without corporate or venture capital investment.
Stavros Karelis, MACHINE-A: I think that retail at the moment is being re-evaluated. Evolving, adapting and changing. We the retailers, regardless of our size, are reflecting the sociopolitical context as well as the economic environment not only of the cities each one of us has a physical presence but that of the international stage. There are no simple codes to achieve success. Each one of us is facing their own challenges but overall I think that whoever can remain true to their customers, representing a community and has a clear vision but also flexible and open minded enough to adapt with the new perspectives that society is moving on, will survive and thrive.
Simon Hogeman, Très Bien: Honestly I'm quite bored most of the time. Very few stores inspire me these days, at least outside of Japan. I feel like everyone needs to step up and get more creative around the way they run their retail. Everything today has become so insane, it's just products, products, products. No one cares about the experience and personal relationship between staff and customer anymore.
"We need less products, and we need to care about the good ones."
What major changes do you see taking place in the retail industry this year?
Mac Hadar: I see a lot more focus on retailers branding themselves as a destination and not simply referred to as a "multibrand retailer."
Omar Quiambao: I think we're already seeing it. A lot of retailers are making the decision to throw in the towel on brick and mortar. It's happening in all demographics as well. From Barneys and Nordstrom to Active Ride Shop to Opening Ceremony. Newer establishments that have venture capital investment/backing will see it as an opportunity to expand. The smaller and more nimble will have the chance to pivot and hopefully make changes.
Stavros Karelis: There are too many parts for each one of us to take into consideration moving forward. Sustainability is the most important aspect to consider and implement to our business models. I absolutely believe in this. Others like "experience," positioning, digital developments, etc., are important aspects too. However these words cannot be used freely or as parts of a marketing report. They are generated in order to be able to captivate bigger audiences, more customers, more sales. How can we reach out to everyone? Firstly we have to consider: Do we want to? And then to consider can we? I always say I am not here to satisfy everyone. If I try to do this I will get lost.
Nowadays more than ever, customers are smart and knowledgeable as well as experienced and with vast information on their hands to be able and judge whether we are real. At the end of the day a customer needs to be able to shop and get what they want, in a friendly and welcoming environment, trusting the space they enter, and discover brands and merchandising that will bring that unexpected excitement to them.
Simon Hogeman: I see that happening actually. The people demanding more than just being able to buy stuff. We need to bring back the nice and inspiring retail. Everything seriously needs to calm down. We need less products, and we need to care about the good ones.
How much of a challenge is it to satisfy both local and global markets?
Mac Hadar: It is a challenge because we know we could cater to a broader audience by buying into a wider selection, however, what is important to us is to stick to our branding and making selections that myself and my team love which I think is beneficial for a long term strategy. I hate the word "short term."
Omar Quiambao: I think it would be challenging to try to satisfy both local and global markets at the same time. Commonwealth has stores in different countries and cities, but we've always understood and been a part of the local nuances of style in each city. Our POV still remains the same as when we opened in 2004. We always look forward to new customers, but we do so being ourselves, sharing what we feel is in good style and taste as we continue to grow, learn and evolve.
Stavros Karelis: For me it is one market. I don't tend to separate these two anymore. I love my city and where MACHINE-A is located but location cannot limit you or the customer. We have to be able to satisfy in the same way a customer that lives in London, to a customer that is travelling in different parts of the world or located somewhere far away. We have many tools to be able to do that. But again, not only growing in numbers, it's the quality of those relationships. To maintain them and grow deeper. To be returning ones. That demands a lot of effort, hard work and human capital who understand that those relationships need a lot to cater so they become loyal, real and grow with time.
Simon Hogeman: We've never really differed local from global really so I would say that it's an everyday struggle but at the same time super easy because our vision is the same as 14 years ago when we started. We're opening a store in London this spring and the plan is to work in the same way there, so hopefully people will like that there as well. Always curated and always personal.
What are your personal thoughts on the ever-evolving state of "streetwear"?
Mac Hadar: I think streetwear is a loose term that many great talented brands fall into due to their background, messages and taking a casual approach to silhouettes within their ranges. We have never followed the streetwear trend, we only buy into brands we believe are offering an intellectual point of difference.
A prime example is A-COLD-WALL* who we bought into from the very start. The brands' first collection included relaxed silhouettes but drew inspirations from architectural design and intelligent references that were conveyed in the details, treatments and colors. As Samuel [Ross] and the team evolved, the collection provided tailored and statement fashion-forward silhouettes but still carries the same essence.
Omar Quiambao: As the market has grown from being niche to mainstream the term "streetwear" has taken on different meanings to different people. I don't subscribe to it as a category of fashion, but more of a mindset where certain tones of DIY, blurring lines, and anti establishment exist in the creative process of different creative communities/subcultures. Outside of my viewpoint, now that the luxury and corporate market has sunk its teeth in to attract its next generation of customers, they will move on to recycle and promote their next "lifestyle trend."
Stavros Karelis: I think this term would go down in history of fashion as the term most used but never accurately defined with a universal accepted definition. It was given by the fashion industry to a phenomenon they couldn't box or describe. But that exact non-definition of the term gives a freedom to everyone to interpret it in their own way. For me streetwear is defining a youth culture and a subculture which became quite big and powerful to be ignored. But there is no term such as I like to wear streetwear. Or I sell streetwear. At least I never have used it in that way. Is tailoring streetwear? Are the men's tabi heels streetwear? Is Raf Simons, Alyx or Dior Streetwear? Luxury? I think that the term that reflects really how young people do shop and like to dress is new luxury: high quality, well made, unique, strong, and easy to wear on a daily basis. Price tag comes secondary however investment to fewer items because of sustainability, hence the ones they choose to buy will stay for them longer.
Simon Hogeman: Streetwear has always been a part of our business. It's cut of our business tends to vary through the years but I think it's been a little over represented in the fashion industry the last few years in general. For us it's not massive and never has been, but I think it's gonna decrease a bit in the coming years. But it'll always be there as it has too and it'll always be a part of Très Bien.
"I learn constantly from our young customers, I admire them for how smart, stylish, unafraid they are."
For specialty shops and boutiques like yourself, who is the customer of the future?
Mac Hadar: The millennial and Gen Z generation that are maturing and appreciating fashion as art. They are thoughtful of what they are purchasing and are coming to H.Lorenzo to take away something that not only looks great but has substance to the product, intelligent craftsmanship and branding. They want to be purchasing something unique and rare.
Omar Quiambao: There will always be the informed and uninformed customer. The customer of the future is the same as today; the one that buys.
Stavros Karelis: MACHINE-A has been identified as one of the stores most connected with youth culture. I really am grateful for this. I think the young generation of people is the future. I learn constantly from our young customers, I admire them for how smart, stylish, unafraid they are. Of how they are way more correct than we have been in many instances, with so many important matters like genderless approach and inclusivity. For me these are the customers of the future and am so happy to be doing something that feels relevant to them.
Simon Hogeman: Good question! We've never looked for patterns in customers really so I think for us it's gonna be someone who likes our way of doing business and our taste and style. And of course someone who's not looking to buy from one of the giants that has another idea of what retail should be.
What are some things that worry you about the retail industry at this moment? What are some things that excite you?
Mac Hadar: To be honest, I'm excited now more than ever. Customers' mindsets are changing and they are becoming mindful of what they are purchasing. Brands and evolving and changing their approach to manufacturing and towards the wholesale model. Even though we have been around for nearly 40 years, our team is made up of open minded individuals who want to push boundaries so we are ready for it!
Omar Quiambao: I wouldn't necessarily refer to it as worrying, but there are always challenges operating as a multi-brand retailer. One in particular that has grown over the last decade is our brand partners becoming our main competitors with their focus on their DTC online sales.
For us there is a lot to be excited about as Commonwealth expands retail and starts its journey as an apparel brand. Continuing to create in-store experiences and authentic relationships face to face with our patrons.
Stavros Karelis: There is nothing that particularly worries me. Of course I keep constantly thinking how we remain relevant, always on the front line of introducing some of the best emerging brands and maintain and grow our community. In that sense I think we have to believe in our instinct and look within our establishment vs. to looking what other entities are doing. My most important task for the future will be to build a business model that promotes sustainability and learning how we as retailers have an important and difficult mission to re-establish our business models from buy more to buy less but buy better.
All the above excites me too. But ultimately is my involvement with emerging talent which is a constant source of inspiration.
Simon Hogeman: I mean, apart from the fact that our industry is destroying our planet at a rapid pace right now, I feel like we've talked about this already. Brands, stores and consumers needs to care more for specific things and cherish and love them rather than keep consuming at the speed of light.
Are there any other brands out there, fashion or not, you feel are doing an exceptional job in the retail industry?
Mac Hadar: I feel Craig Green is doing an exceptional job. He never fails to disappoint in my opinion, every season he designs an innovative and futuristic collection and never follows trends. Raf Simons' approach to every collection is exceptional, you can really feel his soul through every offering. He truly is an artist.
Omar Quiambao: I think Aesop does an exceptional job with their unique build outs instilling a creative and elevated product in what basically is soap and lotion.
Stavros Karelis: I really admire my fellow peers in different cities in the world. Kubo the Founder of GR8 from Tokyo, Olga the Founder of KM20 in Moscow, Pascaline of SMETS, The Broken Arm founders. I feel we are in this all together. Doing our own thing but we are connected in so many ways. And we are friends which makes it even better. But ultimately I think that Adrian Joffe of Dover Street Market is the one that paved the way for all of us to exist and be able to do what we do. I have a huge admiration and respect for him.
Simon Hogeman: I really think it's a shame that Farfetch decided to discontinue the Opening Ceremony stores with their acquisition of the company. Carol and Humberto were a big inspiration for us when we first started so I'm really gonna miss going there. But that's how the industry works now, it's about margin and profit. Other than that, one of my favorite stores right now is Ware-Mo-Kou in Tokyo. Beautifully made, very personal staff and great selection and curation. Shoutout Taisuke!!