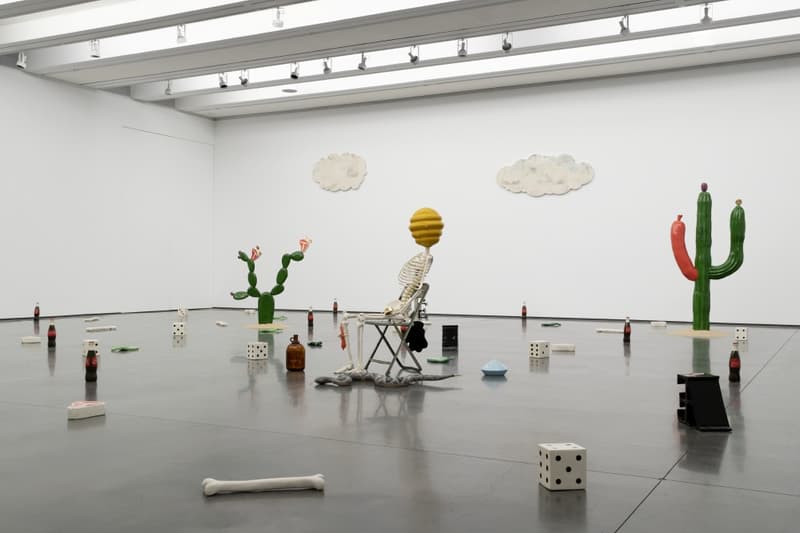 Critic Accidentally Shatters $20,000 USD Artwork at Zona Maco Fair
"It was like the work heard my comment and felt what I thought of it."
---
Latin America's premier contemporary art festival, Zona Maco in Mexico City, attracted over 70,000 visitors. Among those visitors was art critic Avelina Lésper who accidentally destroyed a mixed-media work by rising Mexican artist Gabriel Rico. The piece entitled Nimble and sinister tricks (To be preserved without scandal and corruption) I (2018) was apparently worth $20,000 USD according to The Guardian.
Rico creates surrealist sculptures that largely explore the relationship between humans and nature. The work shattered by Lésper featured manmade objects such as tennis balls that were juxtaposed with natural ephemera like feathers and rocks. Ostensibly, the critic placed an empty soda can near the work that was encased in a sheet of glass. She then went closer to the work to take a picture and then the piece fell apart moments later.
Nos tocó show en Zona Maco. Avelina Lesper rompió una pieza de Gabriel Rico, se quiso huir, se declaró insolvente y pidió una cámara que lo probara. Muchxs la vimos pic.twitter.com/vcfY5ryOl8

— G. Mtz-Zalce (@grazalce) February 8, 2020
Lésper explained that she wanted to take a photograph of the work and relay her negative views toward it. "It was like the work heard my comment and felt what I thought of it," Lésper said in a video statement for Milenio, a Mexican media group that publishes her columns. "The work shattered into pieces and collapsed and fell on the floor."
OMR Gallery, who presented the work, called the critic's actions as unprofessional. "Lésper coming too close to the work to place a soda can on it and take a picture as criticism without a doubt caused the destruction," OMR gallery said in a statement.
Following the incident, Lésper told the gallery that it should leave the piece destroyed to showcase its evolution. The critic even offered to repair the work after the gallery denied her suggestion to fix it. As of now, the gallery is currently communicating with Rico before announcing what they will do with the destroyed artwork.
Elsewhere in art, Gagosian LA is hosting Richard Prince's latest Instagram portraits.
Zona Maco 2020
Centro Citibanamex
Av. del Conscripto 311,
Lomas de Sotelo, Hipódromo de las Américas
Miguel Hidalgo, 11200
Ciudad de México, CDMX
Mexico