Pioneering Fashion Couturier Pierre Cardin Dies at 98
The peer of Balenciaga, Schiaparelli and Dior left an indelible impact on the industry's licensing practices.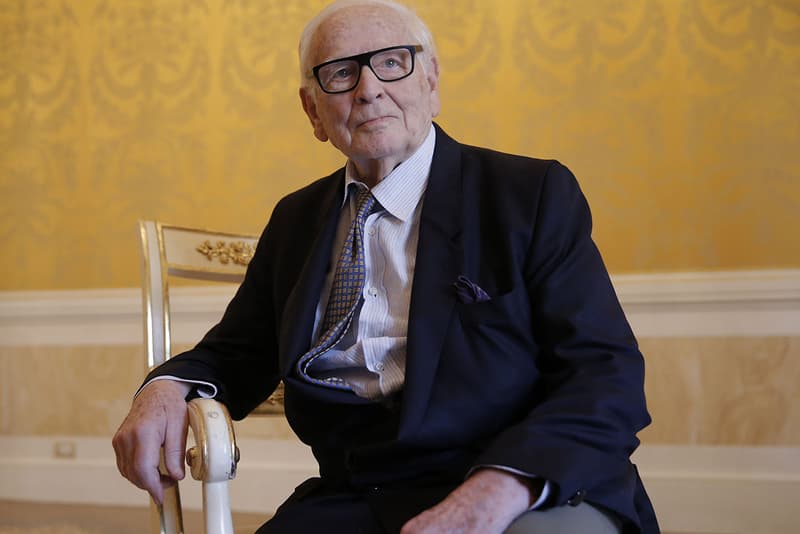 Though he was born in Italy, the impact that Pierre Cardin made while working in France shaped the fashion industry. Cardin passed away in Neuilly on December 29 at age 98, but his pioneering fashion designs, mentorship and licensing approach continue to reverberate throughout the world, affecting realms as disparate as automotive creation and architecture.
Born in 1922, Cardin's aspirations of becoming a tailor evolved into work for the Red Cross during World War II, before he shifted to the luxury realm and worked for Paquin, Schiaparelli and finally Christian Dior. There, Cardin headed up the tailoring atelier at the time when Dior introduced his iconic New Look, putting his stamp on the designer's signature Bar Jacket.
Cardin founded his own house in 1950, dressing creatives like Salvador Dali, Marie-Louise Bousquet and Christian Dior himself. He created worldwide buzz with womenswear silhouettes informed by geometrically shapes and futuristic technology, eventually training talented designers like Jean Paul Gaultier. With his success sealed, Cardin explored automotive design and ventured into the realm of licensing
Here, Cardin again made history, becoming the first designer to extensively license out his brand to international producers, preceding labels like Lanvin and Dior. Cardin eventually amassed an astonishing 800-900 licenses in over 120 countries, putting his stamp on products that included clothing, watches, furniture, wigs, razors, forks and much more. Analysts grumbled that the Cardin name was cheapened but Cardin cared little for platitudes.
"My aim is to boost sales and to raise my profile among young people," he told WWD in 2010 after receiving the Fashion Group International Board of Directors' Legend Award. "Since I don't get a lot of press coverage, young people don't know who I am. I want to show them I am still avant-garde and that I produce original designs and that I also want to help my licensees, who depend on my creativity, after all."
Eventually, Cardin owned hotels, restaurants, stunning residences and his own museum — he even attempted to snap up the village of Lacoste and still owns the Marquis de Sade's family chateau within the town. Fiercely independent, the designer has been the subject of several retrospectives and claimed that he had "no debt. None," to WWD
Though Cardin's name is perhaps less bankable now than it used to be, he still maintained his eponymous house and even trained a protégé, 27 year-old Pierre Courtial, who created a new collections for Cardin's brand in February 2020.
"Today, we all aspire to the continuity of the creative work of our uncle under the leadership of Rodrigo Basilicati Cardin," said Cardin's family in a statement. "We are all proud of his tenacious ambition and the daring he has shown throughout his life. Always driven by a desire for openness, he has succeeded in making his name and brand known and established throughout the world."