Milwaukee Bucks Set NBA Record for the Most 3-Pointers Made in a Game
Coming off their worst 3-point effort in over a year.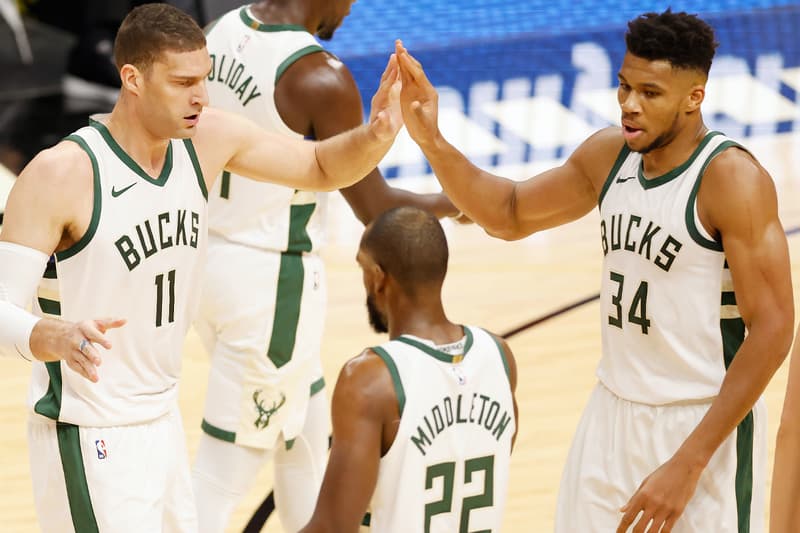 Last week, the Milwaukee Bucks made their worst 3-point effort in over a year. This week, the team set an NBA record for the most 3's in a game, a record previously held by the Houston Rockets in 2019.
The Bucks made a record 29 3-point shots in their game against reigning Eastern Conference champions, Miami Heat on Tuesday night. After their loss to the Knicks, going for 7 for 38 from beyond the arc, the team more than made up for it, shooting 29 for 51 against Miami.
The three-point effort was led by Donte DiVincenzo who was five for six from deep, finishing off with 17 points, followed by Jrue Holiday's six 3's in his 24-point game and Khris Middleton's four 3's of his 25-point night. Sam Merril made the record-breaking shot, shooting the 28th 3-pointer, pushing the Bucks ahead with a 131-86 lead.
The Bucks played 13 of its players last night, each making at least one 3-pointer, excluding Giannis Antetokounmpo who only shot nine points that game. Though a team stat night, Giannis' streak of having at least 10 points in 108 consecutive regular games has ended. This was the first time since February 13, 2017, that Giannis scored 10 points or less but the Bucks won anyway.
For more sports news, check out Oscar De La Hoya is ready to return to the ring.