Pharrell Wants You To Step Outside of the Box
We speak to the musician and designer about the launch of his new skincare line, Humanrace.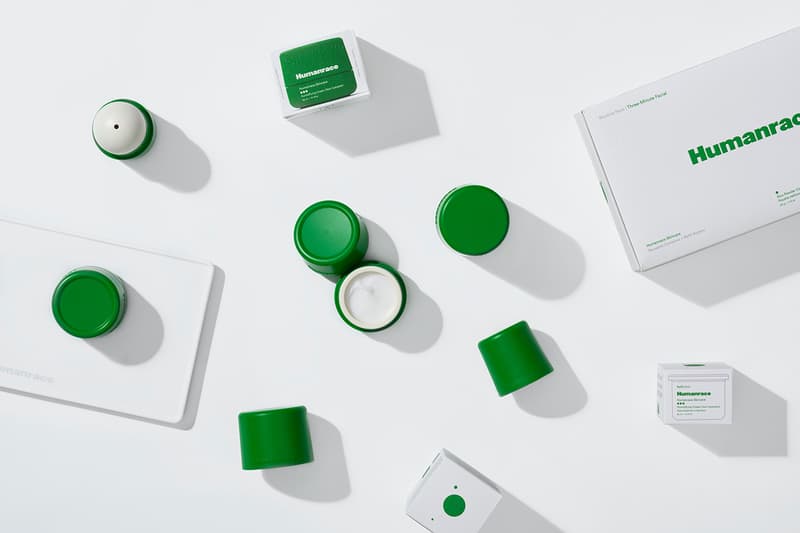 The year is 2020. By now, that men can and do take care of their skin ought to be old news. The beauty sphere is only growing after all, and the fact that grooming brands have learned to market their products not only to women, but to all demographics with dollars to spend — including the fashion-forward Gen Z men, men of color, the LGBTQ community and even streetwear diehards — shouldn't be a surprise to anyone with a basic sense of economics.
And yet, our announcement earlier this month that the multi-hyphenate musician, producer, designer and possessor of flawless skin Pharrell Williams was launching a genderless skincare line still drew comments of transphobia and sexism. Why? What is it about some moisturizer in cheery green packaging that draws such ire?
"I would say that they're probably in a box," Pharrell says of the men who are resistant to engaging in skincare. "And it's not their fault. You know, it's been marketed to them, that you belong in a category or to be classified in a space."
But Pharrell stepped out of that narrow masculinity box a long time ago — if he was ever confined by it to begin with, that is. The artist, now 47, began his foray into skincare 20 years ago; his new Humanrace line, which launched last week, aims to bottle those two decades of experience. But even with those years of skincare knowledge and the youthful visage to match, Pharrell is quick to point out that he's still no expert.
"Expertise is Dr. Elena Jones. She is the one we rely on for everything. She's the one that's been at the frontlines teaching me everything during all of my experiences up until now," he says of his dermatologist Dr. Jones, with whom he developed the Humanrace products.
So who is the Humanrace line for? It's for humans, Pharrell says. Such a broad demographic would seem to be a marketing nightmare in the already crowded beauty industry, but the line is more about communicating an idea than targeting specific groups. "What about just being human?" he asks. "Just human and being concerned about what you're going to do to your skin." And apparently, the humans are buying as Humanrace's initial launch sold out on its debut on Wednesday.
The Humanrace line is, in a world, approachable. It includes three products for now: the Rice Powder Cleanser, Lotus Enzyme Exfoliator and Humidifying Cream, whose prices range from $32 to $48 USD. In other words, a user-friendly, entry-level trio suitable for those just getting into skincare. It has many of the components that have become de rigueur in modern grooming brands: in addition to positioning itself as genderless the line also features reusable packaging and vegan and fragrance-free formulations. But it also makes a nod to a demographic rarely addressed in the beauty industry: Humanrace's packaging includes braille lettering of the product names.
"How can we be Humanrace if we're not considering our blind brothers and sisters? You have to think about the threshold of people as much as we can. We need that to be open," Pharrell says of the decision to make the packaging more inclusive with braille lettering. "We're trying to democratize, great design, great formula, a great intention as much as we can."
It'd be easy to dismiss the many celebrity-backed grooming startups on the market as vanity projects, but there's something to be said for the way superstars like Pharrell have used those brands to put their names behind inclusivity. Selena Gomez's Rare Beauty line, which launched earlier this year, has earned praise for designing packaging that can be more easily opened by those who, like Gomez, have arthritis or limited dexterity. And Rihanna's Fenty Beauty set a new standard in the makeup industry when it launched in 2017, with its 40 shades of foundation encompassing a wide range of skin tones.
But will it help you achieve Pharrell's complexion? Perhaps, perhaps not. But Pharrell himself is as interested in the routine as in the results. "For right now the most important focus is really affordable three minute facial," he says, comparing the three-step process as an alternative to an expensive, time-consuming facial at a dermatologist's office. "What we're suggesting to people who are curious, but don't want to spend an hour or two, this is literally less than three minutes of your day, or three minutes of your morning. And honestly, the way you start your morning, is the way you're starting your day."