Megan Thee Stallion Shares 'Why I Speak Up for Black Women' Op-Ed
"It's ridiculous that some people think the simple phrase 'Protect Black women' is controversial."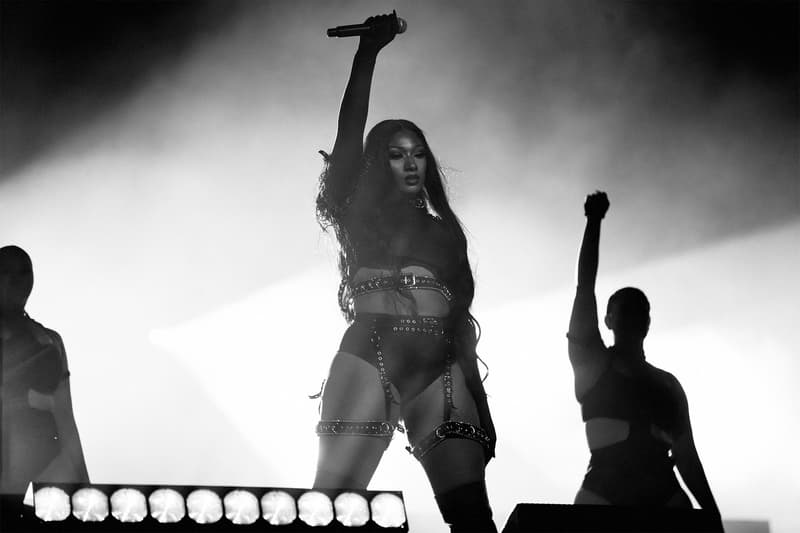 Megan Thee Stallion has released a new op-ed in The New York Times today titled "Why I Speak Up for Black Women", an emotional call to action in which she voices the importance of protecting women of color and speaks about her own experiences with abuse following the high-profile shooting incident with Tory Lanez.
Megan's powerful piece calls out America's systemic racism and history of victim blaming with decades upon decades spent marginalizing women. Megan also writes about Black women's importance to the upcoming 2020 U.S. Presidential Election. "Despite the way so many have embraced messages about racial justice this year, Black women are still constantly disrespected and disregarded in so many areas of life," she stated.
The article does not mention Tory Lanez by name, but Megan does detail the altercation, saying that she was shot twice by a man who she was not in a relationship with. "The way people have publicly questioned and debated whether I played a role in my own violent assault proves that my fears about discussing what happened were, unfortunately, warranted," Megan said, revealing why she initially stayed silent about the altercation before speaking out. "The issue is even more intense for Black women, who struggle against stereotypes and are seen as angry or threatening when we try to stand up for ourselves and our sisters. There's not much room for passionate advocacy if you are a Black woman."
Megan championed her advocacy as the musical guest on Saturday Night Live's season premiere. She performed "Savage" and called out Kentucky's attorney general David Cameron for how he handled the investigation into Breonna Taylor's tragic death. Megan's performance mirrored her virtual concert back in August where she asked the question, "Why is it so hard being Black in America?" In September, Megan was selected as one of TIME's 100 Most Influential People of 2020.
"I'm not afraid of criticism. We live in a country where we have the freedom to criticize elected officials," she continued. "And it's ridiculous that some people think the simple phrase 'Protect Black women' is controversial. We deserve to be protected as human beings. And we are entitled to our anger…" Megan then backed up those mistreatments with specific examples of maternal mortality rates to showcase the racial bias in healthcare and the disproportionate number of Black transgender or gender-nonconforming people who have been shot and killed in the United States of America.
Megan then called on everyone to vote. "Black women are not naïve. We know that after the last ballot is cast and the vote is tallied, we are likely to go back to fighting for ourselves. Because at least for now, that's all we have," she said. Read the full New York Times article here.
In Opinion

Video: "What does it mean to be a woman of color?" asks Megan Thee Stallion. "She's got to be strong, because that's just the expectation." https://t.co/6bmVcH8PpI

— The New York Times (@nytimes) October 13, 2020