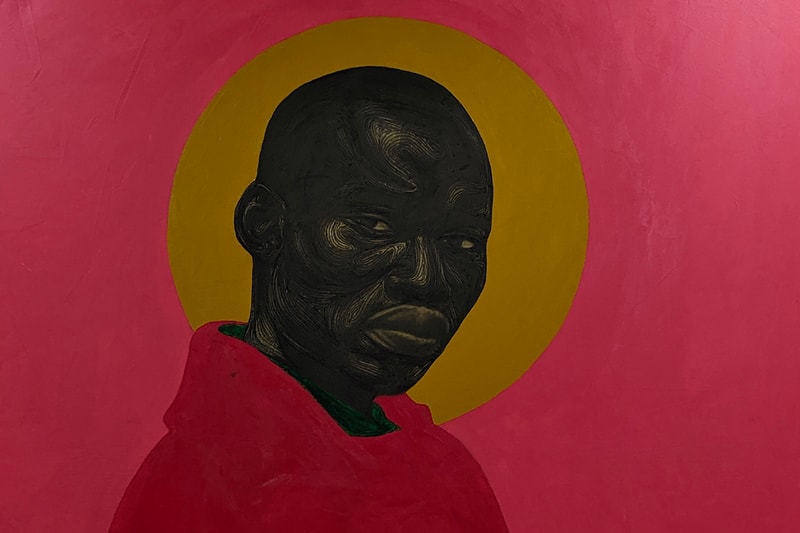 In Ghana, a New Gallery Hopes to Give African Art a Global Platform
Founder Adora Mba discusses her vision for ADA \ contemporary art gallery.
---
Opening a new gallery is complicated. Opening a new gallery during a worldwide lockdown is, it's safe to assume, even more so. But for Adora Mba, whose new space opens later this week in the Ghanian capital of Accra, it was a surprisingly positive experience. "It was actually a blessing," she says. "I've had a bit more time and figured out more what I want to do with the program. I feel ready now." The ADA \ contemporary art gallery opens on Thursday October 15, with its inaugural show: a solo exhibition of the Nigerian painter Collins Obijiaku.
Mba's goal is an ambitious one: she hopes to use the space as an incubator and launchpad for African artists, to give them the same kind of backing and momentum so often offered to their European and American counterparts. A former cultural journalist, Mba — who is of Ghanian and Nigerian descent — moved to Accra three years ago, after setting up an art advisory service, The Afropolitan Collector. For her, the gallery is the next logical step. "I always wanted to represent artists on my own terms," she says.
Here, she speaks with HYPEBEAST about Ghana's place in the art world, and her vision for the gallery.
HYPEBEAST: Lagos has received a lot of attention globally in recent years, and seems as though it's now rightly recognized as a global cultural center. How would you describe the environment in Accra?
Adora Mba: It's very different from Nigeria, which is a very oil-rich country, so has a lot more money. Ghana's economy has only really been thriving in the last five years or so. Back in the day it was so quiet here: it had more of a beachy vibe. But we're starting to see more skyscrapers, more hotels, more of that kind of evolution. It's getting a little sexier here.
And what's the art landscape like in the city right now?
It's a baby in terms of the art market. It's nothing like Lagos, which has a thriving art economy. There are so many brilliant artists here, but there's nowhere to show, and no infrastructure. There are very few galleries here that are able to compete internationally. So it was important to me to support the local community here, while also fostering connections to the international market.
How will you do that?
I want to take our artists to Basel, and Frieze, of course. But I also want people to come here. So I plan to set up a residency: it'll be over the summer, and we'll invite one or two artists from Ghana along with one or two who work internationally, and who are maybe more established and have gallery representation. And hopefully it'll start a dialogue: by living and working close to someone, they'll form a connection between the global side and Africa.
You're opening the gallery with a solo show for Collins Obijiaku. How did you come across his work?
With all of the artists we're working with right now, it's a combination of them finding me, and me finding them. Instagram has been really instrumental. I don't know how these artists would have reached out without it.
Collins lives Suleja, which is a small village outside of Abuja in Nigeria. I think I found him: I'd been hearing whispers about him and loved his work when I saw it. He was actually the first artist I signed when we decided to work together and grow together.
I haven't yet met any of the artists face to face, which is crazy. I've always thought was so important, but it's impossible right now, as Ghana locked down pretty early.
One of the most dominant conversations of this year has been about improving the visibility and opportunities for Black artists.
Oh yes. I've seen a lot of that.
From your perspective, do you think things are moving in the right direction?
There are definitely two sides of the coin. Obviously it's wonderful that there's a new focus on Black and African artists since the Black Lives Matter protests. There are galleries now who, three or four years ago, didn't have a single Black artist on their books. And now they are doing group shows of only Black artists. A lot of people are coming to me for advice now. The good ones, who want to do it properly. And that, I love. Some great conversations and dialogue.
But for me, the question is: is it sustainable? Is this just happening because it's fashionable right now? Are these white-owned galleries now dealing in Black artists but still excluding Black curators? So I'm kind of waiting and feeling, and watching this space quietly. We'll keep an eye.
ADA \ contemporary art gallery opens this Thursday October 15. Its inaugural show, Gindin Mangoro: Under the Mango Tree, runs until November 19. For more information, visit the gallery's website.
ADA \ contemporary art gallery
Villaggio Vista
North Airport Road
Airport Residential Area
Accra, Ghana