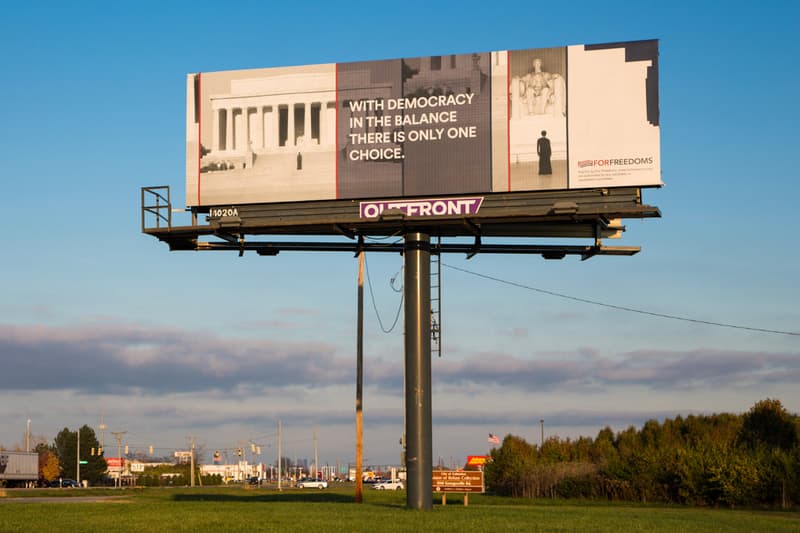 For Freedoms Collective to Place Billboards in All 50 States on Indigenous Peoples' Day
Designed by 70+ artists including the Guerrilla Girls, Maggie Rogers, Shepard Fairey and more, the project uses nontraditional methods to engage the general public.
---
Hank Willis Thomas's For Freedoms collective is taking to the sides of roads, streets and highways this Indigenous Peoples' Day, placing artist-created billboards with powerful messages in all 50 states as well as Puerto Rico, Guam, Samoa, and the US Virgin Islands. Aiming to engage with the general public while promoting civic joy and thought, the billboards are designed by over 70 artists, including the Guerrilla Girls, Maggie Rogers, Shepard Fairey and the Donald Judd Foundation.
Three of the 70-plus billboard graphics can be seen in the gallery above, and this article's main image shows a billboard erected by the For Freedoms Collective in 2016. Each billboard is part of For Freedoms' current campaign, the 2020 AWAKENING. A year-long effort, the 2020 AWAKENING is inspired by the Wide Awakes — a group of abolitionists from 1860 who used community-based methods to confront partisan instability, which eventually lead to the election of Abraham Lincoln.
Willis Thomas is certainly no stranger to powerful public art displays. In September, he projected writings of incarcerated individuals affected by the COVID-19 coronavirus onto the walls of the Brooklyn Public Library, and in August he spotlighted racial justice in an extensive mid-career survey at the Cincinnati Art Museum.
Head over to the For Freedoms website for more information, and check out HYPEBEAST's interview with the Guerrilla Girls ahead of their new retrospective book.