The Fred Perry Polo Is for Everyone
The British brand has a history of standing for inclusivity.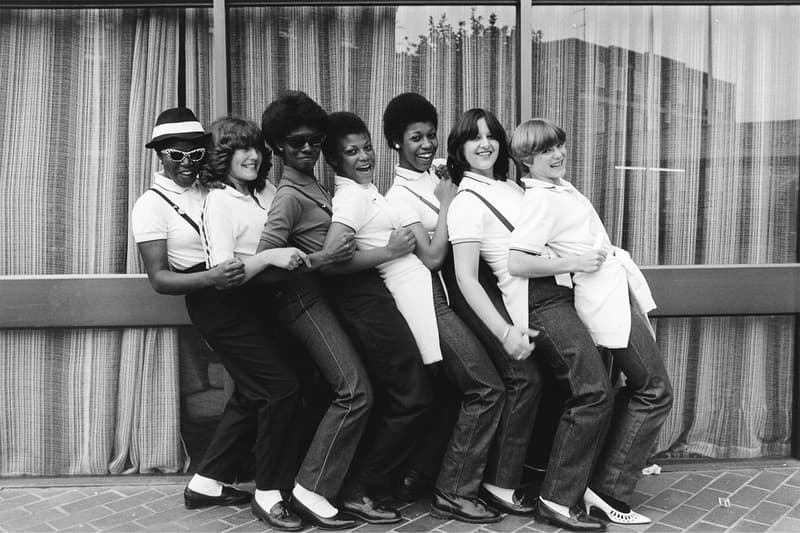 When Fred Perry first introduced a polo shirt in the early 1950s, it was designed to be worn on the court with a focus on lightweight functionality. The classic shirt made its debut in plain white, with a simple Laurel Wreath on the chest. Soon, a subtle redesign arrived in the form of the M12 polo. It was still plain white, but it now featured "Twin Tipping" around the collar. Over the course of the 1960s, Fred Perry continued to expand its offering, introducing colorful options designed to be worn during table tennis tournaments.
One of the colorways that would arrive comes in all black, offset by bold yellow detailing appearing on the Laurel Wreath logo and twin tipped detailing. Almost 60 years later this shirt has taken on new meaning as it has been adopted by the neo-fascist Proud Boys movement in America. This new unwanted link for Fred Perry led the brand to release a powerful statement denouncing the association last week, and cease all sales of the black and yellow polo shirt in North America.
The shirt's significance to this group has roots in the darker side of Fred Perry's subcultural associations, but to many others — particularly in the U.K. — these same links have made the brand a signifier of working class identity, as its pieces have been worn by diverse musicians of every generation since the 1960s.
The colorful options introduced by Fred Perry in the 1960s launched the brand into a world of subcultures for which it is now best known. Originally adopted by the Mod movement across Britain, the polo shirt became a staple of the skinhead subculture which emerged as Mods started listening to Jamaican reggae. Artist and author of 2014's Skinhead – An Archive Toby Mott describes the uniform of skinheads as a "hyper-masculine dress code," featuring Dr. Martens, harrington jackets and polo shirts. In the early days of this subculture, the term "skinhead" didn't necessarily connote right-wing or white supremacist politics; the culture and its meanings were more complicated than that.
Skinhead clothing was a comment on working class Britain — and a rebellion against the middle class hippie movement — with the aesthetic associated with manual labor jobs that were disappearing in the 1960s and '70s. "The jobs associated with wearing boots, or jeans with braces and donkey jackets were being lost," continues Mott, calling it the beginning of an "erosion of identity."
The so-called "first wave" of skinhead culture is still seen by many as a rare moment of multicultural unity in a fragmented period of British history. Sam Lambert of Art Comes First — an organization which has collaborated with Fred Perry over recent seasons — describes how the movement "was created by the working class youth such as Mods, Jamaican British and Jamaican immigrant rude boy subculture," all of whom were influenced by "the heavy, repetitive rhythms of dub and ska, as well as rocksteady, reggae, and African-American soul, rhythm and blues and funk music."
There is far from unanimous agreement about this. For Mott, the idea of early skinheads as a non-racist culture is "a utopian vision" that is not necessarily true. He points to the racism that was rife within the movement, particularly towards Indian and Pakistani families in Britain, and the sense of victimhood skinheads often had as they spoke about their identity being destroyed.
"[It] was created by the working class youth such as Mods, Jamaican British and Jamaican immigrant rude boy subculture."
As this "first wave" came to an end, skinheads moved on to other subcultures and other factions. The fashion centered around polo shirts and Dr. Martens slowly lost traction, and skinheads eventually turned into boot boys — known for fighting at football grounds — and the more widely-known casuals. This didn't last for long, and in the late 1970s the "second wave" of skinhead culture arrived, offering a new and darker take on the world.
The Proud Boys adoption of Fred Perry as its uniform can almost certainly be traced to this "second wave." At this point, the aesthetics of the movement were co-opted by right-wing punks with ties to the National Front and other neo-fascist groups. "The far right saw in the skinheads a group of working class males whose economic hardships may have made them particularly sympathetic to ethno-nationalist politics," says Shaka Maidoh, Lambert's co-founder at Art Comes First. Lambert agrees, adding that, during this period, "political affiliations grew in significance and split the culture," creating a distance between the various strands of skinheads.
For Mott, while racism clearly existed within early skinhead culture, the "second wave" marked a huge change. "The first wave of skinheads weren't mobilized, they were just white working class and had the views you would find in those environments. Britain was a very different place then," Mott says. "On the other hand, they weren't organized fascists like the second wave. The second wave was aligned with the National Front."
For many, this second wave of skinhead culture — more violent, more political, more racist — is the defining memory of the subculture. However, many have rejected that aspect of the culture, identifying instead as "Trojan skinheads." This group celebrates the more multicultural roots of skinhead culture, when Jamaican rude boys and British working class youths came together. Their uniform consists of classic skinhead clothing, such as button-down Ben Sherman shirts, Harrington Jackets and Fred Perry polos.
Throughout the coming and going of subcultures that adopted it, Fred Perry has always stuck to its roots and away from the racist fringe movements that have adopted their polos. Instead describing itself as "the uniform of the non-uniform," Fred Perry positions itself as an emblem of the outsider and of all subcultures. Recent collaborations have championed its musical and multicultural heritage, as London-based designer Nicholas Daley explained last year, "I feel there's a good connection between my brand and Fred Perry, which ties in the ethos between celebrating cultures and music." The Belgian creative Raf Simons has also honored Fred Perry's subcultural role in his capsules with the brand, such as through references to photographer Gavin Watson for Spring/Summer 2020.
"What made us work with the brand was the fact that we wanted to carry on telling that very important message, that our differences make us more powerful."
Art Comes First, another Fred Perry collaborator, has focused on the Jamaican "rude boys" who adopted the brand and so heavily influenced the early skinhead style. "My early memories of the brand is seeing bands I loved such as The Selectors, The Specials and Toots & the Maytals playing in a room full of a diverse crowd sporting the logo," says Lambert. "What made us work with the brand was the fact that we wanted to carry on telling that very important message, that our differences make us more powerful." Lambert's co-founder Maidoh agrees, "I think the brand's subcultural roots are amazing. It has such an evocative history because as humans we tend to find inspiration in subcultures and Fred Perry has a shared sense of purpose within this that appeals to people from all walks of life and cultures."
In its statement disavowing the Proud Boys, Fred Perry laid out its core message of "inclusivity, diversity and independence." Following the brand's decision to pull the Black/Yellow/Yellow polo shirt from sale, Fred Perry is taking a strong stance against some of its associations. Across generations, Fred Perry has been adopted by British musicians and artists as diverse as The Specials, Don Letts, Amy Winehouse and Mike Skinner. For all of these artists, and many other people across the world, Fred Perry has been a counter-cultural uniform for everyone. This is the legacy it deserves.