Terry Rozier and Chinatown Market Bring the Spirit of Basketball to Paris
HYPEBEAST France spoke to the two about their latest partnership with PUMA for the NBA Paris game.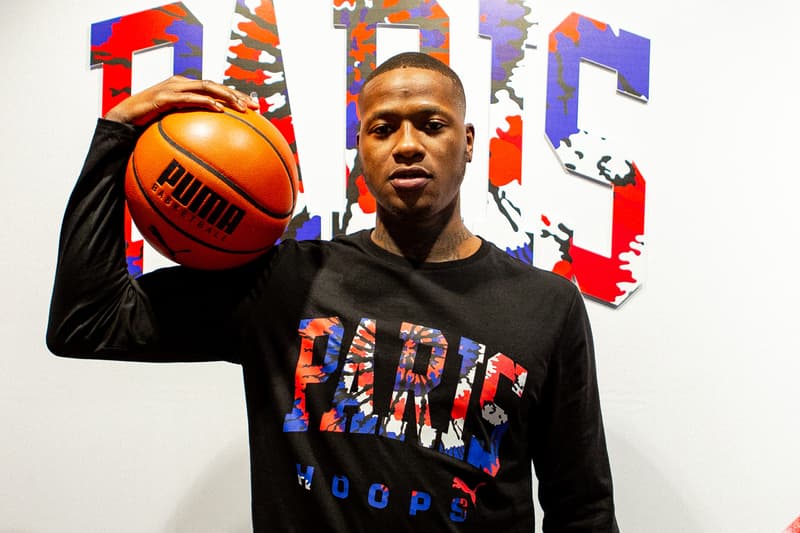 Today, the Charlotte Hornets and the Milwaukee Bucks will face off for the very first official NBA game in Paris. The two American teams are kicking off what may be a more longstanding partnership between NBA and France, as the league has already scheduled a follow-up game for 2021.
In light of the match, Chinatown Market has revived its partnership with PUMA for a special capsule collection. The capsule serves as a love letter to both basketball and Paris, utilizing the iconic French tricolore on hoodies, tees and the PUMA Future Rider. The brands launched the collection with a launch at Paris' Foot Locker, which saw Hornets point guard Terry Rozier turn up to celebrate.
HYPEBEAST France caught up with both Chinatown Market and Terry Rozier in Paris to discuss the impact of the NBA's arrival in the City of Lights. Read on to hear about Chinatown's inspiration for its collab and what Rozier thinks of playing for Michael Jordan's team. Check out the original interviews with Chinatown Market and Rozier over on HYPEBEAST FR.
HYPEBEAST France: Why did you choose to imagine a collection focused on Paris?
Chinatown Market: We focused on Paris as the NBA is playing a regular season game here this year and our partners at PUMA players in that game. We love the city of Paris and are inspired by it every time we visit so we used that inspiration to design the shoe.
What do you like about the city?
We love everything about Paris. The culture is one where free expression is encouraged and creativity is admired above almost all else.
What does Paris means to you? What do you like to do when you are in town?
Paris means culture and food to me. When we're here it's usually for a fashion week of some sort so we are with stores that sell our brand and partners that we are collaborating with. We also try to plan ahead and go to restaurants we love and go to a museum if we have time.
Your collaboration with Puma has been going on for several months now. How did the partnership began and how are you working with the German brand?
The partnership started in June of 2018 with a pop up around the NBA draft in Brooklyn. Since then we have released numerous collaborative shoes, shirts, hoodies and more. Both companies have a nostalgic mindset and we have taken our love for DIY culture to their platform and it has shined at an amazing level. Around each release we execute a program called CTMU where fans can come out and customize pieces with us surrounding the program and we have done so from ComplexCon in Long Beach to Sole DXB in Dubai. We will continue to execute this program at key events worldwide in 2020.
How did you came up with the tricolor camp print that we can see throughout the Foot Locker collection?
The colors are driven by the colors of France — red white and blue.
Can you tell us a bit more on the sneaker's design?
The design is inspired by the colors of France and Chinatown's nostalgic style put forward through tie-dye. We wanted to design something that was both fun and representative of our brand and also spoke to the love of Paris.
Was it important to imagine a collection celebrating the first ever NBA Game in Paris?
Absolutely. THE CTM family all love the NBA and we have been watching the rise of France in the league over the past decade. When we saw the opportunity to design something that could represent what France means to basketball we jumped at the opportunity.
Basketball is very present in your creations. Is this sport one of your biggest inspiration? What does basketball means to you?
It is — basketball culture is at the core of the brand. We love to watch the game and the fashion that surrounds it and believe that you can love basketball without having to strive to be an amazing player. We want kids to have fun around the game and smile because of it through our clothing and basketballs.
In your opinion, how does basketball influence fashion ?
Whether its sneaker culture or now tunnel fashion, the NBA and basketball in general represent free expression and individuality in a lot of ways
HYPEBEAST: What does it represents for you to be a part of the very first official NBA Game in Paris?
Terry Rozier: It represents a lot. Obviously. We're trying to grow the NBA internationally. We receive so much love and support overseas that I am very honored to be part of the first match in Paris. I can't wait to play.
What do you think about Paris? Do you feel the connexion with basketball? Did you know there where such expectations about it before coming here?
I know there are a lot of NBA fans here in Paris. People love basketball, follow the championship, there are a lot of fans of our superstars. It's a lot to just be there and be able to play for the first time in front of these people, to give them a big game. A close match.
Why is it important to offer Global Game around the world for The NBA?
It's very important. It brings fans. They can see us for real, support us and give us love. This changes their experience, they are no longer just watching TV but can now watch us play closer, and better appreciate our competitive side.
In Charlotte, you play with one of the most famous French Player, Nicolas Batum. Was he excited to play in his country?
He's really, really, excited (laughs). He is very happy to be back here in Paris. We are all very happy for him too. He lives about five minutes from our hotel so I know he was able to take advantage of his family and friends. He was able to go home. When someone has the opportunity to go home, where they come from, it means a lot. I know he's looking forward to the game and the whole team is happy for him.
Too bad Tony Parker retired last year, did you talk about this game with him?
I saw him last night. Tony has always been a guy I have respected a lot. I've seen all of his matches, he's a hell of a player, a Hall of Famer. It was great to see him do what he loved. He is also impatient to watch the match.
What does it feel to play for Michael Jordan's franchise? Do you have contact with him?
Yes, it turns out that I saw him also last night (laughs). But, of course, it's huge to play for his franchise. We are talking about the best player of all time, the GOAT. The fact that he placed his trust in me and brought me into his organization, letting me be me, is very important. I am happy to be in Charlotte and I continue to work on my game to improve myself.
You signed at PUMA in 2018, why did you choose this brand? What do you feel about your collaboration?
I chose PUMA because they really have crazy ideas and, above all, they allow me to be me, to stay true to the person I am and to express myself through the brand. The first time we met the guys from PUMA and we talked about working together, I was ready to go. I like their creative side a lot.
You are a full starter for Charlotte this season. How does it feel? Is this the real big start of your career?
You know, I'm not really satisfied yet, obviously. I know I can take my performance to a whole new level, and that's what I plan to do. I am never satisfied. I keep working, I keep getting better. It's only the beginning of my career. I'm going to take off those numbers.
What can we wish for you in the future?
All Star