Joaquin Phoenix Honors Heath Ledger in SAG Awards Acceptance Speech
"I'm standing here on the shoulders of my favorite actor, Heath Ledger."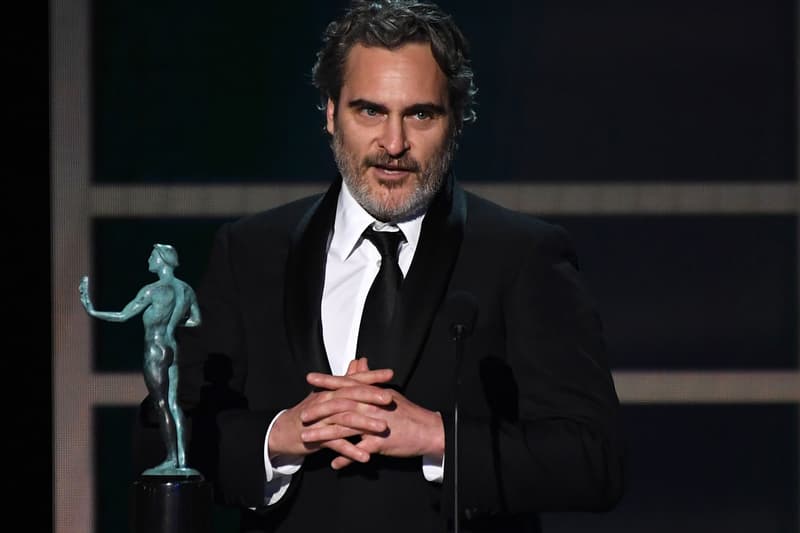 Since hitting the big screens, Todd Phillips' Joker has been garnering much attention for its record-breaking box office successes and, more distinctively, Joaquin Phoenix's dramatic performance. On top of a nomination for the upcoming Oscars, Phoenix has been on a roll with a number of accolades for the role. Recently, Phoneix paid respects to Heath Ledger at the SAG Awards during the acceptance speech, offering a few words about his appreciation for the iconic Joker portrayal that came before him (Ledger won a posthumous Oscar for the role).
"I'm standing here on the shoulders of my favorite actor, Heath Ledger," said Phoenix, gripping his award at the podium. It was the last sentence of his speech full of warm praises towards other actors in the building that night, specifically, Leonardo DiCaprio, Adam Driver and Christian Bale. During his speech, Phoenix turned to Bale and mentioned, "Christian, you commit to your roles in ways I can only dream of," adding jokingly "it's infuriating. I wish you would just suck once."
For DiCaprio, Phoenix pointed out to how the actor would always beat him in the roles he was auditioning for: "there would always be two other guys that I was up against and we'd always lose to this one kid… Every casting director would always whisper, 'It's Leonardo.'" And then he acknowledged Driver's performance in Marriage Story: "Adam, I've been watching you the last few years and you've been turning in these beautiful, nuanced, incredible, profound performances." Lastly, Phoenix ended with the aforementioned Ledger-nod, wrapping up his acceptance by paying homage to what's often regarded as one of the best performances of a DC villain.
Scroll below to see Joaquin Phoenix's acceptance speech at the SAG Awards, paying respect to the late Heath Ledger.
In other news, Parasite made SAG Awards history as the film became the first foreign-language movie to win Best Ensemble.
"I'm standing here on the shoulders of my favorite actor Heath Ledger." Joaquin Phoenix thanks the late #DarkKnight star while accepting the #SAGAwards statue for #Joker https://t.co/tD2ozkArqi pic.twitter.com/k9q8hwFFrM

— The Hollywood Reporter (@THR) January 20, 2020