'Joker' Is the First R-Rated Movie to Make $1 Billion USD (UPDATE)
Another title the film has claimed.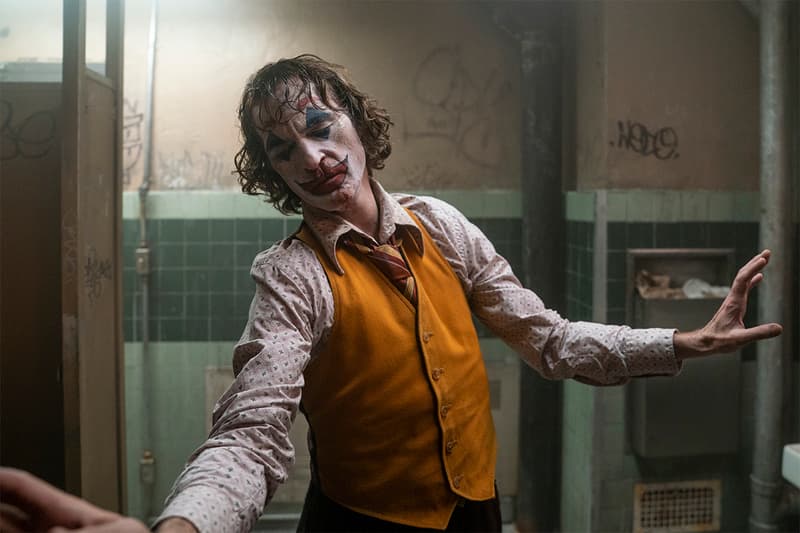 UPDATE (November 15, 2019): Todd Phillips' Joker film has finally joined the billion-dollar movie club, becoming the first R-rated feature in history to do so. This marks Warner Bros.' 7th film to cross the prestigious threshold behind Harry Potter and the Deathly Hallows Part 2 ($1.34B USD), Aquaman ($1.148B USD), Lord of the Rings: Return of the King ($1.12B USD), Dark Knight Rises ($1.08B USD), Hobbit: The Unexpected Journey ($1.01B USD), and Dark Knight ($1B USD).
Joker us also one of the few films to ever reach such a figure without having a release in China alongside The Dark Knight and Pirates Of The Caribbean 2: Dead Man's Chest.
Warner Bros/Village Roadshow/Bron Studios' #JokerMovie is dancing across the $1B global box office mark today, becoming the first R-rated movie ever to the milestone https://t.co/EsXQCqh0X5

— Deadline Hollywood (@DEADLINE) November 15, 2019
---
UPDATE (November 9, 2019): Todd Phillips and Joaquin Phoenix's critically acclaimed Joker continues to surpass expectations. After becoming the highest-grossing R-rated film of all-time, the film has another title to claim: it is the most profitable comic book movie ever. The movie was produced with a $62.5 million USD budget and ended its theatrical run with an amount close to $955 million USD.
With global ticket sales coming in at 15 times its production budget, the Joker has now topped Jim Carrey's The Mask, which grossed $351 million on a $23 million budget. Other comic book films that have come close in the past include Tim Burton's Batman, which grossed $411 million on a $35 million budget, and Deadpool, which took in $783 million on $58 million. This feat occurred without the film ever making it to China, which has become one of the biggest film markets in the world. Joker is also expected to reach, and perhaps exceed, the $1 billion gross mark in the future, which would make it the first R-rated movie ever to do so.
---
UPDATE (November 4, 2019): The screening of Joker, a Todd Phillips-directed film, ended this Saturday with a massive $934 million USD in global ticket sales — domestic sales amounted to $299.6 million USD, and international sales brought in $634.4 million USD. Unlike traditional superhero films, Joker's storyline is centered around the villain. It's unconventional plot shocked Warner Bros. executives, who gave the film a relatively small budget. Fortunately, Phillips managed to turn the production's miniscule cost of $60 million USD into a major payday, where Joker is guaranteed to gross over $500 million USD in profit. Not only has it become the highest-earning Warner Bros. film in 10 markets, it's also the top-grossing DC movie in 36 markets, 4th highest-selling DC film, and the 13th highest-selling superhero film, even surpassing Spider-Man 3 ($895 million).
---
UPDATE (October 25, 2019): Todd Phillips and Joaquin Phoenix's critically acclaimed Joker has surpassed Ryan Reynolds' 2016 film Deadpool as the highest-grossing R-rated movie of all time. Although the film released at the beginning of the month, Joker is still performing strongly, currently sitting at a $788.1 million USD worldwide box office. Deadpool stood as number one for three years at $782.6 million USD.
Maleficent: Mistress of Evil overtook Joker's number one spot during its debut weekend, however, the film is still at a great stride considering how long it's been in theaters and the fact that the film has not and may never premiere in China. It is also expected to become the first R-rated movie to cross the $800 million USD mark over this weekend.
---
UPDATE (October 15, 2019): Just 10 days after Todd Phillips and Joaquin Phoenix's origin story for Batman's greatest nemesis hit the silver screens, Joker has already become Warner Bros.' highest grossing film this year. The R-rated film is Phillips, Phoenix, and co-star Robert De Niro's career best opening weekend, bringing in $93.5 million USD Stateside and a total of $234 million USD globally. Joker has now gone on to make $543 million USD worldwide over the past week and a half, already topping other massive titles from the studio this year such as Shazam! ($364 million USD), Detective Pikachu ($431 million USD) and IT: Chapter 2 ($445 million USD).
---
ORIGINAL STORY (October 6, 2019): The reviews and stats are in for Todd Phillips's Joker and unsurprisingly the movie's extensive marketing has proven successful; the film brought in opening weekend earnings of $93.5 million USD, according to box office ticket sales.
The Hollywood Reporter writes that the film, which explores failing comedian Arthur Fleck's transition into the criminal mastermind, gained a total of $234 million USD globally, even without a premiere yet to happen in China. The earnings overseas occurred across 70 markets and is believed to have set benchmarks of their own, while domestically Joker topped last year's Venom which brought in $80 million USD. As it stands, the film is one of the best R-rated opening weekends of all time, while standing as the fifth best for 2019 in general.
Its success is regardless of the "hard-R" rating it has received; movie theaters across the US have implemented its policy to uphold the rating by checking IDs and not admitting anyone under 17 years of age unless accompanied by an adult or guardian. Stat-wise, eight percent of moviegoers were between the ages of 13-17 and 65 percent between 18-34, according to PostTrak's exit polling service.
Additionally, an ethnicity breakdown of the crowd was conducted, with the following results:
Caucasian: 44%
Hispanic: 24%
African American: 16%
Asians/Other: 14%
Besides Joker, Abominable placed second with $12 million USD domestically this weekend, followed by Downton Abbey with $8 million USD. For comparison, The Dark Knight earned $158 million USD for its opening weekend while Suicide Squad, which featured Jared Leto's take on the Clown Prince of Crime, earned $133 million USD — both films were rated PG-13.
For those who have yet to watch the film, we mapped out everything you need to know before watching Joker.