Hachi's Latest Portable Projector Turns Any Surface Into a Touchscreen
Debuted at CES 2020.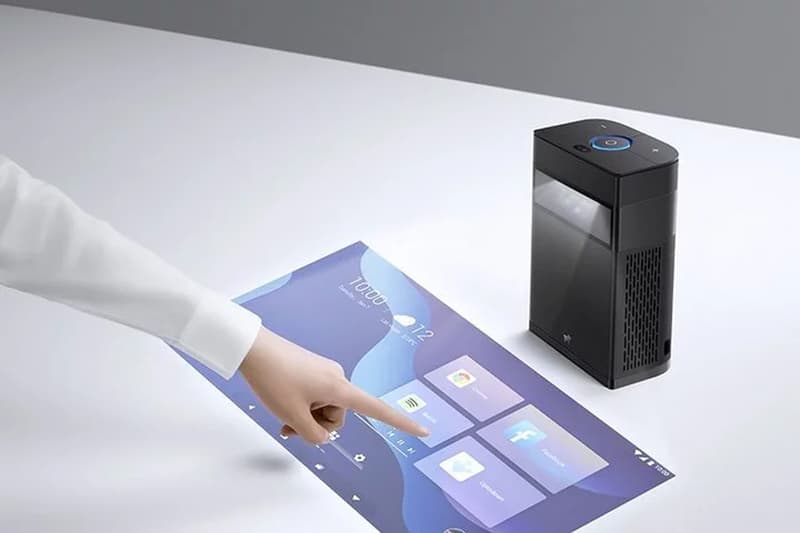 Consumer electronics company Hachi has just unveiled its latest Infinite projector at CES 2020, and it can turn any flat surface in your home or office into a touchscreen.
The device uses Hachi's proprietary multi-touch technology aptly named AnyTouch combined with smart vision to provide a responsive projection display on all kinds of surfaces. It supports voice control through Amazon's Alexa assistant, and can be used with a whole range of third-party apps such as office tools and games. It can also pair wirelessly with both iOS and Android devices. Technically, the Hachi Infinite weighs less than three pounds and comes with a built-in battery, an eight megapixel camera, an HD display, a microphone, two 5W speakers, and a Qualcomm Snapdragon 670 eight-core processor.
"[The Hachi Infinite] supports wireless screen casting (via Airplay, DLNA and Miracast) across devices for convenient presentations and functional demos in any location," said Tang Song, VP of technology at Hachi. "In addition to being useful for individual consumers in various settings, it would absolutely be a functional tool for retailers, museums, etc. to leverage and provide visitors with an interactive experience in these locations."
The Hachi Infinite portable projector will be available for purchase shortly after CES 2020, and aims to be shipped out some time in March.
For other tech news, Apple users spent a whopping $1.4 billion USD on the App Store during the holidays.