Obama Presidential Portraits to be Exhibited in Five Museums Across the U.S.
Traveling to locations in Chicago, Atlanta, Houston and more.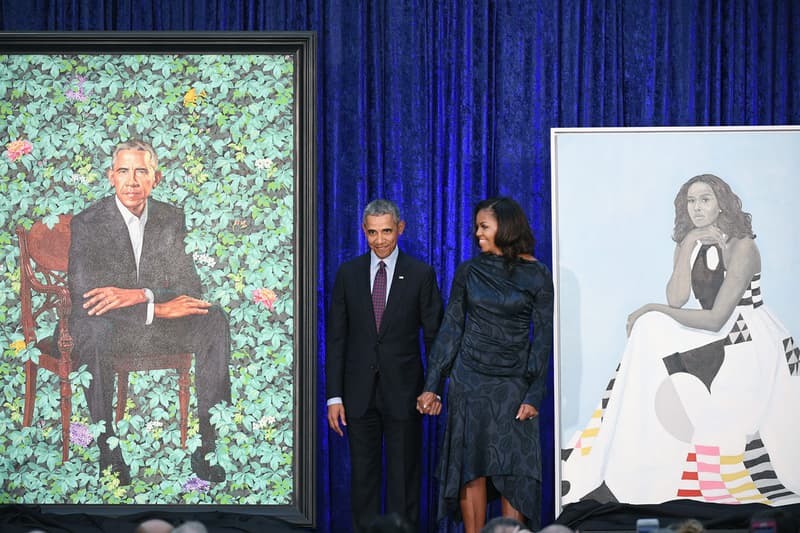 Those who may not have had the opportunity to see Barack and Michelle Obama's presidential portraits at the National Portrait Gallery in D.C. will soon have the chance to view the work in five different locations across the U.S., as recently reported by Artnet News. Starting in 2021, the portraits will embark on a five-city museum tour that brings the pieces to the heart of the communities that are close to Barack and Michelle, as well as to their respective portrait artists, Kehinde Wiley and Amy Sherald.
The Obamas' portraits (which were first unveiled in February of 2018) were said to have helped the National Portrait Gallery smash previous visitor records, bringing in nearly a million people more than in 2017 when the special works had not yet arrived. According to National Portrait Gallery director Kim Sajet, it was Brooklyn Museum director Anne Pasternak who originally sparked the idea when she called Sajet and asked, "When can they come to our place?"
Sajet ended up receiving several other similar requests, including from Sherald, herself, who explained how she didn't have access to such works or the means to travel to D.C. when she was growing up in Atlanta. Eventually, the tour was officially put into works, leading to the five museums that were chosen for the excursion: the Art Institute of Chicago (June 18 to August 15, 2021), the Brooklyn Museum (August 27 to October 24, 2021), the Los Angeles County Museum of Art (November 5, 2021 to January 2, 2022), the High Museum of Art (January 14 to March 13, 2022), and the Museum of Fine Arts, Houston (March 25 to May 30, 2022).
"Because of the attention the portraits brought to the museum, so many people discovered Portrait Gallery for the first time," Sajet told Artnet. "They came to see the portraits and then stayed to look at everything else. I hope that is exactly what will happen at the museums where they'll go on tour."
Elsewhere in the art world, more of Wiley's work is currently on display at the Brooklyn Museum in the new "Jacques-Louis David Meets Kehinde Wiley" exhibition.