Tiff Massey is Bridging Art With Activism
The Detroit native pays homage to the black experience through jewelry, fabric and more.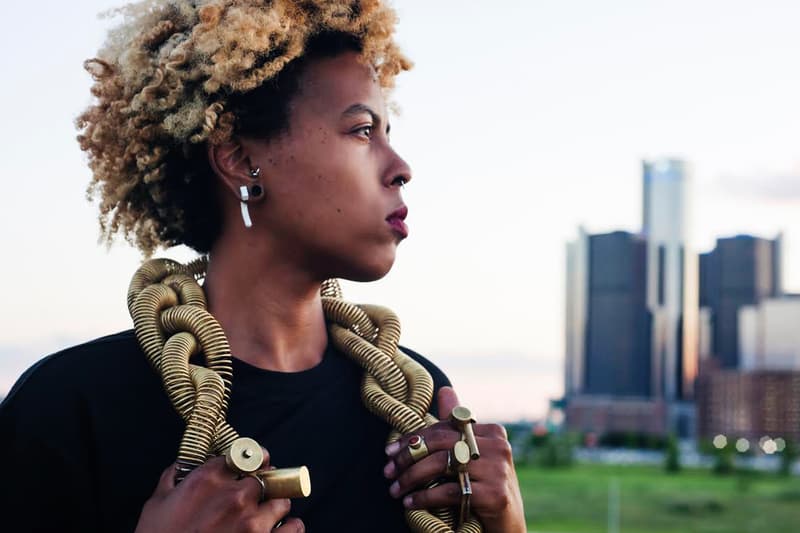 Tiff Massey is an expert in all things "metalsmithing," able to create anything from swords and knives to jewelry of all scales. Fine craftsmanship has always set the foundation for her work, but Massey eventually grew bored by focusing simply on beauty. By the time she embarked on an M.F.A. at Cranbrook Academy of Art, the Detroit native felt a void within the pretty, polished pieces. Massey felt they needed a story.
"It was all about the material, not necessarily the aesthetic or how far you could push the material itself. I enjoyed the craft but I needed somebody to push me and to actually give me feedback," she explained to HYPEBEAST.
An arts career wasn't necessarily the original plan, though Massey was exposed to the possibilities from a young age. Her mother desired a more sound path for her, such as a doctor, and Massey did indeed pursue a B.S. in Biology at Eastern Michigan University. Nonetheless, her mother also enrolled Massey in visual and performing arts courses throughout her childhood, exposing her to activities like piano and painting. At the same time, Massey developed a personal connection to the arts by way of her father's custom jewels, recounting how she'd tag along with him to local shops where he'd buy his pieces before she eventually started seeking out her own made-to-order wares. She developed a natural inclination for '80s hip-hop style and later, big industry names like Jacob the Jeweler.
The puzzle all started to come together years later during her undergraduate stint at EMU. Massey picked up a few jewelry courses in order to "break up the monotony of the biology and chemistry classes," as she explains it, which rekindled what she calls "a familiar love." But in lieu of changing her major, the budding artist chose to finish her biology degree and pursue a master's in fine arts the following year. The path wasn't quite straight and narrow, however. Massey attempted programs at two other institutions before Cranbrook, but cites "obstructionists" as preventing a seamless transition into both schools — fortunately the hiccups worked in her favor as she found Cranbrook offered "better tutelage" in metalsmithing.
But Massey is quick to clarify that despite her background in metalworks, she is interdisciplinary in her studies, working with everything from music and neon signs to even bundles of textured hair. She's perhaps even quicker to define herself as a true "Detroiter," rather than a "Detroit-based" creative. Her 2014 song "Detroit Is Black" may be one of her most candid distinctions on this point. No matter the medium however, her motivation as an artist is to capture human feeling and not merely aesthetic. As she so directly puts it: "I don't think artists of color actually have the real luxury of just making art about the pretty blue sky."
"I don't think artists of color actually have the real luxury of just making art about the pretty blue sky."
Pretty as it was, her recent "Proud Lady" exhibition for the spring 2019 Red Bull Arts Detroit residency program was loaded with references to her experience as a black woman. Hot pink hair barrettes, a common accessory for young ladies, were rendered in wood at a massive scale and hung on the wall, serving as a self-portrait not only for herself but for "black women everywhere." "Little black girls' first gems," Massey said.
On another wall, she continued the narrative with over a dozen different natural hair styles, whether braided, twisted or embellished with cowrie shells. Wallpaper depicting the inside of a beauty supply store with predominantly white mannequins served as the backdrop for the hairstyles, making for a sharp juxtaposition and a commentary on the disparity on display in actual beauty stores. "It's not black-owned nine times out of 10 and the mannequins don't even look like you, but everything in the store is for you or marketed towards you," she said. "And then we take that material and we freak it out and we do things that they would never imagine." Not far from that display and driving the entire concept home was her first take on neon: "Bitch Don't Touch My Hair."
Among Massey's newer studies is a modest, but thoroughly conceptualized series of framed gingham swatches, "Some Patterns Hold Weight." It's easy to overlook them in her temp studio amidst the massive brass chain in the center of the room or the gigantic steel and mirrored earrings resting on the table. But when she speaks of the fabric panels, the story commands attention unlike any of the other pieces in her studio.
"And then we take that material and we freak it out and we do things that they would never imagine."
Gingham, a seemingly-innocent favorite for picnic blankets and sundresses, has its origins in America's slavery-fueled cotton industry. Not only in the sense that the material is derived from cotton, but also due to the less-told stories of its usage in slave uniforms. After poring over books and scholarly journals, Massey's first reaction to her findings was to remove all of the white spaces out of the gingham ("a stand-in for colonialism") and sew the pattern back together with historical photographs and African Kente cloths.
"I'm just really trying to break down these narratives and how multi-faceted the start of America is. And how it's not a pretty story no matter what part is your own but it doesn't really get painted that way… it was the first time that I've actually had an emotional response to an investigation within my practice," she explained.
While a portion of the work has since been installed as part of the "Landlord Colors: On Art, Economy, and Materiality" exhibition on view at her graduate alma mater, it's only the beginning for the series. "It's really, really loaded. I definitely have some other versions and other conversations that need to be had within the series that I'm currently unpacking."
As the artist toils over the next phase for the gingham, she's just as equally occupied by the public installation she hopes to have erected in Detroit by 2022. Massey recently won one of the Knight Foundation's largest grants ever given to an individual, at $200,000 USD — however as it is a matching grant, she must raise the same amount of funds before the award is doled out. With this in mind, she initially proposed an interactive outdoor jewelry project to the Charles H. Wright African-American Museum, a form of actively giving back to the community that she hails from. But Massey states that since the institution had no plans to help her fundraising efforts, she's had to reassess her plans.
"I'm just really trying to break down these narratives and how multi-faceted the start of America is. And how it's not a pretty story no matter what part is your own but it doesn't really get painted that way."
"It's been on pause right now until somebody basically wants to make it rain on me so we can make this faster. I really want this structure. I always say there's nobody that looks like me that does this particular thing, like public sculpture in the ways that I do. And I'm like, 'This girl from 7 Mile is coming.'"
If finding support for the grant isn't enough to keep her busy, her recent endeavors to gain non-profit status for her impending "baby school" is also in the queue. Massey is now an artist-meets-developer, having purchased a building in her childhood neighborhood in 2017. She envisions bringing skills similar to what she learned at Cranbrook directly into the young Black community. Sparked by seeing high school kids aimlessly walking the blocks during the summer, her initial vision of creating her own permanent studio turned into a full-on shared space for teaching art classes, especially knowing that this group often has little to no access to the necessary resources.
"They need to come help me make some sh*t, like that's what they should be doing. I thought, 'What if my experience with jewelry happened 10 blocks away and I had access to someone like me?' Imagine how that would have impacted my career today or how it probably would have jump-started a lot of things," explained Massey.
"I don't have the generational wealth but I do have the network. So now [I'm focused on] how I can bring that to one location and give back to my community."