Best Art Drops: Jun Cha Skull Casts, James Jean 'Erhu' Print & More
Including Banksy's 'Monkey Parliament' (2009) poster.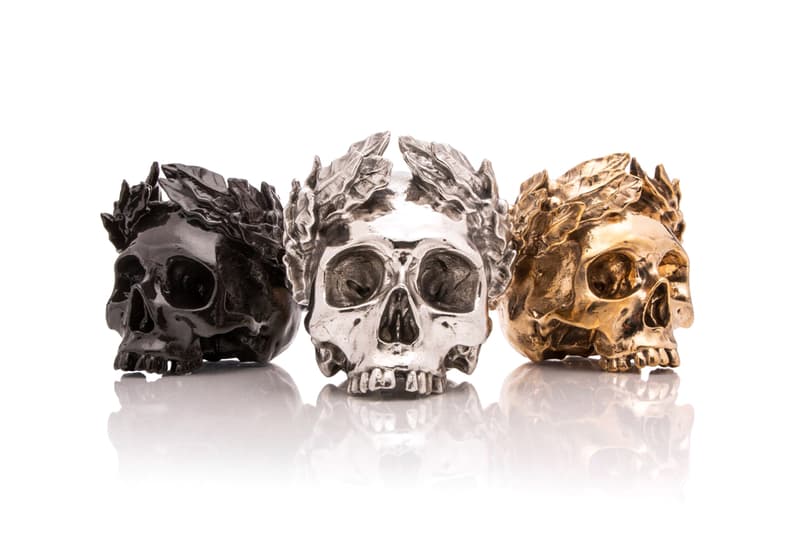 Every week we spotlight the best art drops by notable artists, galleries, museums and contemporary art platforms across the globe. Listed items typically encompass limited edition artworks, prints, collectible figures, collaborative merchandise and more.
For this week's installment: Jun Cha release his 'CAPO II' skull casts, James Jean will launch new 'Erhu' prints, New York-based ceramicist Didi Rojas drops 'This Could Be Us' sneaker sculpture, Banksy's 'Monkey Parliament' (2009) poster hits Heritage Auctions sale, and Absolut Art purveys a range of prints to celebrate "Meet Me In The Bathroom" exhibition at The Hole NYC.
View the full list below.
Jun Cha 'CAPO II' Skull Casts
Release Date: Available on Jun Cha's website
Release Price: $2,000 USD
Jun Cha recently unveiled a new set of skull casts. Aptly entitled 'CAPO II,' the latest offering is comprised of bronze, stainless steel, and polished bronze variants. The series expands upon the artist's examination of the memento mori inspired by the Roman emperor, Marcus Aurelius. Each sculpture measures 6.4" x 8" x 7" and weighs roughly 13 pounds apiece. 
James Jean 'Erhu' Time-Limited Edition Print
Release Date: Available on James Jean's website for 24 hours starting September 6 at 8 a.m. PDT
Release Price: $250 USD
James Jean's latest time-limited print offering entitled 'Erhu' will release this week. The work's composition portrays an otherworldly female subject playing a string instrument. Sized at 23 1/2" tall x 18" wide, the print boasts subtle pearlescent embellishments surrounding the figure alongside silkscreened gloss on her dress. It's then topped off with a holographic sheen and an embossment at the bottom portion. 'Erhu' will be available for 24 hours.
Didi Rojas 'This Could Be Us' Ceramic Sculpture
Release Date: Available on Artspace
Release Price: $1,900 USD
New York-based artist Didi Rojas aka 0h_heck is known for creating standalone sculptures of objects found within popular culture and fashion. The artist created a ceramic work entitled 'This could be us…' (2019) that hijacks the likeness of a Converse Chuck Taylor All Star sneaker. The piece is signed by the artist on the base of the work that measures 5 x 3.5 x 10 inches.
Banksy 'Monkey Parliament' Poster
Release Date: Bids go live on September 4 on Artsy
Release Price: Current bid at $280 USD
Heritage Auctions will soon launch a lot featuring a rare poster by the notorious Banksy. Entitled 'Monkey Parliament,' the collectible piece takes inspiration from a 13-foot-long painting that resurfaced on "Brexit Day" this past March at the Bristol Museum and Art Gallery. The work portrays the interior of the House of Commons invaded by a swarm of chimpanzees in the place of political figures. The poster itself measures 20 7/8 x 33 inches.
Absolut Art Limited Edition Screenprints
Release Date: Available on Absolut Art's website
Release Price: Starting at $199 USD
To commemorate the upcoming "Meet Me In The Bathroom: The Art Show" exhibition at The Hole gallery in New York City, Absolut Art will release a series of signed art prints by participating artists. The editions pay homage to the rock and roll revival that emerged in New York City in the 2000s. Artists included in the print series span Adam Green of The Moldy Peaches, internationally acclaimed French artist André Saraiva, Colin Lane, among others.