How Emerging Initiatives Are Highlighting Detroit's Evolving Arts Scene
Five exhibitions across the city illustrate its varying landscape.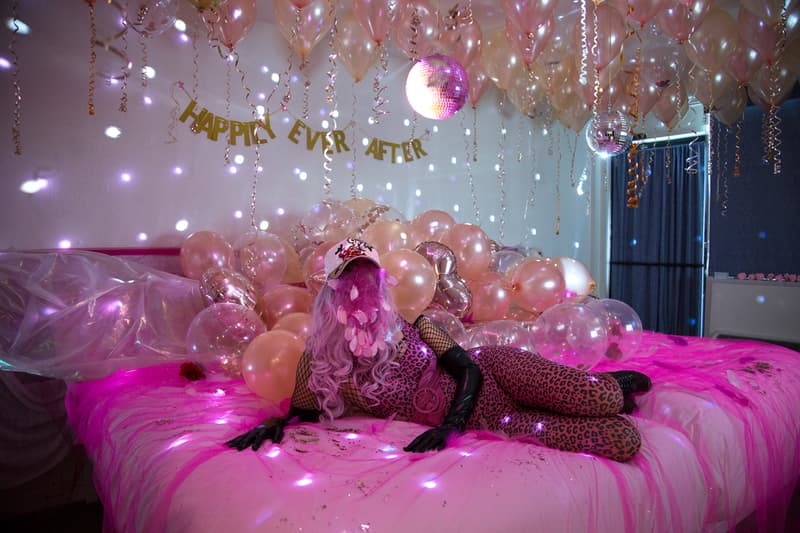 Detroit has long earned its stripes as a producer and purveyor of fine arts, though reports of decline since the city's bankruptcy filing in 2013 may at times overshadow that legacy. Still, many critically-acclaimed works call the midwestern region home and exemplify the hub's distinguished level of artistry. Diego Rivera's fresco-style Detroit Industry Murals (1932-33) at the Detroit Institute of Art were deemed a national landmark in 2014. That same year, the institute's Vincent van Gogh Self-Portrait was nearly sold off due to post-bankruptcy struggles, but it should also be noted that the work was the first Van Gogh painting to enter any museum in the United States at the time of its acquisition in 1922.
Contemporary art has a strong foothold in the city as well. Over on the east side in the McDougall-Hunt neighborhood, Tyree Guyton's outdoor art environment, the Heidelberg Project, has remained a testament to the power of community since the '80s. And even now, on view at the Museum of Contemporary Art Detroit, cult-favorite KAWS is featured in a solo exhibition, as well as Brooklyn-based abstractionist Eddie Martinez.
But can such a historic, thorough and, at times complex, art scene be presented to the world in an objective way? Emerging organizations like Detroit Art Week (DAW) and Red Bull Arts Detroit have made such a mission their undertaking, and along the way are becoming pivotal in shaping the landscape of fine contemporary art within the city.
Now in its second year, DAW remains focused on bridging local artists and galleries to the global community. This year's circuit took place from July 17 to 21, with co-founders Aleiya Lindsey and Amani Olu having to expand the event from three days to five in order to accommodate the full roster: over 150 artists across 36 exhibition openings, 14 studio visits, 13 performances, 11 special programs and seven panels.
Red Bull Arts Detroit falls somewhere along the other end of the scale. Like its counterpart in New York, the establishment provides a number of programs that are open for submissions from both local and international artists (a shift that took place in 2018, when Red Bull House of Art rebranded as Red Bull Arts Detroit). Its landmark initiative, a three-month long artists residency program, culminated for the Summer 2019 season with a striking exhibition presented by three distinctive — and, in fact, New York-based — creators: Kearra Amaya Gopee, Pamela Council and Claire Lachow.
Opportunities presented by DAW and Red Bull Arts Detroit present a clear entryway for exposure on both sides of the equation: local art offerings are being explored by outsiders, while "Detroiters" gain front door access to the cultural cues and regional nuances introduced by newcomers. Though as with any shift to community, this interchanging of arts and communication doesn't come without the inevitable paradox.
"It is so exciting and frustrating [at the same time]. It's a very experimental space," said multidisciplinary artist Bree Gant of the city's current art scene. Gant has been a recipient of Red Bull Arts Detroit's Micro-Grant program and is herself a Detroit native.
"It's taking shape more because of things like Detroit Art Week and it's bringing community accountability to contemporary art spaces."
"It's taking shape more because of things like Detroit Art Week and it's bringing community accountability to contemporary art spaces. I love that Detroit is growing and that it's growing with artists but it's definitely a both end conversation," she adds.
Just as Detroit is shedding its bankrupt image and re-finding its footing — NPR reported last year that the city was released from state oversight of its finances — the arts community also continues to make its own adjustments. New initiatives like DAW and Red Bull Arts Detroit are working to facilitate this delicate exchange, while other galleries and attractions add to the overarching landscape. HYPEBEAST rounds up five exhibitions, ongoing, past and present, that give a glimpse into it all.
Heidelberg Project
Ongoing
The 1967 Detroit riot left much of Heidelberg Street in a desolate state, and when neighborhood native Tyree Guyton returned to find it still in disarray in 1986 he set out to preserve the area. He collected tossed-out trinkets and turned them into artifacts, building a monumental sculptural environment out of the abandoned homes and debris. Paintings of clocks are also dispersed throughout, reflecting "where we have been, where we are now, and where we are going."
In 2016, Guyton announced that he'd be dismantling the site piece-by-piece to take it in other directions. His next endeavor, Heidelberg 3.0, will be a "community-activated arts village."
Heidelberg Project
3600 Heidelberg St.
Detroit, MI 48207
"Landlord Colors: On Art, Economy, and Materiality"
June 22 – October 6, 2019
The meticulously researched Landlord Colors: On Art, Economy, and Materiality at Cranbrook Art Museum is a far-reaching examination of art birthed from scarcity. Senior curator Laura Mott tackled five tumultuous periods across Detroit, South Korea, Italy, Cuba and Greece, spanning from 1967 to today to make a poignant demonstration of minimalism as a form of resistance.
More than 60 artists are on view in the exhibition, representing a shared global dialogue. Cuban artist Yoan Capote's large-scale panels, Island (see-escape) (2010), could appear serene from a distance, until closer inspection reveals the 500,000 fish hooks used to make the waves. The sharp and dangerous make-up of the seascape both comments on his country's politics and symbolizes resilience. Italian artist Michelangelo Pistoletto's Metamorfosi (Mirror and rags) (1976/2019), has similar parallels. In its original context during the arte povera movement ("poor art"), two mounds of clothes seemingly divided by a mirror actually work together to form a whole. And in the present, it calls to mind pressing conversations about racial division in America's current climate.
Cranbrook Art Museum
39221 Woodward Ave.
Bloomfield Hills, MI 48304
James Benjamin Franklin, Marcellus Armstrong at Reyes | Finn
July 20 – August 30, 2019
Contemporary art gallery Reyes | Finn opened in 2017, and is currently showcasing Detroit-based artists James Benjamin Franklin and Marcellus Armstrong. Franklin's large-scale Whole in the Dust paintings, such as LUGO and SCARS IN ARMOR (shown respectively above), are imperfectly shaped and layered inconspicuously with towels and thrift store rugs, yet full of bright color, texture and detail. Items that may inherently be seen as commodity transform into one-of-a-kind pieces through Franklin's use of bold hues and abstract strokes.
Armstrong took inspiration from the 1988 film Coming to America for his installation, Smoke Garments, which utilizes resin, bubblewrap, wax and deco mesh. Pieces such as a suitcase left open to reveal patriotic white stars on a tattered blue lining speak to the elusive nature of the American dream.
Reyes | Finn
1500 Trumbull Ave.
Detroit, MI 48216
Red Bull Arts Detroit Resident Artist Exhibition
July 19 – August 25, 2019
Lachow conveys her themes through digital and 3D works, commenting on the theory that the world is flat. Her painstakingly-crafted sculptures of everyday items were first born of "shapes" that had been digitally-mapped, questioning society's perception of reality versus that alternate flatness. Meanwhile, Gopee utilizes 2D imagery to portray the Black, queer experience of Caribbean people in a way that goes beyond the tired trope of simply showing their bodies. The frames around her portraits will eventually rust and disintegrate over time, a subtle yet pointed detail on how the histories of different communities are recorded.
Council's Blaxidermy Pink installation presents a homey interior "healing space" of flowing fountains that is as fragrant as it is pink. When first taken together, the items seem peculiar yet unassuming: gurgling Luster's Pink Hair Lotion being brushed by whirring sex toys, framed silicone sneaker moldings and field hockey sticks used for a cat's cradle. But this ode to her 14-year-old self held tenderness (the comforting hair care products), strength (a field hockey stick once used in defense), vulnerability (sneaker imprints recalling her acclimation to Brooklyn) and an overall rawness as she's learned to heal the trauma from childhood abuse.
Red Bull Arts Detroit
1551 Winder St.
Detroit, MI 48207
"YOUNG CURATORS, NEW IDEAS V"
July 17 – July 21, 2019
DAW also invited 12 curators to each transform a room at the Trumbull and Porter Hotel in an exhibition entitled, "YOUNG CURATORS, NEW IDEAS V." The group consisted of individuals that identity as women, Black, POC, LGBTQ+ and/or gender-nonconforming, which informed the resounding themes of race, gender and sociopolitics.
Kasia Sobucka's disco-like party in room 138, Wish Landscapes, incorporated video and performances by Eastern European artist Katarzyna Perlak that explored the hope and tribulations of being an immigrant. In room 110, Marian Casey's HotHouse featured video footage by the Brooklyn-based Kameron Neal, inviting onlookers into an intimate, yet warm conversation between partners as a means of using technology to "craft compelling performances of self." And in Gina Mudge's curation of Traditional, mixed-media paintings by the Boston-based Latino artist Wilton Tejeda explore the effects of gentrification and the "in-between" feeling of displacement — an experience not foreign to other underserved communities in the country, including Detroit's own.
Trumbull and Porter Hotel
1331 Trumbull Ave
Detroit, MI 48216