8 Drops You Don't Want to Miss This Week
Featuring Supreme, Palace, Travis Scott's merch, and more.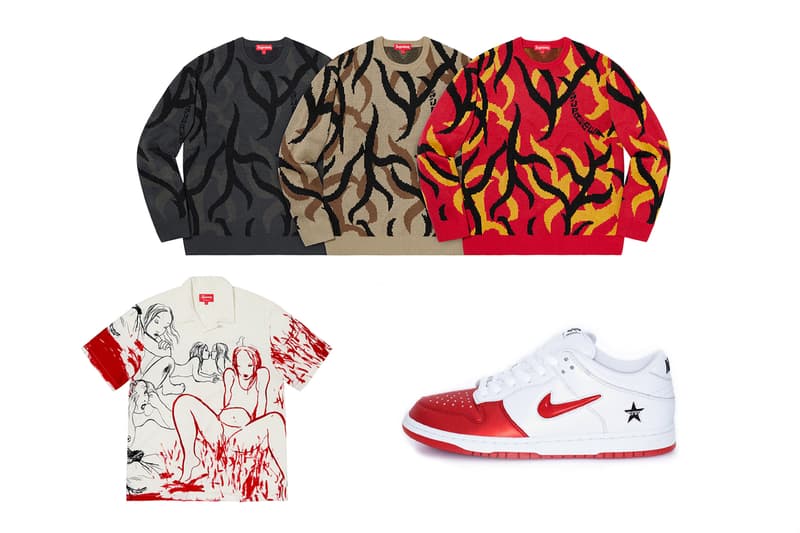 This week's drop round-up sees the release of a number of outerwear piece from the likes of WTAPS, Palace, and AAPE by A Bathing Ape. WTAPS delivers what it's most known for and that's clothing heavily inspired by military and workwear garb. This release is no exception for WTAPS as full ensembles in sage green make up the majority of the looks, while black and understated pieced round out the more utilitarian offering.
The END. and Rick Owens DRKSHDW capsule fills the void for those looking for a less obvious street goth look. While the droopiness and black palette are still there, the capsule lends itself to more wearable pieces like waxed denim, the pullover hoodie, and flight jacket.
Two noteworthy accessories for this week are the iced-out Type 1 BAPEX watch and the collaborative vinyl tote from Hajime Sorayama x Sync. x PORTER. Key items this week are the Supreme x Nike SB Dunk Low, the WTAPS fireman's jacket-inspired W51 parka, Palace's glow-in-the-dark jacket, and merch from merch Travis Scott's Look Mom I Can Fly Netflix documentary.
Supreme Fall 2019 Collection Week 2
This week, Supreme holds back on the number of softgoods being offered in favor of its collaboration with Nike SB. While the Dunk Low will surely catch the eyes of skaters and sneakerheads, items like the Tribal Camo Sweater and Heavy Nylon Anorak are safe purchases for everyday wear.
Collaborative clothing arrives in the form of a bold graphic rayon shirt and the Nose Bleed hoodie — both featuring the artwork of Rita Ackermann.
When: September 5, Japan release September 7
Where: Supreme Online & Retail Stores in NY, Brooklyn, London, France & Japan
Palace Fall 2019 Collection Week 5
Palace ups its technical game up for this week's drops for Fall/Winter 2019. The London imprint is set to release a glow-in-the-dark jacket with match pants. On top of the rain-repellent outwear, Palace is also set to drop a pair of collaborative Saloman Speedcross 4 which completes the techwear look. Of course, the brand wouldn't be where it is today without offering its bread and butter of hoodies, beanies, graphic T-shirts and hats.
When: September 6
Where: Palace Online & Retail Stores in London, New York, Los Angeles & Japan
Travis Scott: Look Mum I Can Fly Customizable Merch
Pushing the limits of merch releases once again, Travis Scott recently offered a selection of customizable merch for his Netflix documentary, Travis Scott: Look Mom I Can Fly.
Comprised of four pieces ranging from hoodies to T-shirts, the items can be ordered standard or altered with your own imagery and optional graphics. Overlay graphics feature "Cactus Jack" typography, a Cactus plant, "Look Mom I Can Fly" motorbike and angel graphics, as well as a low-key "Movie Merch" stamp and more. Rounding up the release are standard release items which include a T-shirt and hoodie emblazoned with an angel wing-adorned skeleton and the "Look Mom I Can Fly" slogan.
When: Now
Where: Travis Scott: Look Mom I Can Fly Store
BAPE Type 1 BAPEX "Gold" Limited Edition
Adding to its lauded Rolex-inspired BAPEX line, BAPE recently dropped a luxurious limited edition "Gold" iteration of its Type 1 timepiece.
This time around, the model has been done in a regal gold-tone with the dial accented by synthetic diamonds. The cubic stones also appear on the watch face marking each hour spot. Limited to just 50 units, the watch features a date sub-dial, A Bathing Ape's Ape Head motif at the 12 o'clock position and glow-in-the-dark elements. Each watch will also come marked with a unique number.
When: Now
Where: BAPE Locations
WTAPS Fall/Winter 2019 Collection
Returning for FW19, WTAPS puts together a collection filled with loose-fitting streetwear staples imbued with utilitarian designs for the season.
Designed to combat the upcoming frigid weather, the latest range features a dynamic assemblage of layering pieces which includes thick fur jackets and puffers to military-inspired garments like quilted BDU pants and multi-pocketed combat shirts. Keeping with its military inspiration tones of light olive, brown, grey and black are accented by hits of 3M stripes, indigo, beige camo and blue-green plaids. Standout items include a fireman's jacket-inspired W51 parka, Incubate half-zip pullover, billowing denim jackets, quilted crewnecks, corduroy trousers and more.
When: Now
Where: WTAPS
Hajime Sorayama x Sync. x PORTER Vinyl Bags
Keeping the collaborations coming, Japanese artist Hajime Sorayama recently linked up with Medicom Toy's Sync. sub-label and PORTER for a selection of carrying options.
The range of printed vinyl bags highlights Sorayama's colorful creations from his lauded Sexy Robot series. The tote and sacoche sling bags and document pouch use the vinyl construction to accent the bold hues and shiny features of the sexually-charged female robots. Each carrying option comes complete with reinforced straps and an array of useful pockets.
When: Now
Where: WOAW Store
AAPE by A Bathing Ape Fall 2019 Collection
Transitioning out of the Summer season, BAPE's diffusion line AAPE by A Bathing Ape is now back with its Fall 2019 collection of layering options.
As usual, the brand's camo print dresses puffer coats and lightweight jackets, while long-sleeve shirts, graphic tees and cargo-pants serve as lighter options of the "AAPE FUTURE" series. While bold '90s style color-blocking paired with camouflage appears on the fleece pullovers, hoodies and of the "AAPE LAND" assortment. Finally, "Black AAPE" rounds up the collection offering sleeker options accented by choice hits of silver and red foil.
When: Now
Where: AAPE
END. x Rick Owens DRKSHDW Fall/Winter 2019 Capsule
END. Clothing has teamed up with Rick Owens DRKSHDW for a capsule centered around the diffusion line's expansive archive.
The apparel items found in the special range include a knee-length hooded parka, a reversible flight jacket, a reconstructed pullover hoody, a T-shirt, cropped waxed denim jeans and classic Rick Owens Pod shorts. Rounding up the eight-piece collection is a reimagination of a sock runner sneaker and an elongated keyring. Collaboration specific details include END.'s signature logo, with a "DRK." woven brand patch, Owens' dual stripes branding.
When: September 7
Where: END. Clothing