'Dr. Stone' Redefines What a Shonen Anime Can Be
How the series flips the genre on its ear.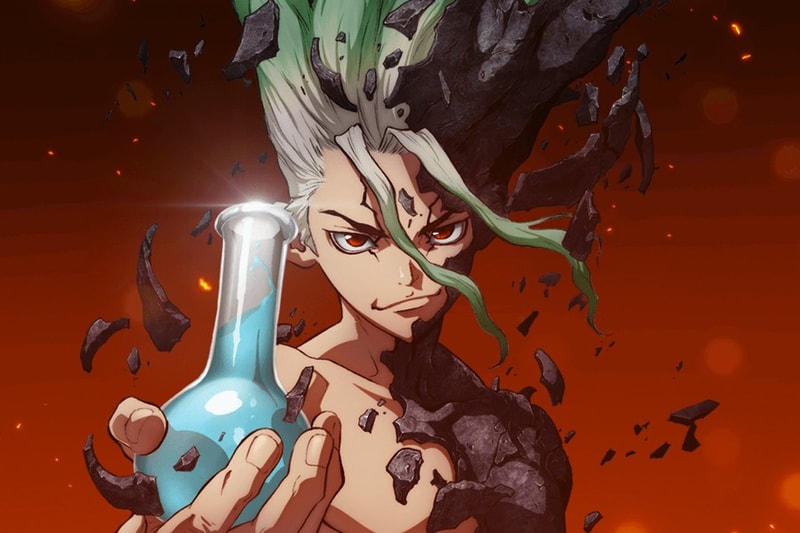 Anime and manga fans will have no trouble recognizing a shonen title when they see one, but even those who don't know the term are still almost certainly familiar with the popular genre's tropes. At its core, the shonen genre encapsulates anime and manga that are aimed at a male demographic that's 15-years-old or younger.
These stories traditionally feature a male hero as the lead and include tropes like a naive-yet-driven protagonist who looks to friendship as his source of strength (Bleach); combat-heavy action scenes (Naruto); and a tournament arc (Yu Yu Hakusho). Dragon Ball Z is perhaps the most notable example of the genre that has solidified this narrative arc while also making it accessible to a Western audience. More contemporary Shonen like My Hero Academia have perfected the tropes and formulas fans have grown used to, or, like One Punch Man, have deconstructed the genre entirely.
And then there's Dr. Stone, which instead flips the battle-oriented shonen genre on its ear by focusing on intellect and science. Written by Riichiro Inagak and illustrated by Boichi, Dr. Stone began as a serialized manga the critically-acclaimed Japanese magazine Weekly Shōnen Jump, with its first chapter published on March 6, 2017. Shōnen Jump has introduced some of the most popular shonen titles, such as Dragon Ball, One Piece and more, essentially making it the premier publication of the manga industry. Viz Media then licensed the manga for publication in North America and TMS Entertainment adapted the series into an anime, which premiered on July 5, 2019.
Dr. Stone has clearly found an audience, despite the fact that it flouts convention. The series doesn't feature any battles, long tournament arcs or training compilations. Instead, it meticulously details the scientific efforts of its hero, Senku, to restore humanity from its petrified state 3,000 years in the future.
Far from the typical fight-hungry, big eater protagonist found in many shonen series, the series main character Senku is a scientist who survived his 3,000-year petrification by consciously counting every second in his head. Senku is on a mission to restore humanity using a Stone Formula he discovered in order to free his friends Taiju and Taiju's love interest, Yuzuriha, alongside the rest of civilization. The manga initially leads readers to believe the brawny, lovestruck, but often dim-witted Taiju is the protagonist — an easy sell since he encapsulates so many qualities of a usual "strong man" shonen lead. However, after a handful of chapters, the series centers Senku as the true hero.
Merely selecting a protagonist whose goal isn't a self-serving motive like becoming the strongest fighter — as we see with Naruto's goal of becoming Hokage in his namesake series — already sets Dr. Stone apart from other entries in the shonen genre. And telling the story of how he reaches that goal in a way that doesn't involve punching out an imposing entity makes the series even more unique. Senku's goal is not only to solve a worldwide epidemic but also to kickstart a primitive civilization back to the Information Age with man's greatest weapon — science.
Most of the show's action comes by way of Senku's application of the scientific method, which makes inner monologues and explanations more frequent than in your typical shonen. As such, many characters are shown in moments of introspection and deep thought throughout the series. Although these sorts of inner monologue sequences are common in anime and manga as a whole, these moments take over as a bulk of Dr. Stone's action. This narrative decision suggests that the showcase of brainpower can be as much of an entertaining spectacle as an over-the-top brawl. As a result, the show is able to cultivate many nuanced characters, like the series' first villain, Tsukasa.
Tsukasa wants to restore humanity like Senku, but into a world of his own vision, which would then be inherited by revived children, leaving the adults petrified. According to Tsukasa, adults are part of what brought out the worst in the world before the epidemic, which serves to complicate the series' central goal of restoring humanity. He's also one of the only physically capable characters in the show, which pits Senku's intellectual tactics against Tsukasa's more hands-on approach to problems. At their core, both characters serve as embodiments of two contrasting ideologies of the shonen genre, with the strong man as the villain and the intellectual as the hero when those roles are usually reversed.
"Popular authors tend to have a very good grasp of what is popular in the now and an understanding of what will be popular; they're ahead of their time," Dr. Stone editor Hiroyuki Honda told GameSpot in an interview earlier this year. "Take One Piece, Naruto, Bleach, Haikyu, take any popular [Weekly Shonen Jump title] and you'll see they're written to be what the readers want while also evolving to be slightly ahead of their time."
It's not that Dr. Stone completely throws away the common shonen tropes these shows follow — it's that it recontextualizes those themes in fresh ways, bringing a fresh look at the genre for audiences already familiar with it. Friends are still a source of strength for Senku, but that strength, in turn, allows him to protect them, rather than fueling a selfish motivation or signaling a transformation sequence. The series still focuses on action, but instead of showcasing combat, it builds up intellectual strategy and diligence through the trial and error of scientific experimentation.
Senku is a reflection of the ever-evolving audience of shonen, equally as much as Saitama is in One Punch Man. However, instead of taking tropes to task, Dr. Stone attempts to apply those tropes to the more grounded, intellectual world of science rather than to a fantasy world driven by physical strength. Its favorability in the community is also a sign of a new standard in shonen for the next decade of fans and creators alike.